We repair bikes
The heart of the bike shop beats to the rhythms of its workshop
20% OFF - for all package services booked for work in December - for details see below.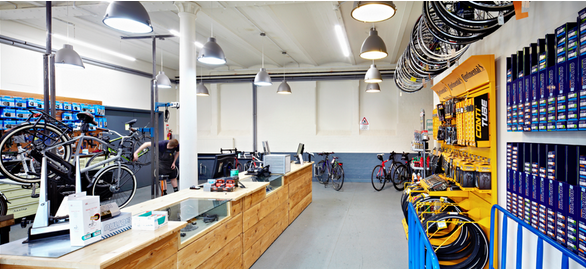 With seven full time technicians, we run the busiest cycle workshops in the city. Although we repair and build thousands of bikes a year, we take great pride in the quality and consistency of our work and aim to deliver the best service in the city too. We maintainmodern, fully equipped workshop, staffed by CYTECH accredited mechanics.
We offer...
Same day service for minor repairs including: punctures; fitting tyres, single cables, brake pads, chains and sprockets.
Same day service when you book in advance. For more substantial work we operate a booking in system. We aim to complete your repair on the day it is brought in, unless any unexpected replacement parts have to be ordered.
Our service packages are comprehensive and great value - see opposite...
Houly rate: £50 per hour.
Shimano Di2 Firmware upgrade £20 (recommended every 6-12 months).
Ebike diagnostics £30/£20. We've been selling ebikes for 20 years and are the largest ebike retailer in York. Our workshops are equipped for ebike servicing and accredited Bosch and Shimano service centres. We charge £30 for a standalone diagnostic check and software update; £20 when it's additonal to any service package.
Wheelbuilding. Custom wheel building is available at all stores, we can build any kind of bicycle wheel, big or small - further details here.
Specialist work. e.g. hub gears - we like hub gears and as a result have built up some fairly uncommon expertise in this area. If you have a problem with a hub gear that you need fixing, call us. If you want to convert a bike to hub geared system, call us. If you want your old three speed hub building into a modern rim, call us.
To book your bike in for repair call us now...
For our main Hospital Fields Road store, call: 01904 636578 / 651870
For Cycle Heaven at the Station, call: 01904 622701 / 630378
For Cycle Heaven at the Angel, call: 01904 672059