Piers Goes Long
A Futile Attempt to Rationalise the Irrational - considering entry to Paris-Brest-Paris 2023 ultra-endurance cycling event
** UPDATED 13/08/23 BELOW, WITH PRE-RIDE PREPARATION **
** UPDATED 11/10/23 BELOW AGAIN, WITH RIDE REPORT AND OTHER MUSINGS **
I've been thinking about, and doing, long distance cycling for years. I have a strange, continual urge to go long. Not particularly fast, but long, and often ridiculously hilly. It's a compulsion, an obsession, possibly a disorder, but, as I always tell people, it's something to do.
And that something means I'm finally on the verge of starting Paris-Brest-Paris, a bike ride of 1,200km (750 miles) with 12,000m (39,000ft) of climbing, all in 80 hours. On 20th August 2023, I'll be one of 8,000 starters. It's been a hell of a ride to get to this point...
** I'll be taking the opportunity to raise money for the team caring for Thomas, an 11-year-old Cycle Heaven customer with Leukaemia. Please take a moment to look at the JustGiving page where I guarantee to donate all money raised to the team looking after him. **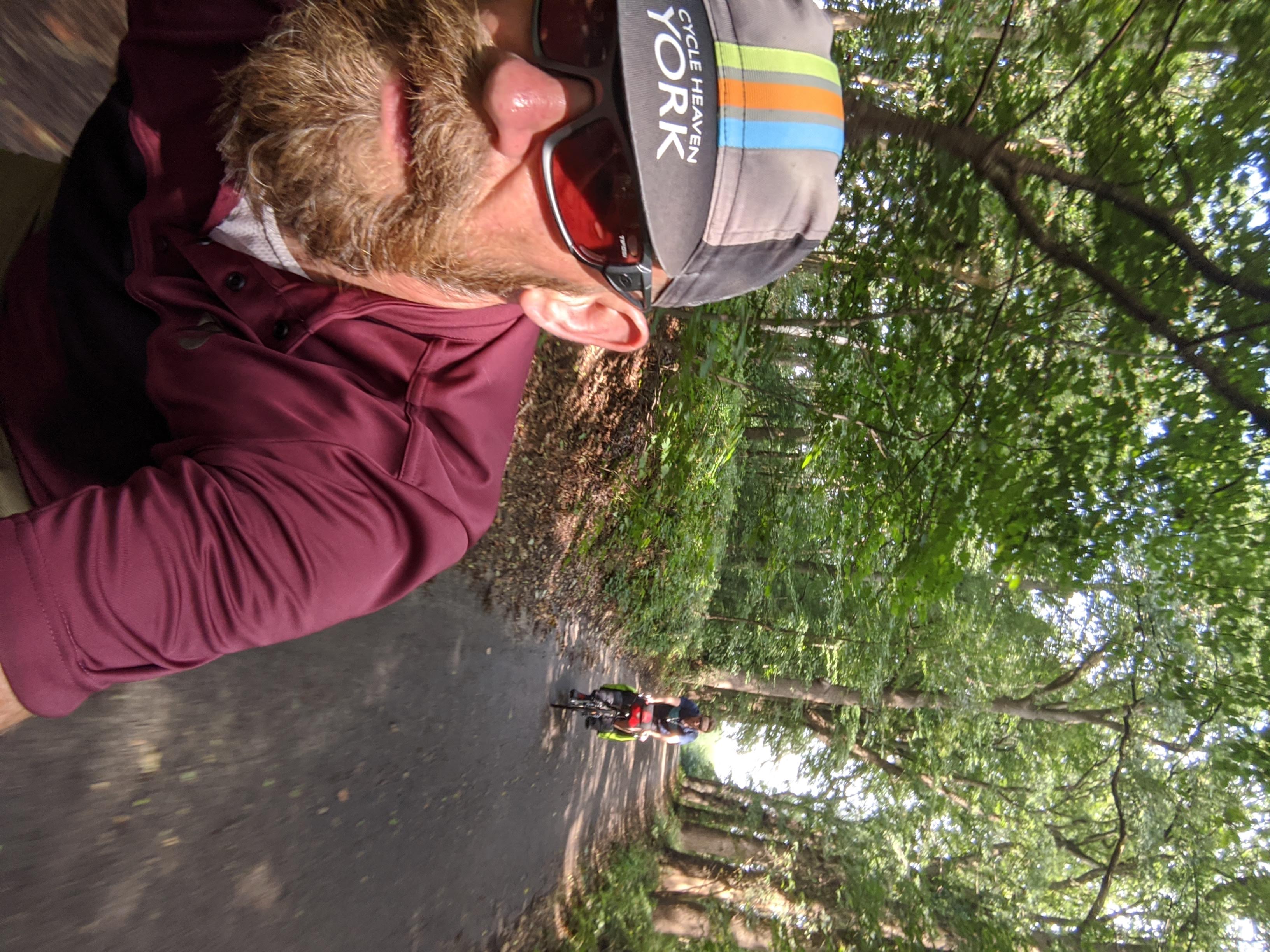 I've ridden for as long as I can remember. I've always liked a long ride. Building long rides into longer and longer ones, I arrived at a point where I felt ready to take on an ultra-distance challenge. The obvious and most famous was Paris-Brest-Paris (PBP), held every 4 years. I targeted the event in 2019 and I was well-set for entry; I was trained, conditioned, and en route to being fully qualified when, in April, a sudden, rapidly worsening stomach-ache completely pole-axed me. Within 14 excruciating, and increasingly drugged hours of arrival at York A&E, I was under the knife at around midnight. The surgeons later told me how they had applied educated guesswork to the mind-bending scans of my complicated plumbing to understand what was going on. Remarkably they hit the jackpot, identifying and fixing a completely random twisting and blocking of my lower intestine, at the entry to the ileum. PBP plans went out of the window, but I didn't die, which I later learned had been a distinct possibility.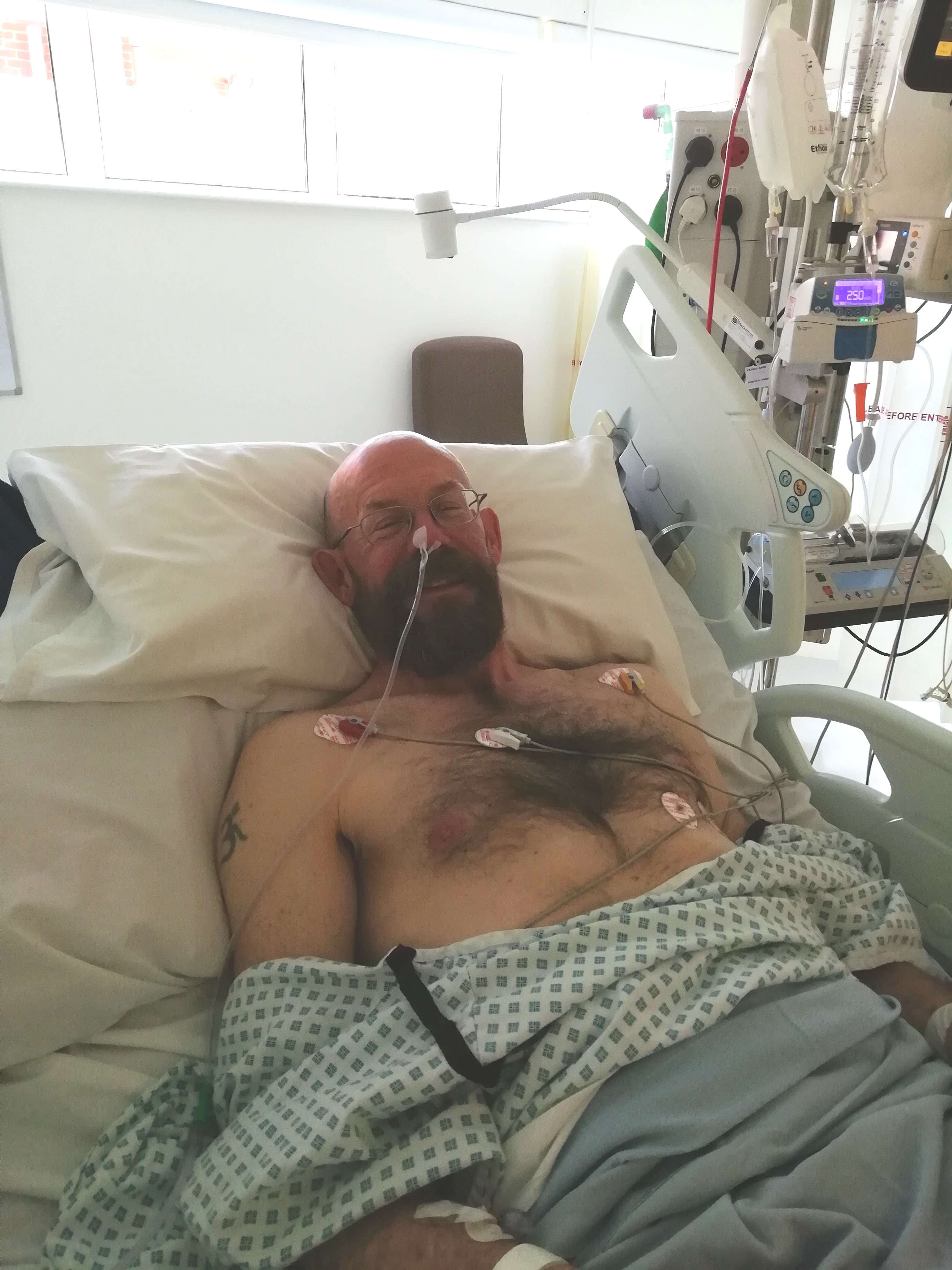 How the hell did I end up here...?
Having recovered physically and mentally (mostly), I turned my attention to London-Edinburgh-London (LEL) 2021 (shunted to 2022 by COVID). I was in great shape for this 1500km event, trained and fully-paid-up… until I crashed my Dutch city bike on my way to a staff barbecue. I snapped my collarbone and cracked 3 ribs, just 3 weeks before the start! Not having opened a single bottle or can before the crash, this disastrous turn of events was tough to deal with. LEL plans were in tatters. I'm over it now… mostly.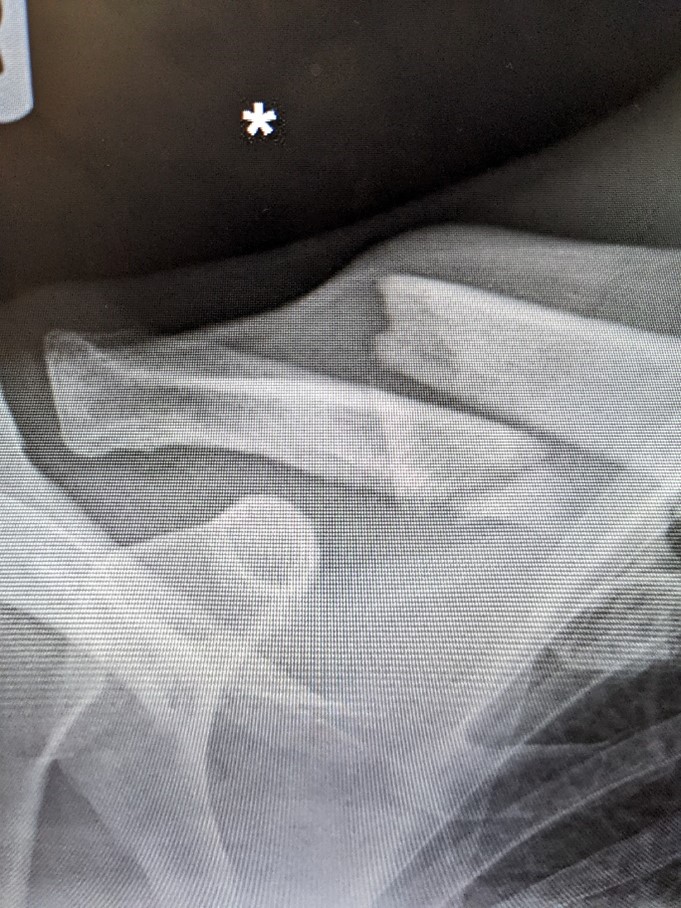 It'll be reet...
So, here we are, within touching distance of the start of the next PBP, in Rambouillet just west of Paris. To say that this is an important thing for me would be an understatement! I leave York with my bike and take the train to Brighton on 15th August. I ride to Newhaven for a ferry to Dieppe, followed by a couple of days extremely leisurely riding to a hotel near the start. Together with my regular partner-in-crime, the patient and dependably strong Chris, and the redoubtable York Rouleur Charles, we will be lining up with the elite and super-fast loonies in the first group at 4pm Sunday 20th August, the plan being to get a bit of a slingshot start with one or two of the rapid bunches without going too far into the red. Our group's 80-hour limit expires at midnight on Wednesday 23rd. I'm excited, nervous, worried, and delighted, all at once.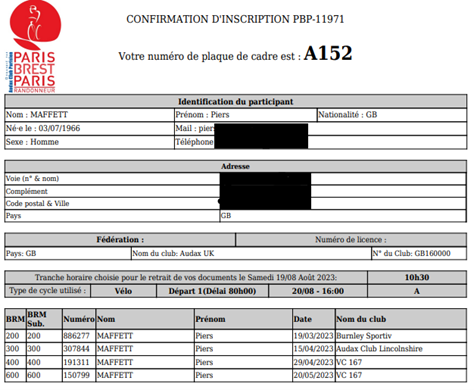 The all-important and impressively bureaucratic confirmation of entry to PBP
Riding long endurance rides is a big physical challenge, obviously, but more importantly a stern mental one. Managing the psychological challenge is probably as important as dealing with the physical. You must know, and ride within, your limits. You must remember to eat and drink regularly before you feel you need to. You must remain organised when you are extremely fatigued. You must be prepared to accept and deal with all kinds of problem. You must enjoy riding in the dark. You must be able to sleep little, or sporadically, in some strange, uncomfortable locations. You must be prepared to eat out of service stations, or anywhere. You will visit some dark places… and you need to calmly and patiently navigate your way out. You must never decide to abandon while you are tired, cold or hungry. Things will always improve.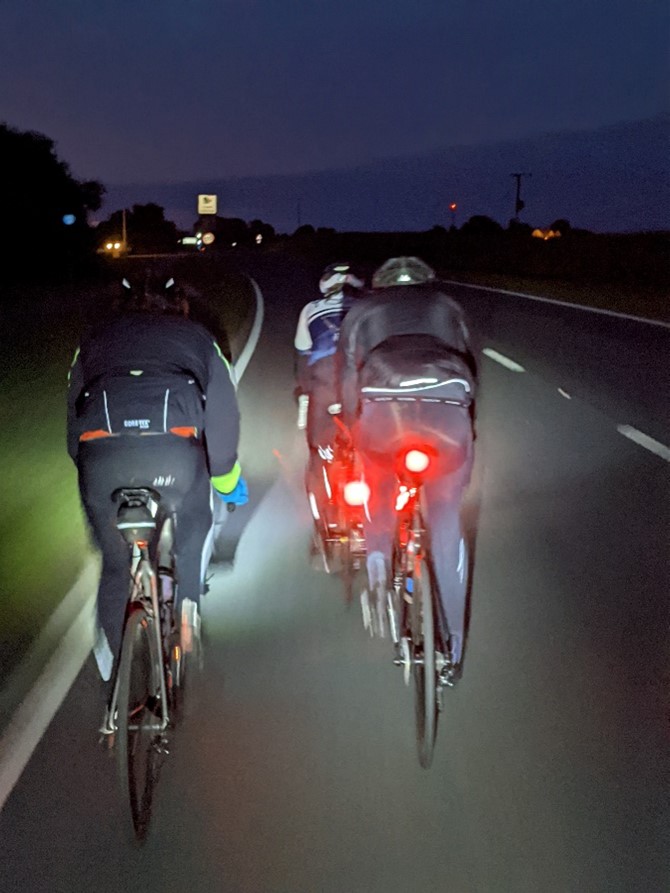 You have to get accustomed to staring at MAMILs' arses sometimes...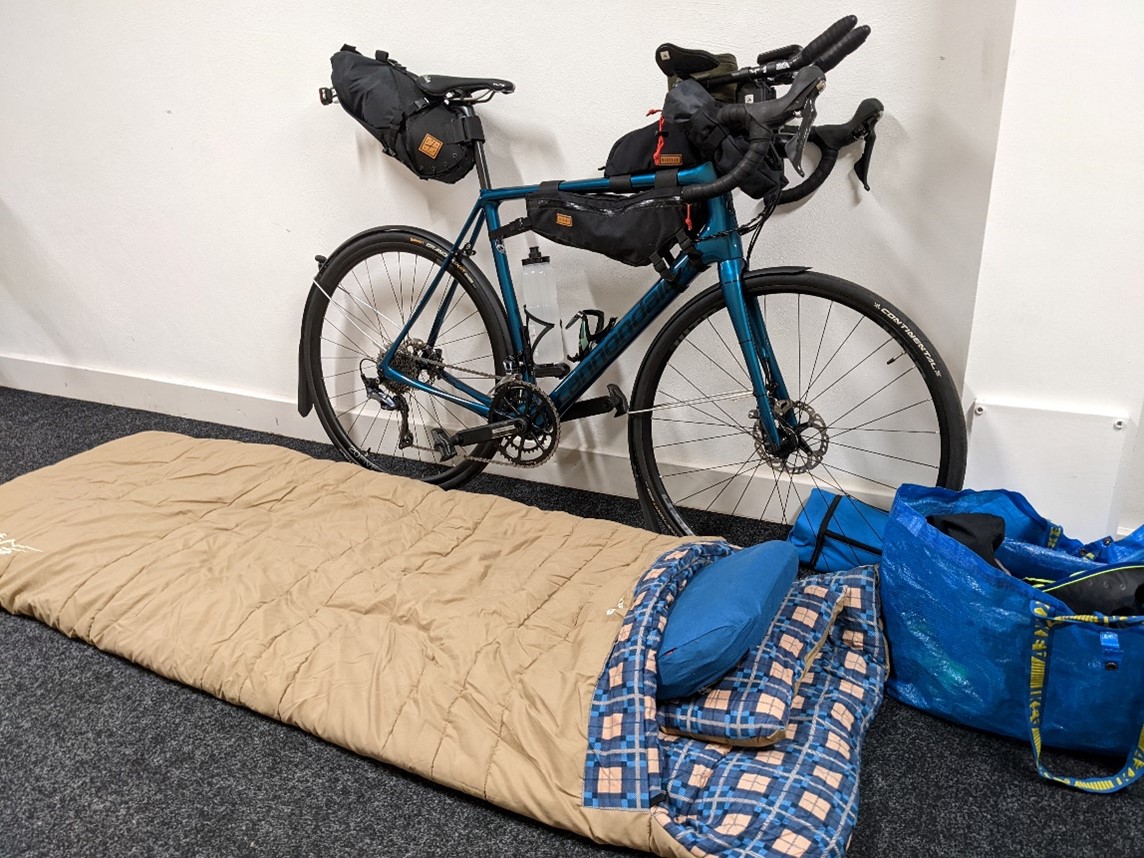 Proper luxurious bedding arrangement prior to 3.30am start for the Old 240 400km audax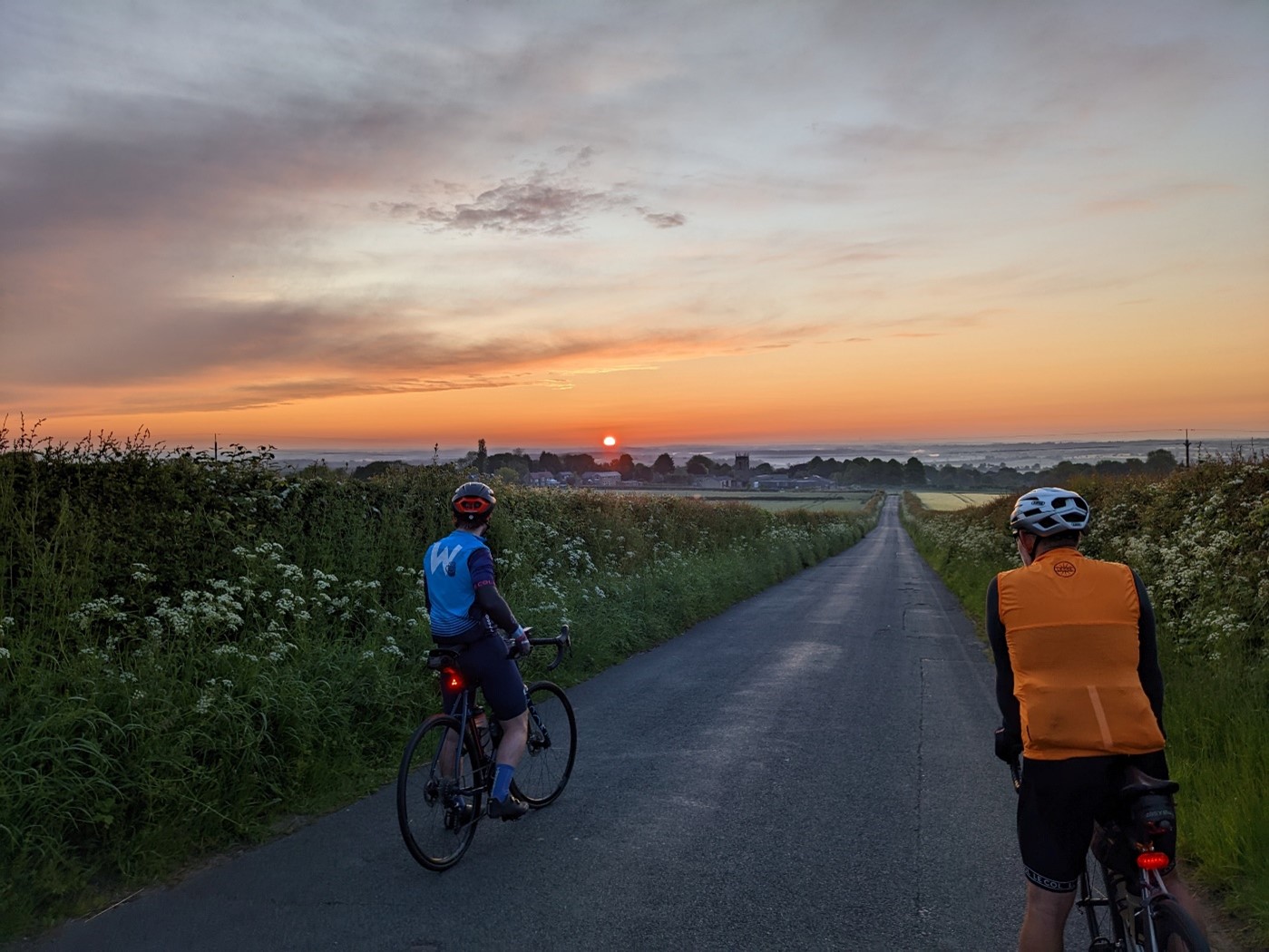 Contemplating a stunning sunrise on the return stretch of the Slaithwaite 600km audax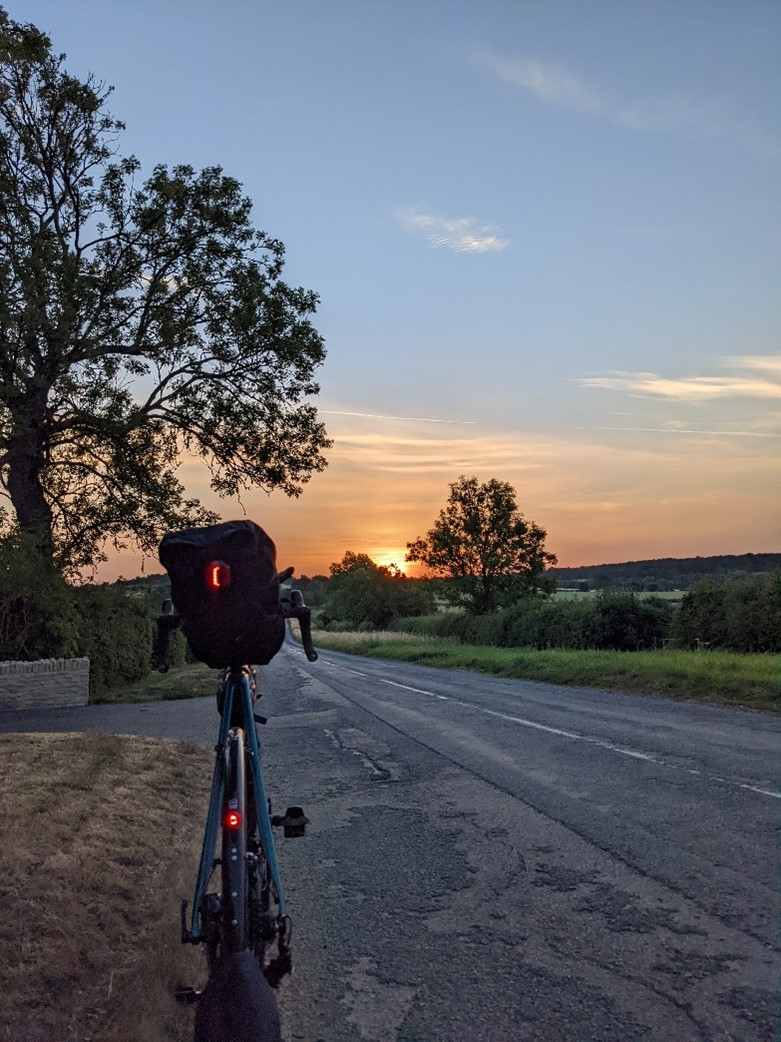 Another beautiful sunrise after a 4am start from my dad's home in the Cotswolds You are always rewarded in different ways.
Like many people, my first experience of riding long was a sportive. Ranging from 40 miles up to 200 miles or more, sportives are great. Everything is organised for you, from route planning, signage and technical back-up to feed and refuelling stops. You can find sportives everywhere, every weekend from spring through summer! That first century ride; what a buzz! But sportives are expensive…. For many people, the cost is a problem, and for others, the nannying, everything-sorted-for-you organisation is a big turnoff. As if the challenge of riding the distance alone was not enough…
This is where the weird and wonderful world of Audax comes in…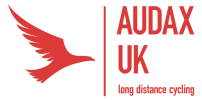 Audax is a collective term for self-sufficient, mostly long-distance, cycling. Quaintly retaining French terms for everything, and using SI units, organised events are known globally as randonnées. Ranging from 50km to 1500km and more, they are non-competitive in nature (haha… Some wag once commented "Sportives are cycling events for people pretending to race; Audaxes are cycling events for people pretending not to…" )
Randonnées must be completed within a prescribed elapsed time limit, including all stops for rest, feeding etc. Each event has a brevet card, listing the controls that must be visited and their respective time limits. To complete the audax, you must demonstrate proof of passage through the required controls, within the time limits. At a manned control, you may get a stamp in your brevet card, at an info control, you will answer a question relating to the location, or at a free control you ensure you get something like a time-stamped and addressed receipt.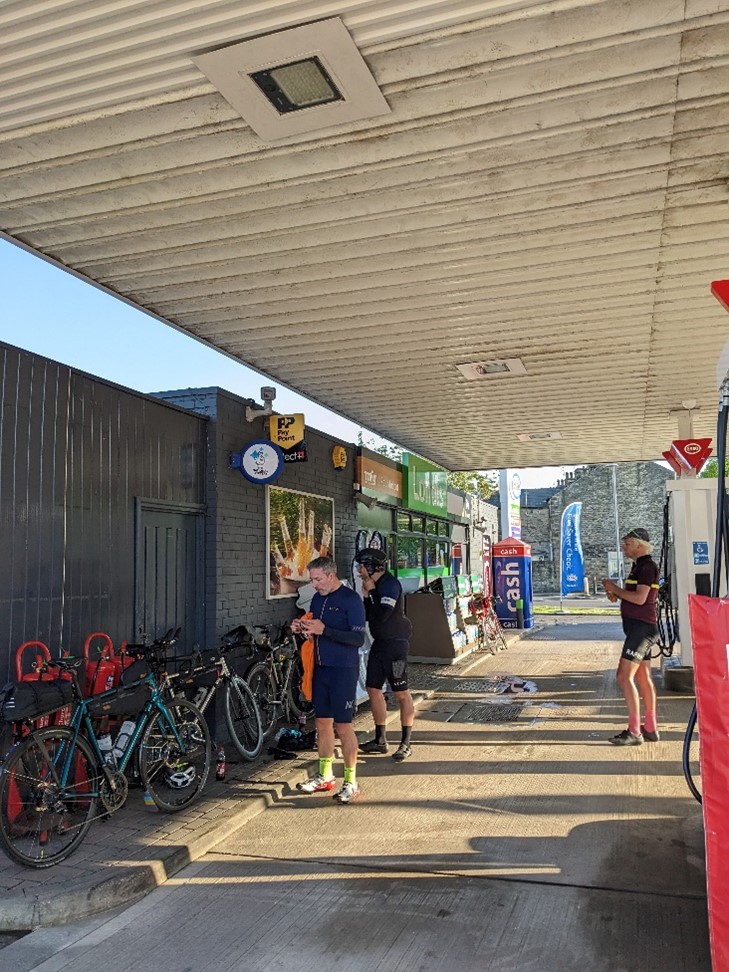 Dining on service station cuisine... you do this a lot, I mean, a lot...
The Audax world is a unique one. Many countries have their own Audax organisation, with their own programme of calendar events, often culminating in their own biggie. The UK has London-Edinburgh-London (LEL), at 1500km, held every 4 years, and running since 1989.
Of the many ultra-endurance (greater than 100 miles) cycling events held around the world, none has been in existence for longer than Paris-Brest-Paris. First ridden as a race in 1891, before even the Tour de France existed, it has been an amateur-only challenge since the 1950s, and at around 1200km with total climbing of more than 12,000m, is one of the longer examples of an audax ride. For many, it is the highlight of their cycling life, and it is huge in every respect. L'Audax Club Parisien (ACP) organises it every 4 years and is forced to limit rider numbers to 8000. This is helped by the arduous (some would say, typically French) route to qualifying to ride it. During the months leading to the start, would-be entrants must complete a series of rides of at least 200km, 300km, 400km and 600km within the necessary calendar windows. Only then will registration be permitted…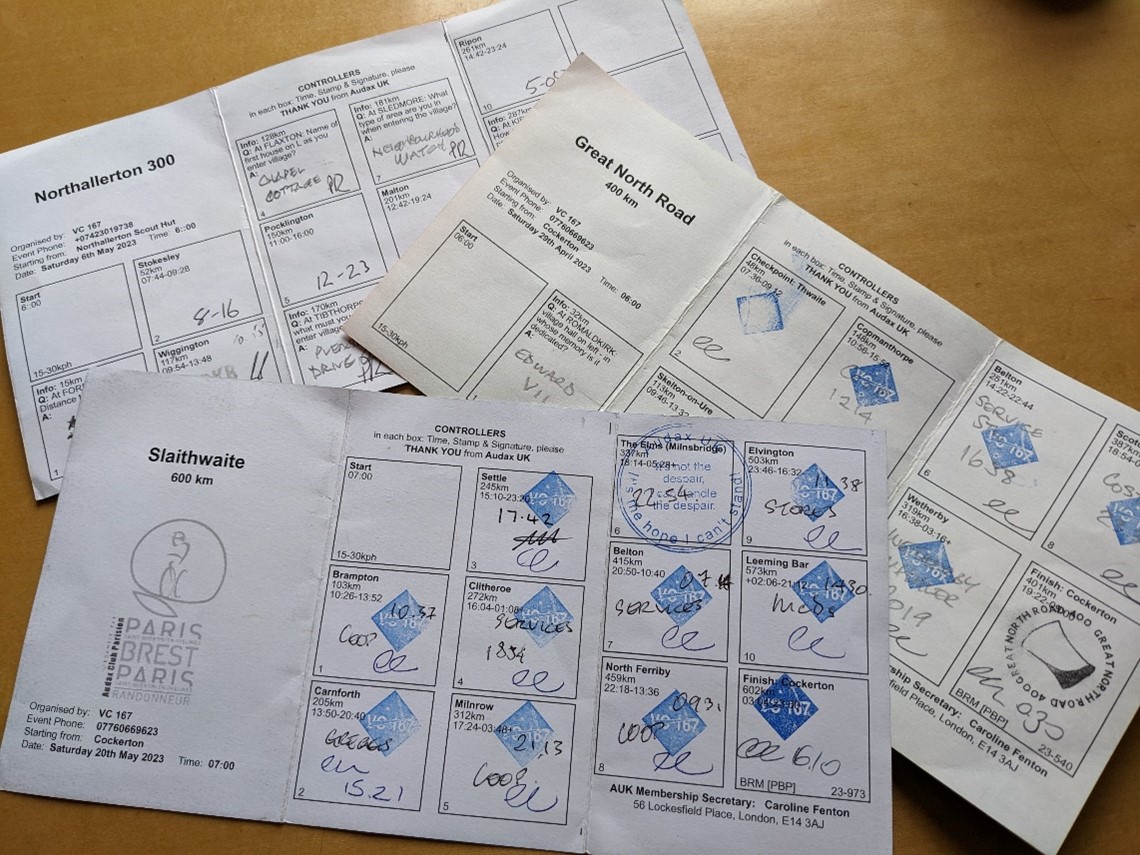 The physical evidence, stained in sweat, tears, dribble and sometimes blood... a selection of completed brevet cards
This year, I've qualified, and I'm going to start my first PBP! However, I've been preparing for a long time.
Because of the limited number of places, and an attraction to endurance cyclists from all corners of the globe, PBP has a system of pre-registration that prioritises riders who complete the longest validated rides during the previous year. With the May 2022 1000km Highland Fling under my belt, I was one of the first to pre-register on 1st January.
I was already well embedded in a rolling training programme on my indoor trainer, mixed with a sprinkling of outdoor rides. I set about planning my campaign of validated audax rides of 200, 300, 400 and 600km, to complete my registration. A big spreadsheet calendar was born!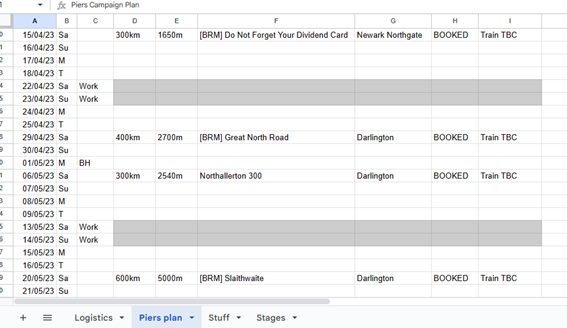 You can get carried away with this stuff...
Training presents plenty of challenges, particularly to anyone working, and with a family. Yes to both of those. In the old days, the way to prepare for riding long was, er, well… to ride long. Now, in the era of smart indoor trainers and interactive, computer-based training and coaching programmes, it is undoubtedly easier, and more time-efficient. You could (if you were slightly odd…) get physically prepared for any cycling event without even riding outside! Today's mantra is "Don't train hard, train smart!" I firmly believe, however, that the fun comes from combining a fixed amount of indoor training with plenty of outdoor rides, when time allows.
My extremely clever Elite Drivo trainer holds my bike on the floor of my shed, allowing me to pedal it like a static bike in a gym. Instead of powering the bike forwards, the pedals drive the large rotating mechanism inside the trainer.
The cosy little set-up in my pain-cave
The trainer communicates wirelessly with the training programme running on my laptop (TrainerRoad, if you are interested…) and receives instructions for how much resistance to offer, and for how long, according to the workout you have selected. It simultaneously measures and feeds back your pedalling power real-time, making continual adjustments to ensure that you will always be working as hard as required for the workout. You don't even need to change gear…! Periodically assessing and re-assessing your fitness (calculating your Functional Threshold Power, FTP), the programme ensures that every workout is set at a level appropriate for your current level of fitness.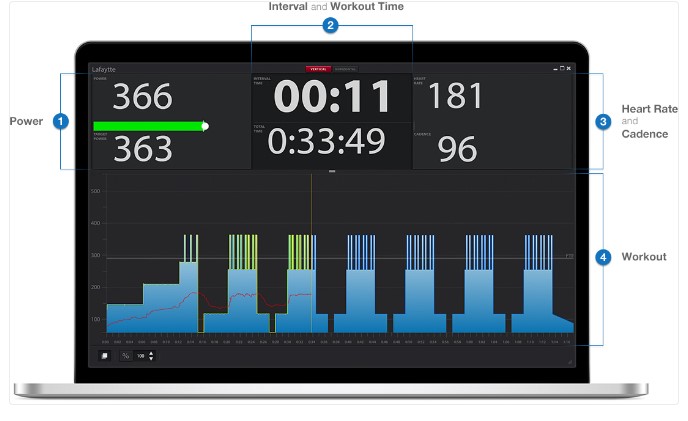 Your laptop directs your training, and refuses to respond to your crying and swearing
Sometimes, though not always, technology is brilliant! As it happens, I know of a great shop where you can buy a clever trainer…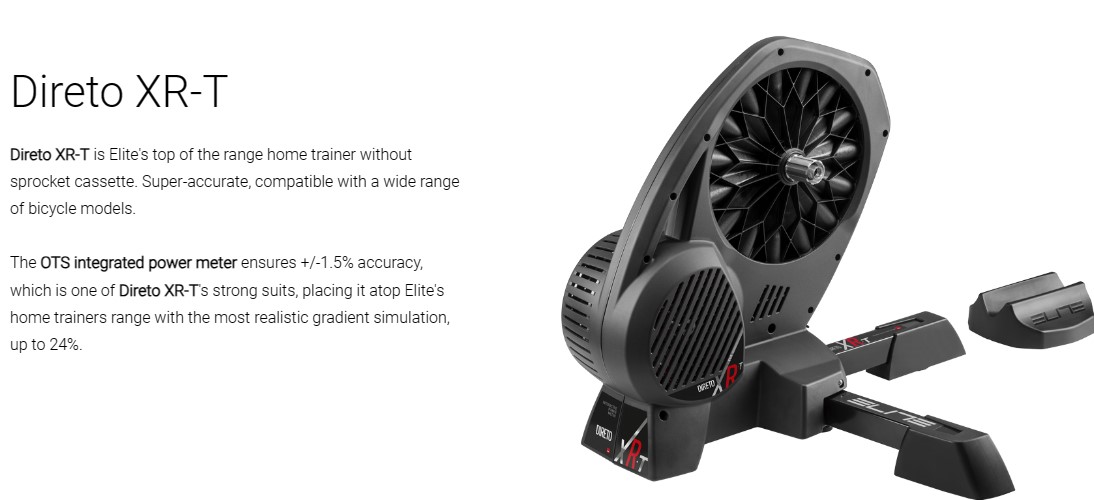 Easily one of the best smart trainers on the market - lots of money, but endless potential. Available from a great bike shop near you...
The amazing thing is that anyone can train for anything. I'm no great athlete, with no particularly notable cycling strengths, but I am strong-willed and determined. The cardio-vascular training, along with the physiological and psychological conditioning I have gained over the past few years has prepared me to cope with, dare I say, enjoy, some ostensibly brutal cycle rides. Several years of 5am starts in the shed at temperatures ranging from -5°C to +30°C with my indoor trainer have been occasionally tough, but always given purpose and made bearable by a vision of a distant goal.
Like I say, it's something to do…
So far, in 2023 (as of mid-July), my riding stats, excluding all of my daily York utility riding, are as follows:
Total distance 7,913km (4,946 miles)
Total climbing 47,884m (157,100 ft)
Total riding time 293 hours
The official Audax validated rides so far:
4 x 200km, 3 x 300km, 1 x 400km, 2 x 600km, totalling over 3,000km with 26,000m of climbing.
I will be attempting to raise money with my PBP23 effort. Please take a moment to look at the JustGiving page where I pledge to donate all money raised to the team looking after the 11 year old son of a family known well to Cycle Heaven, who has Leukaemia. Thank you.
If you are interested in following the big ride, there should be live tracking available on the PBP website. Most of my riding exploits are recorded on Strava, under my name TheMaff.
UPDATE 13/08/23
PRE-RIDE PREPARATION AND FUND-RAISING UPDATE
Wow, we broke through £3,000 on the JustGiving page! I am blown away and seriously chuffed with this. Thank you all so much for your kindness and generosity. This money (all of it) will go a long way on the wards, helping to deliver the care and hope to Thomas and his family, and all the other kids and their families. Thank you, thank you, thank you! I'll leave the JustGiving page open until after I get back, just in case there are some late entries, or you know anyone else who might be persuaded to contribute. Please share if you do!
We had a wonderful surprise at Cycle Heaven on Thursday, with a visit from Thomas, Pablo and Victoria, bearing edible gift! Given that they had just come from enduring a lumbar puncture the same morning, this touching gesture left me swallowing hard to stay on top of my emotions. For once I was largely speechless.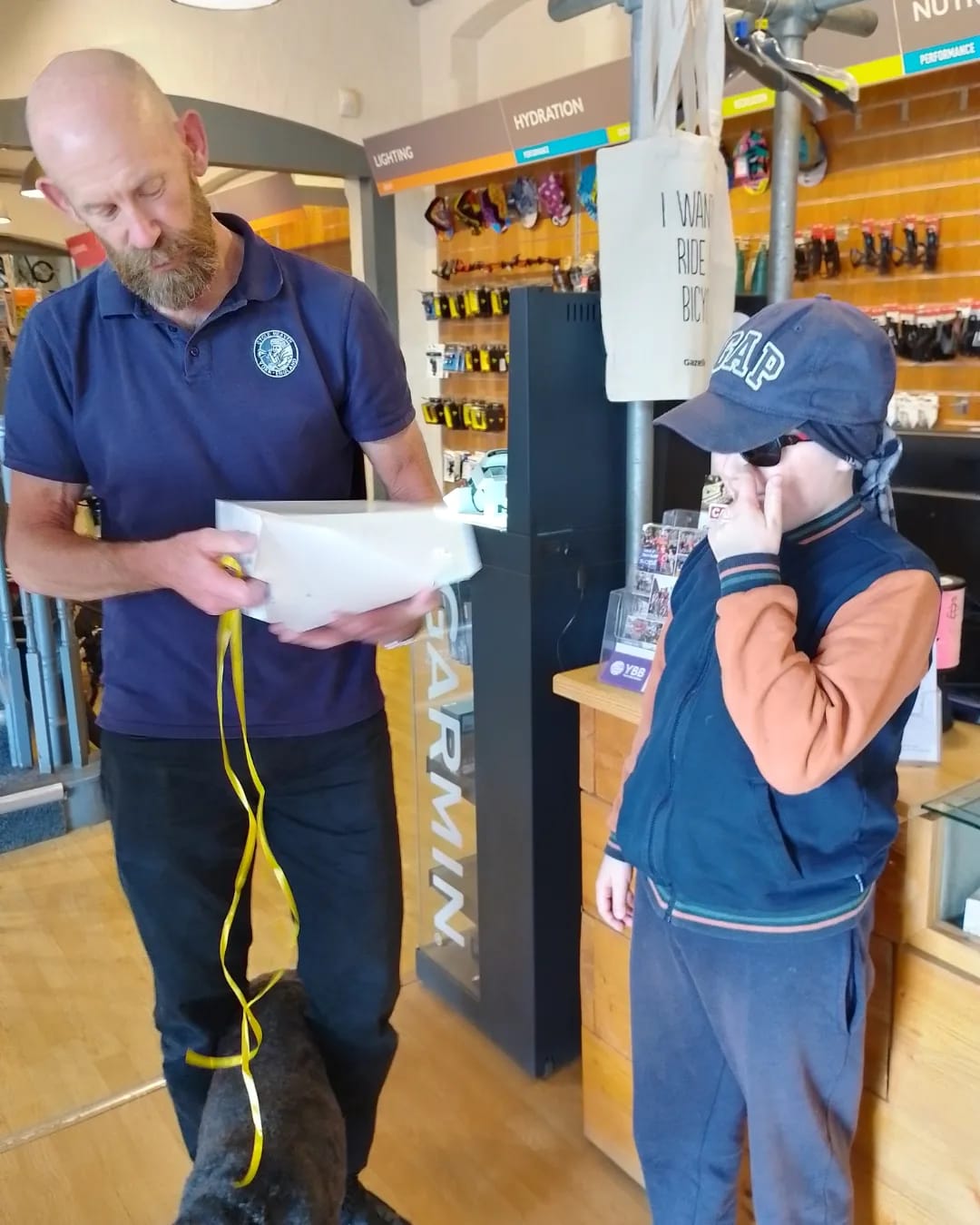 I can't believe this amazing lad came to deliver this after a lumbar puncture
Look at what they brought me… A real 'Paris-Brest' pastry, made by the impressive French Master Pâtissier, Florian Poirot, based in Malton. Proper job, and absolutely the best pastry I have ever tasted! Visit him in Talbot Food Court, opposite the Talbot Hotel, Malton.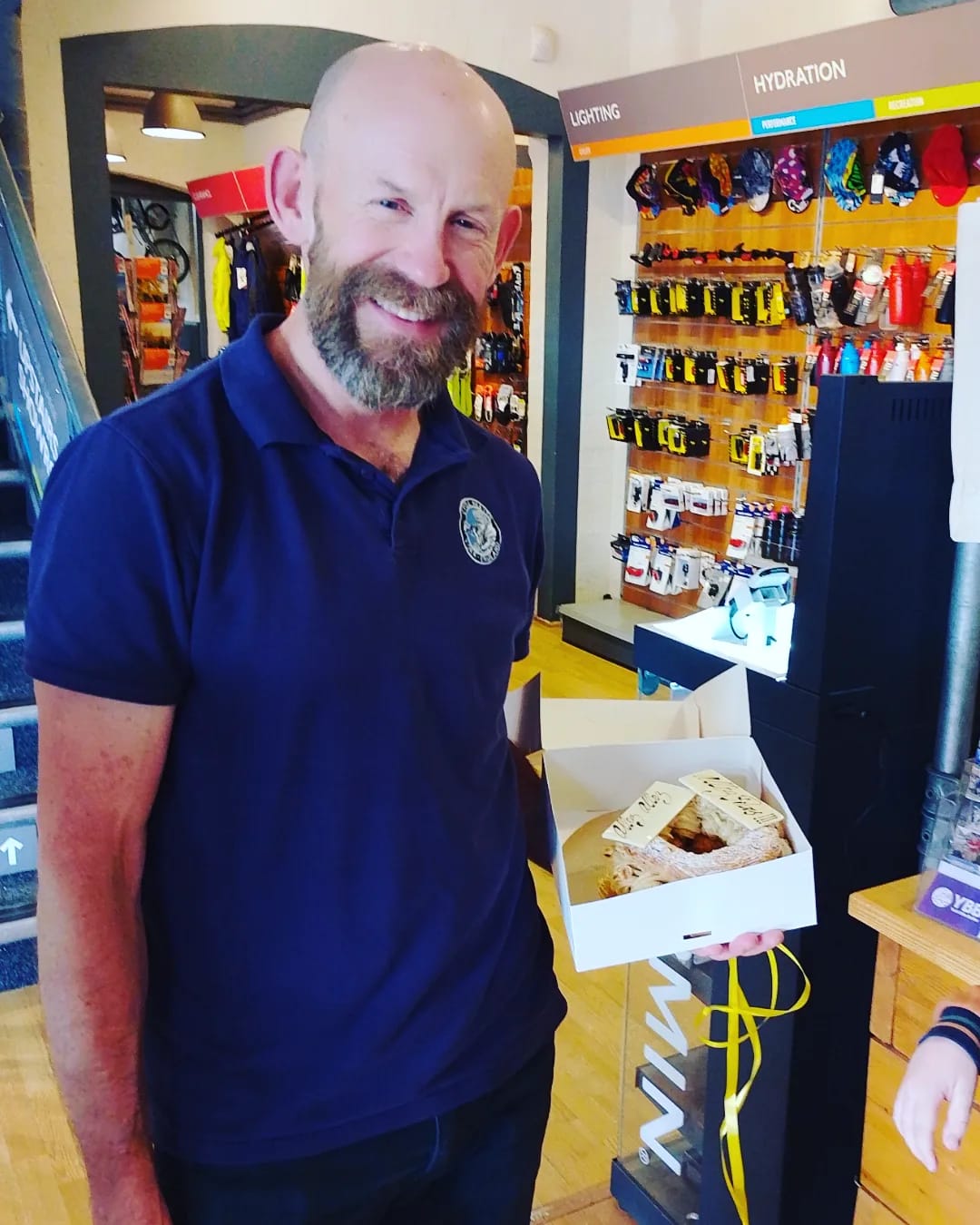 ...but I'm delighted he did!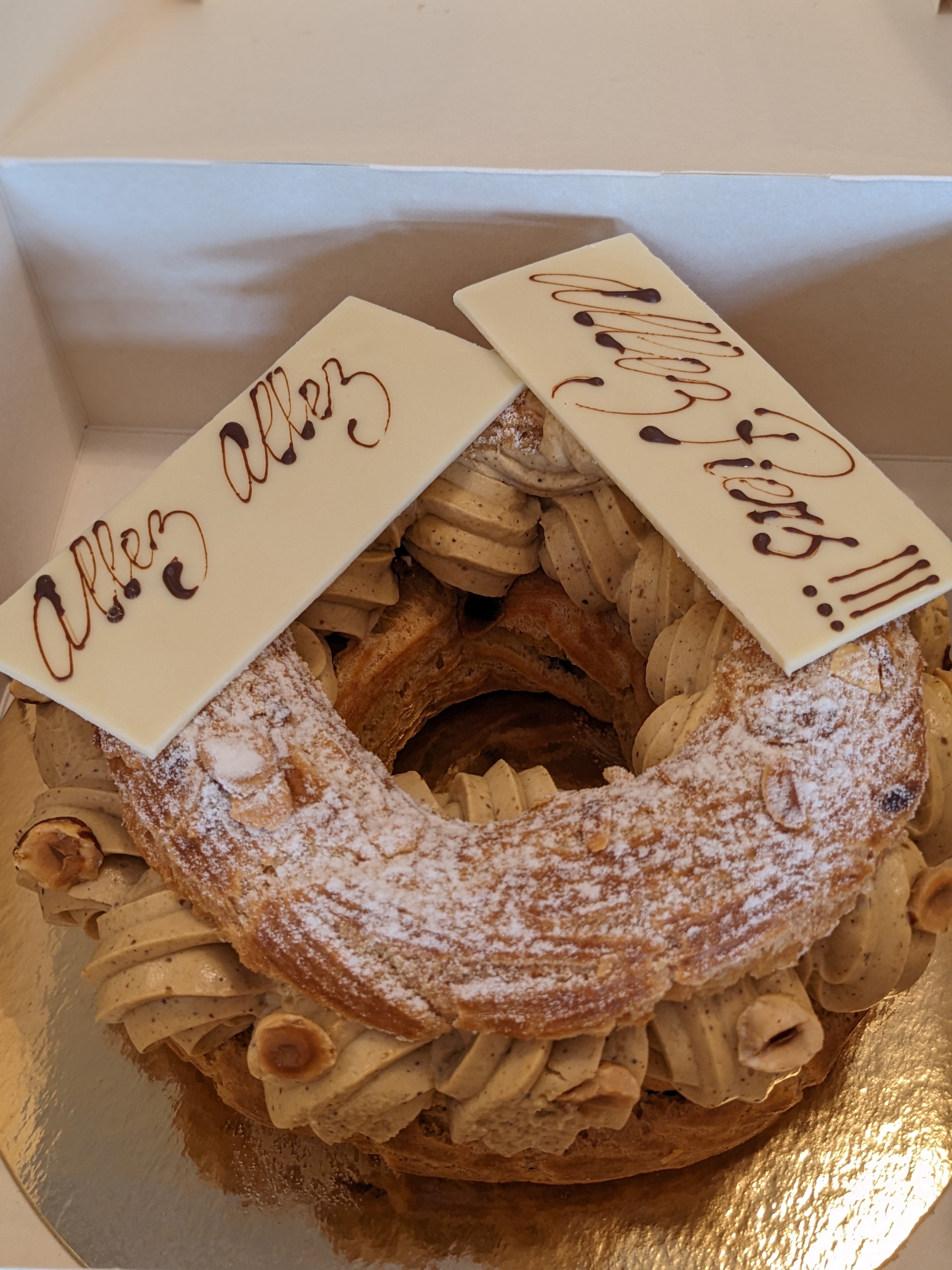 Wow!!!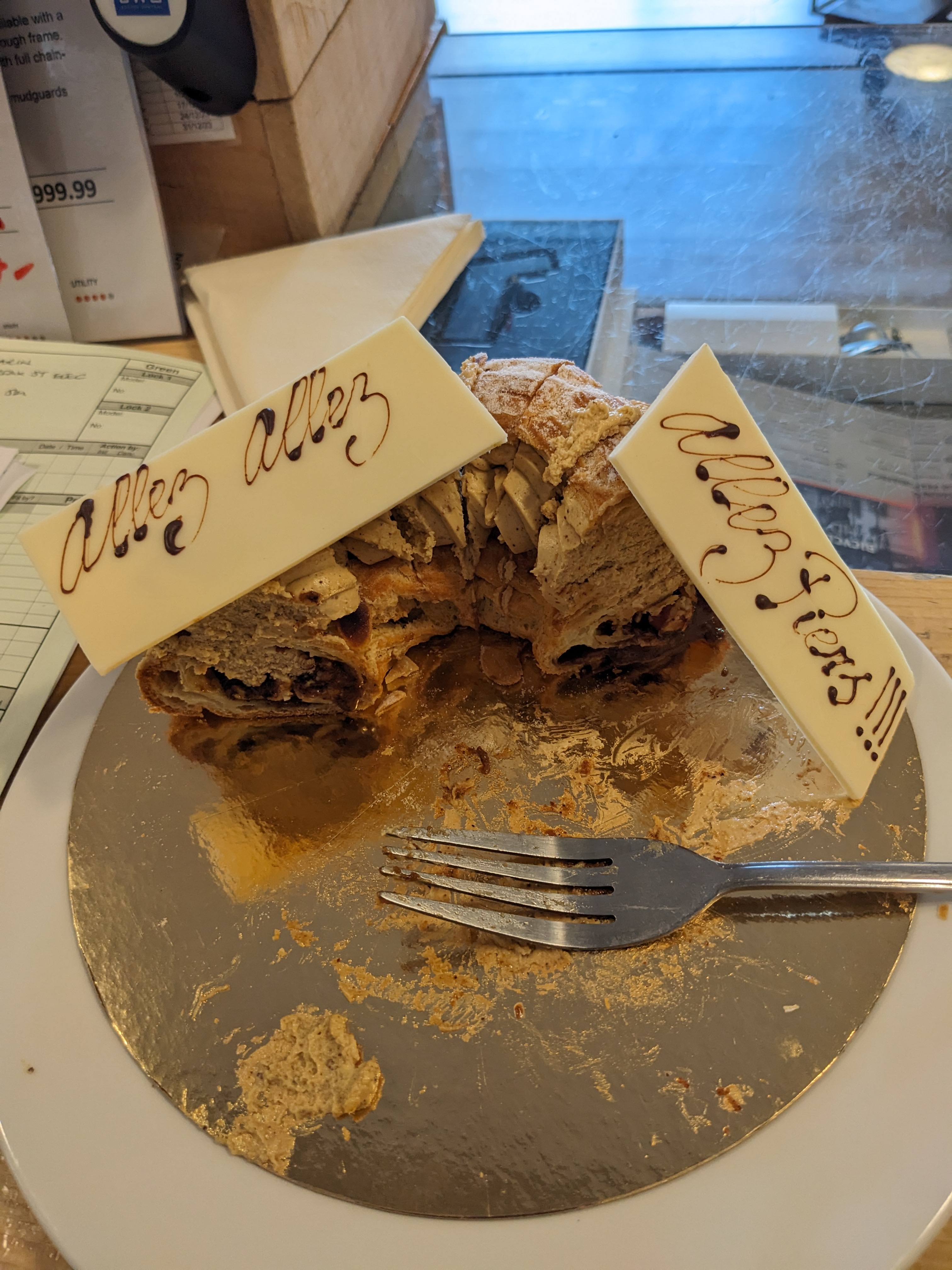 Nothing to see here...
I didn't eat it all on my own, honestly! Tempted though I might have been, it was shared with my lovely colleagues from Cycle Heaven, and our amazing café partners. Actually, a single slice was divine, and left you feeling perfectly satisfied. Amazing…
I guess that means I'd better get on and do something to justify their, and your, faith!
Since the last update, I've done a lot of indoor training, and one long ride; a day out with Chris to ride up Great Dun Fell in the North Pennines, the highest paved road in England. A big day out, at 313km and 4,300m climbing. A good one…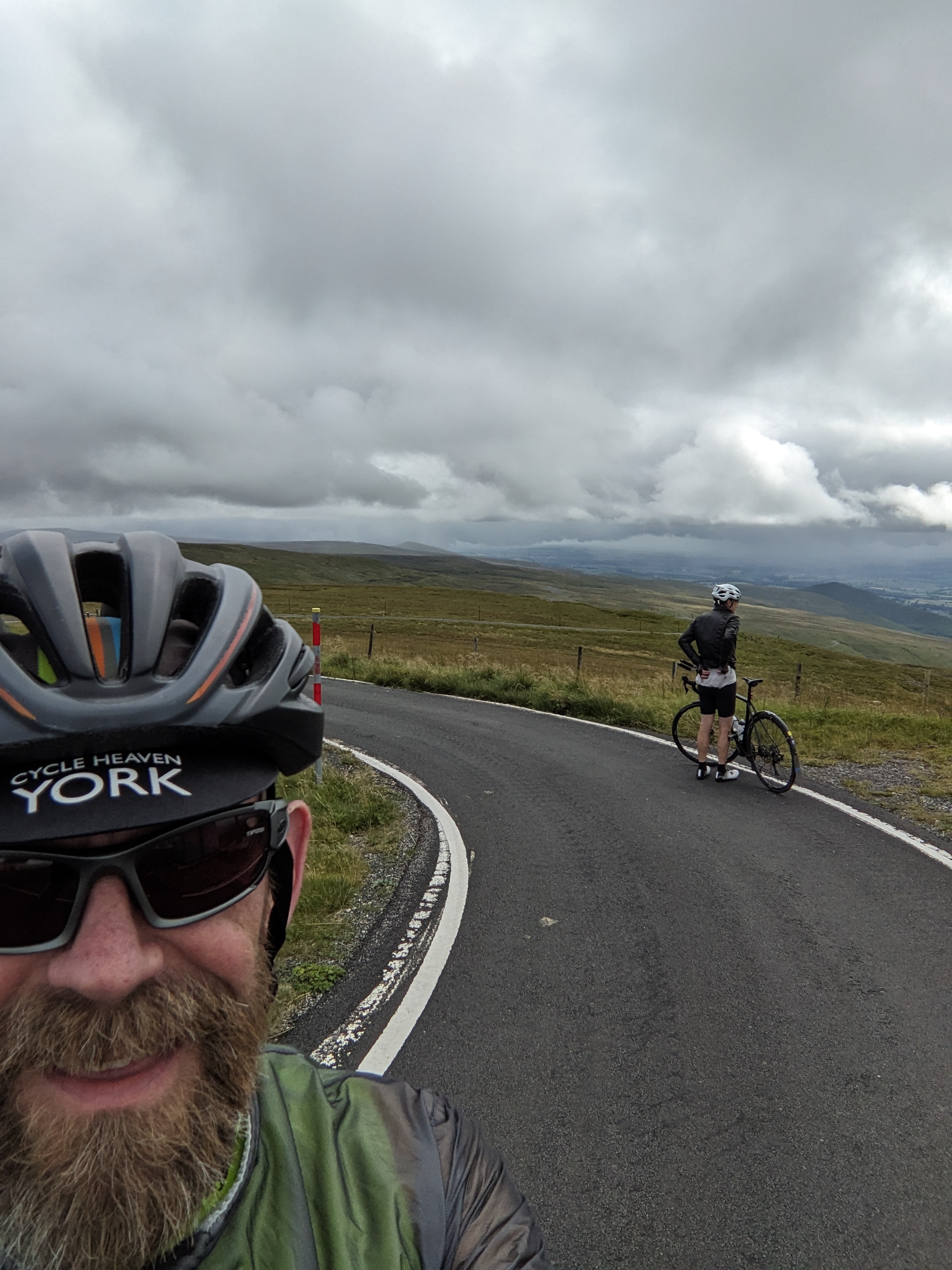 And here we are, finally on the verge of leaving for France.
I have my lovely new leather passport cover ready to go…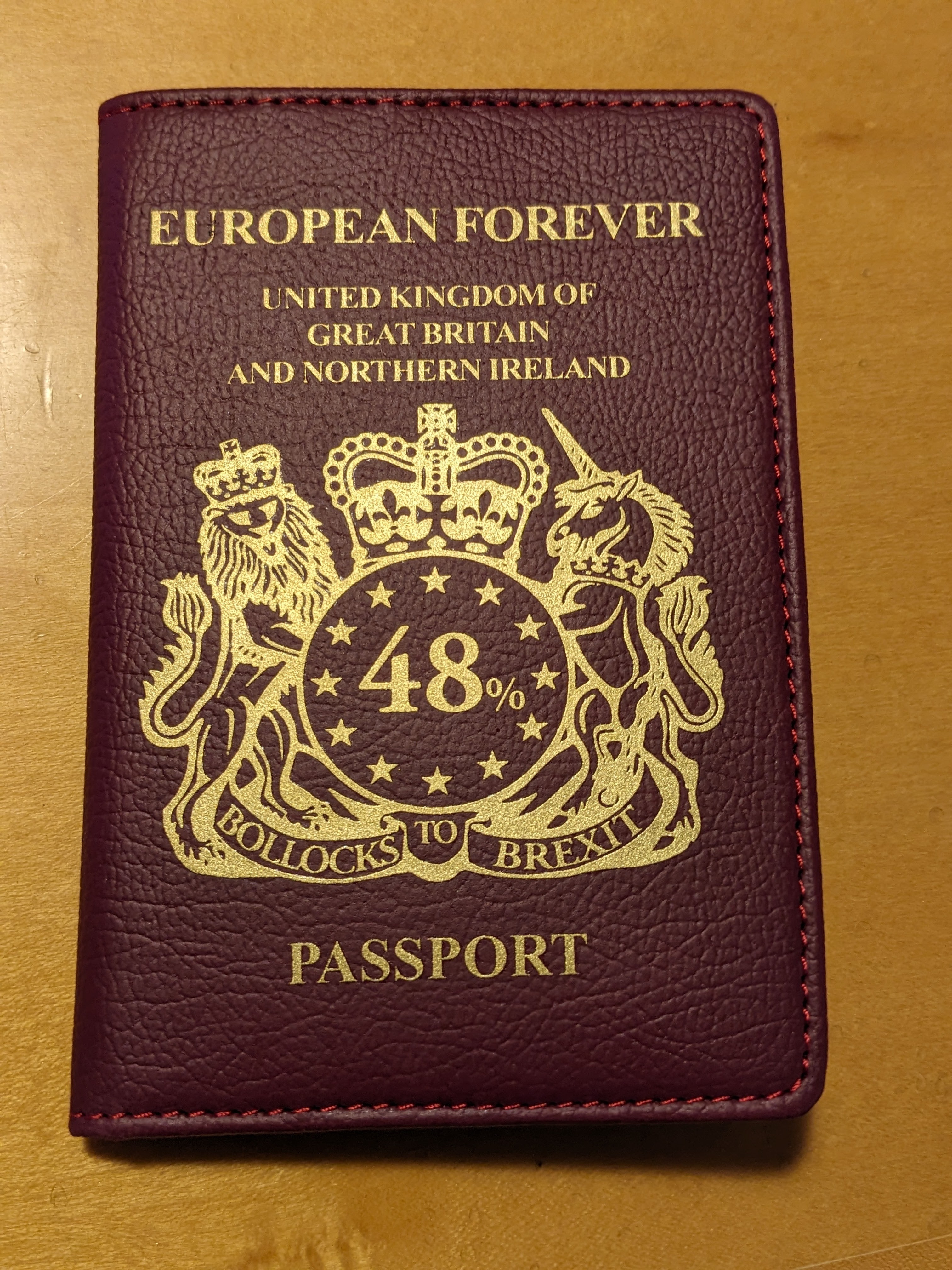 Ahem - I make no apology for the language; I feel pretty strongly about it!
Training has been tapered (no long rides for a couple of weeks), the body has been restored (I've been eating and drinking some good things), revitalised (I've been taking it easy, doing stretches), and refurbished (I've shaved my head and tidied my facial foliage).
The bike is sorted, with many thanks to the excellent Matty in the workshop!
Lists have been made, edited, followed, ignored, or updated.
All supplies have been purchased and collated.
A lovely, exploded view of (far too much) stuff has been arranged (and photographed for your delectation). I've erred on the side of caution with respect to feeling cold (I often do, in the middle of the night when fatigued), and with respect to nutrition (soooo important – did I mention it?) I hope to ensure that the large amount of nutrition I'm taking does in fact get eaten, and not simply taken for a tour of northern France…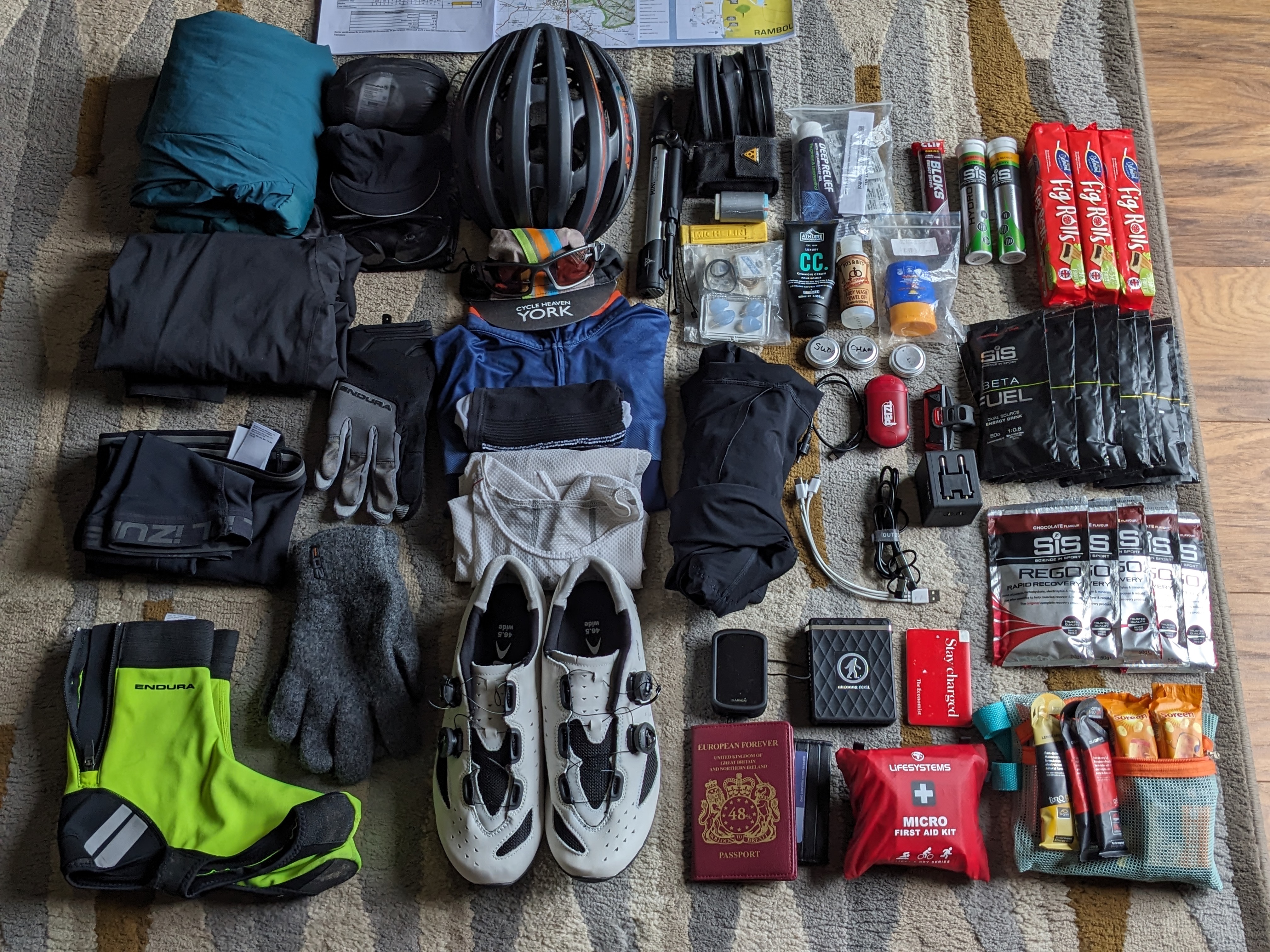 How much stuff....?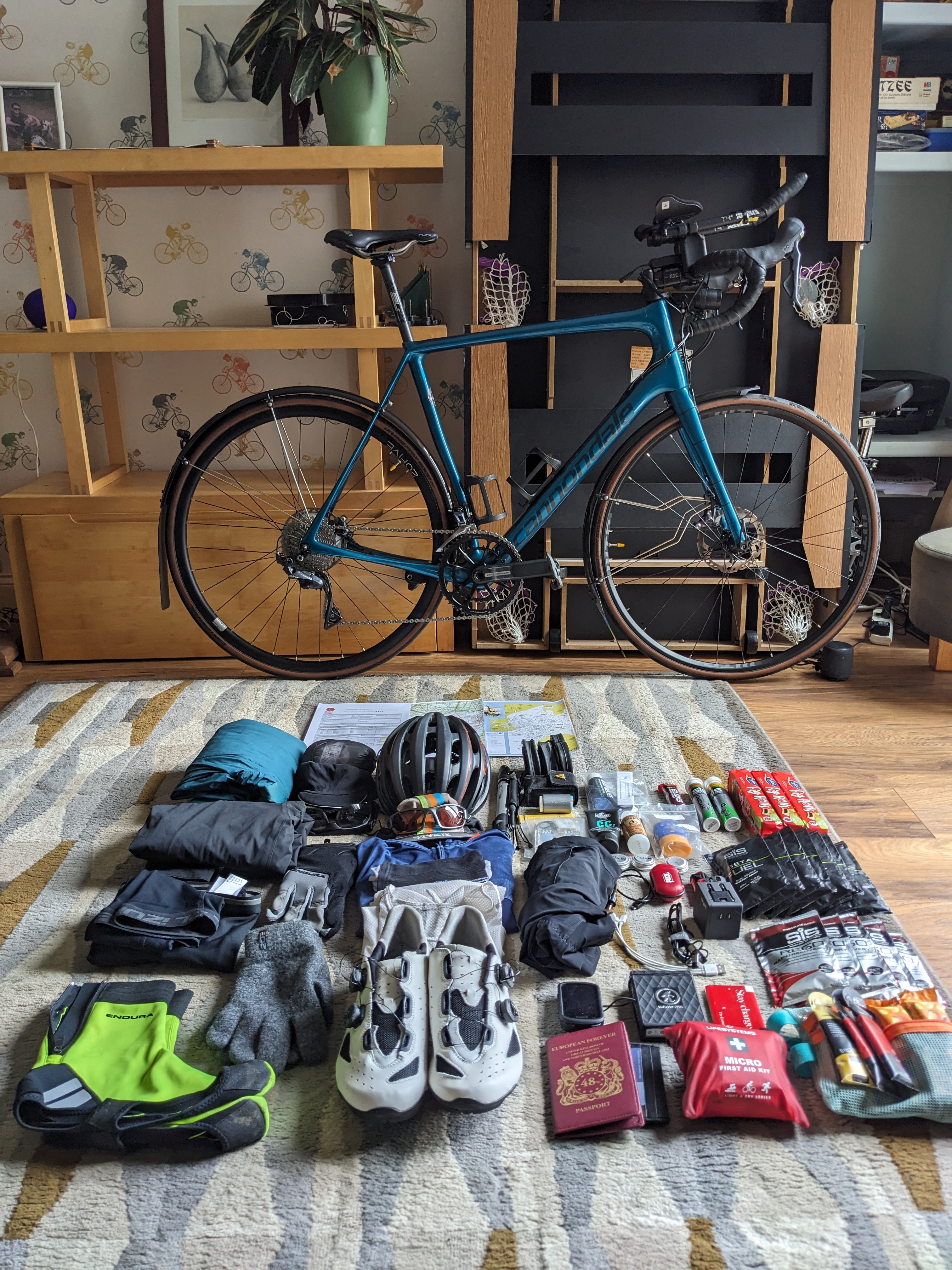 It'll never fit...
The jigsaw came apart and most of the pieces have been successfully rearranged within the bags on the bike. It all weighs just over 15kg with empty bottles… It's guaranteed to be a lot heavier than many of the people I'll be starting with, but I am happy with this.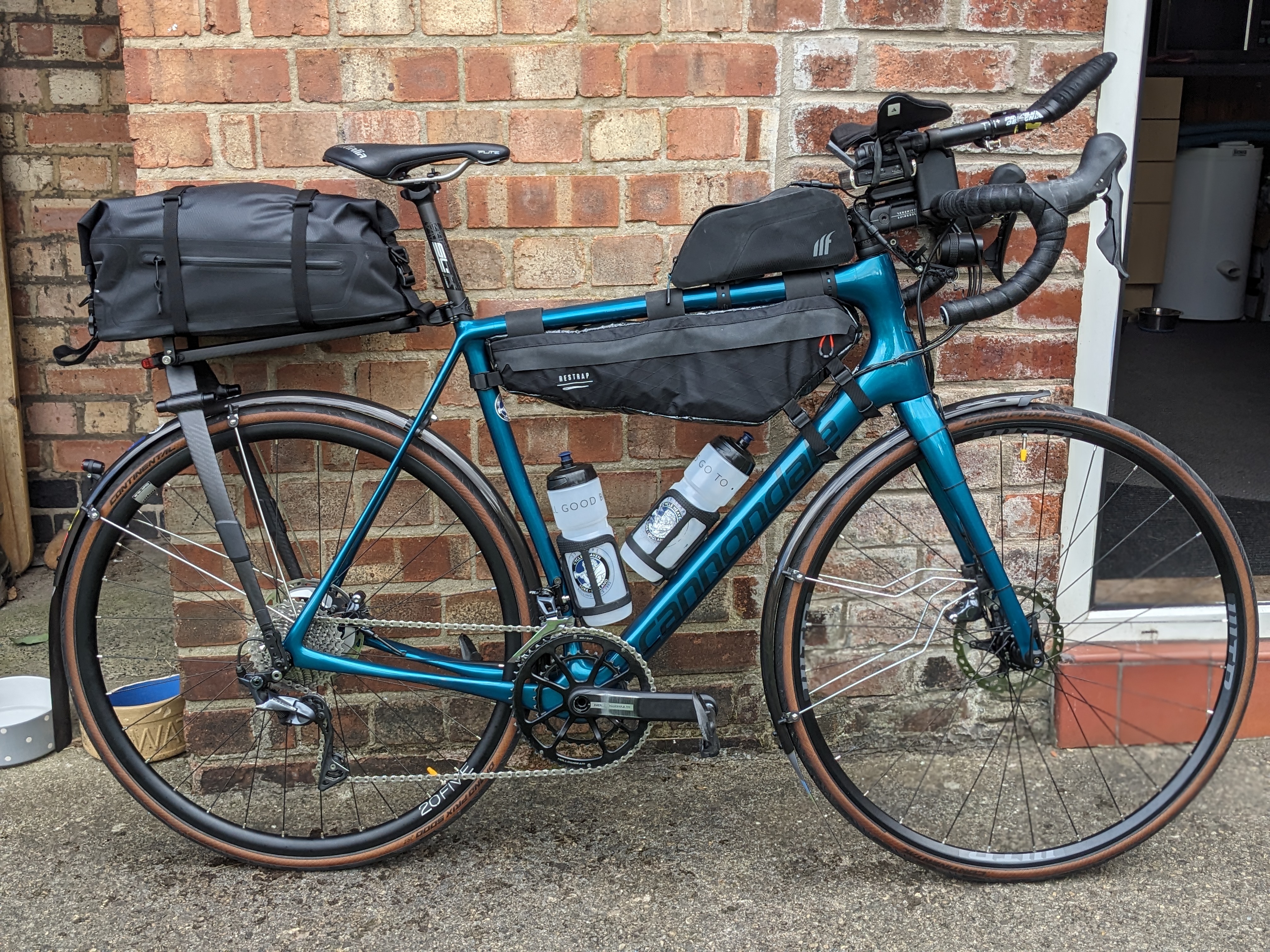 The impressive and dependably capable and comfortable Cannondale Synapse, with Restrap bags, combined with Tailfin rack system.

The way out - hmmm, few flat bits

The way back - even fewer flat bits
So, once again, many thanks for your excellent support.
You can follow my progress on the PBP website here, which tracks progress through the control points, though not a live track on the open road.
I'll see you on the other side!
...which is just here...
UPDATE 11/10/23
RIDE REPORT AND FINAL FUND-RAISING TOTAL
I finally did it; I made it to the start of a planned ultra-endurance ride, and managed to finish it! I even beat my 80-hour target by finishing the 1200km in 73 hours and 51 minutes. I had an absolute blast doing it, and I'm chuffed to bits. In doing so, we have also raised £4,500 for the Children's Play Service at Leeds General Infirmary.
I crossed the finish line back in Rambouillet about 7 weeks ago now, so I'm a bit late in getting this out there, but it's tough to remain focussed after a big event comes to an end. Suddenly there is a large hole where something important used to sit.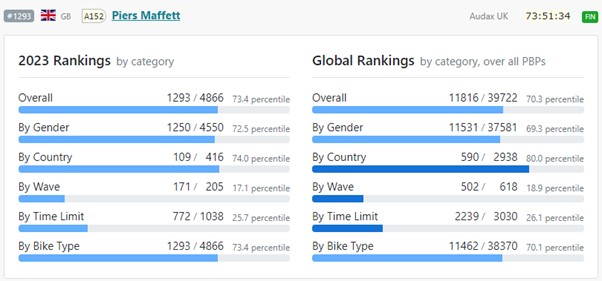 Unofficial results from a third party website flatter me a bit
Friends and family were incredulous at the decision to ride to the start of such a big endurance event. There were a couple of aspects to this: it is the purists' way to do these things, keeping it real, connected and down-to-earth: it keeps the legs and body ticking over nicely, ready for action: I certainly didn't want to turn up in a car, or off an airplane. My co-conspirators Chris and Charles were excellent company and we had a splendidly leisurely tour down through Normandie to our basecamp hotel in île-de-France. We arrived relaxed, happy and already in a French groove. We were blithely ignoring the fact that we would be required to ride back home after the event.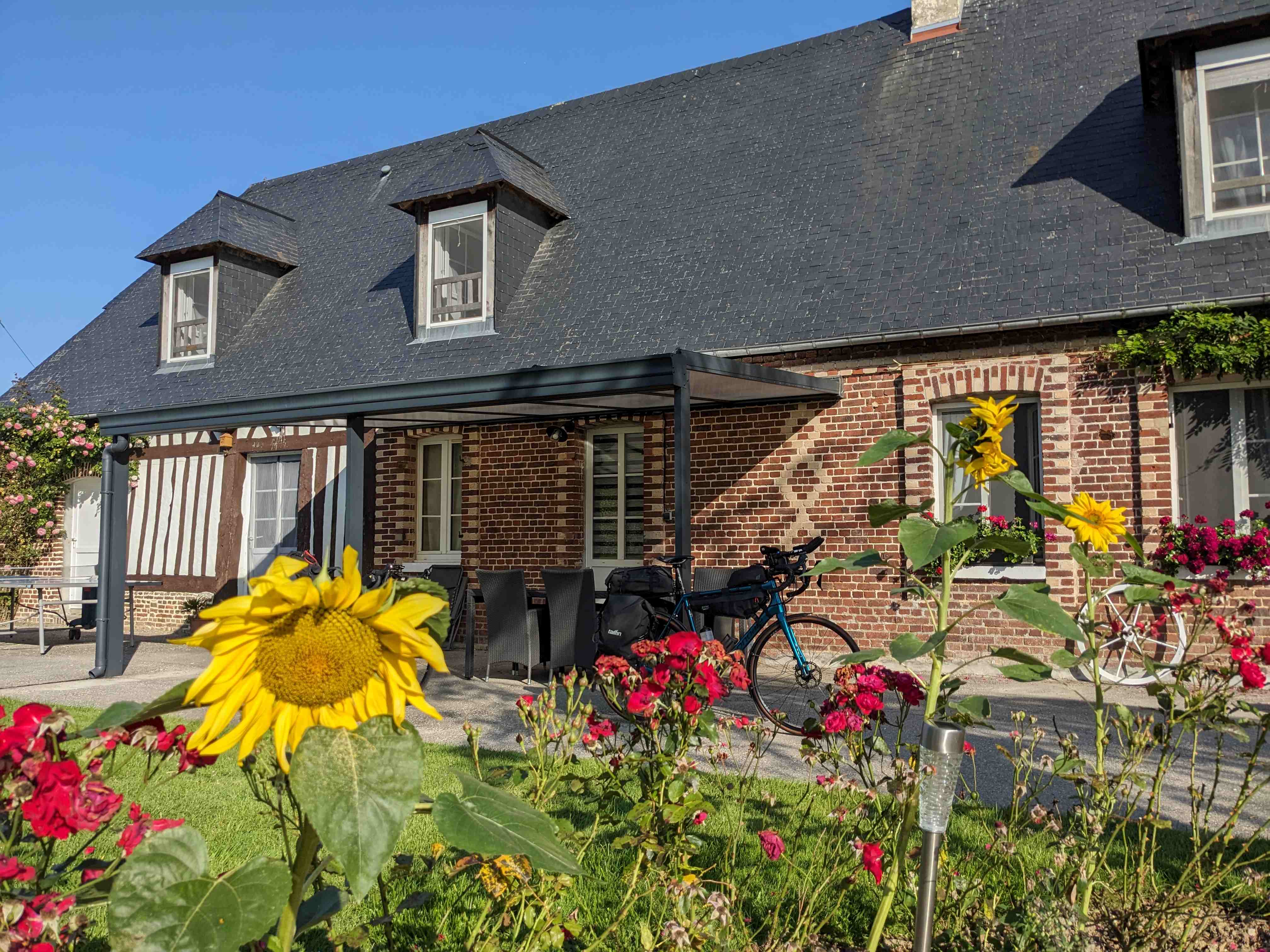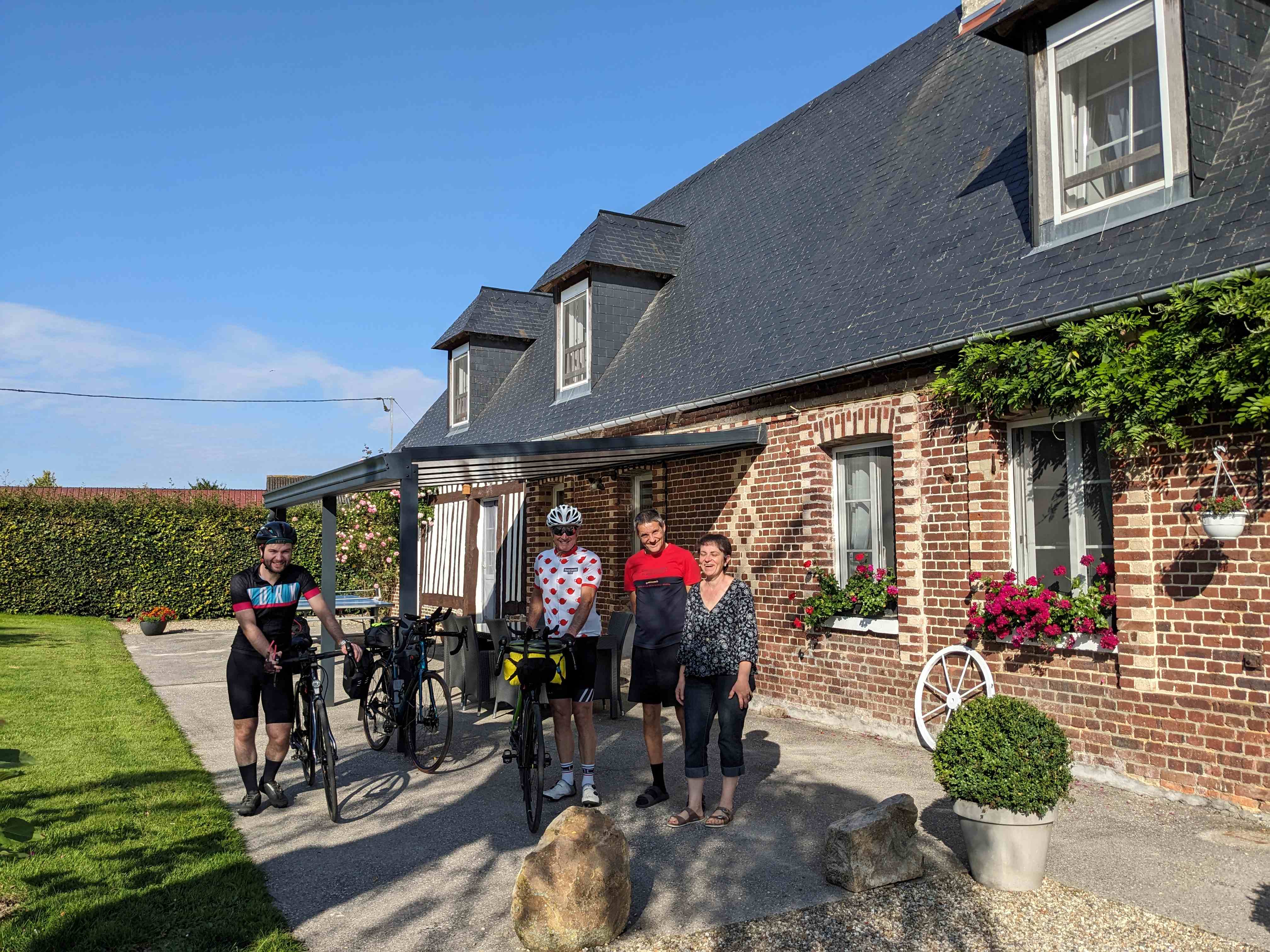 Our first Chambres d'Hotes stay set the bar high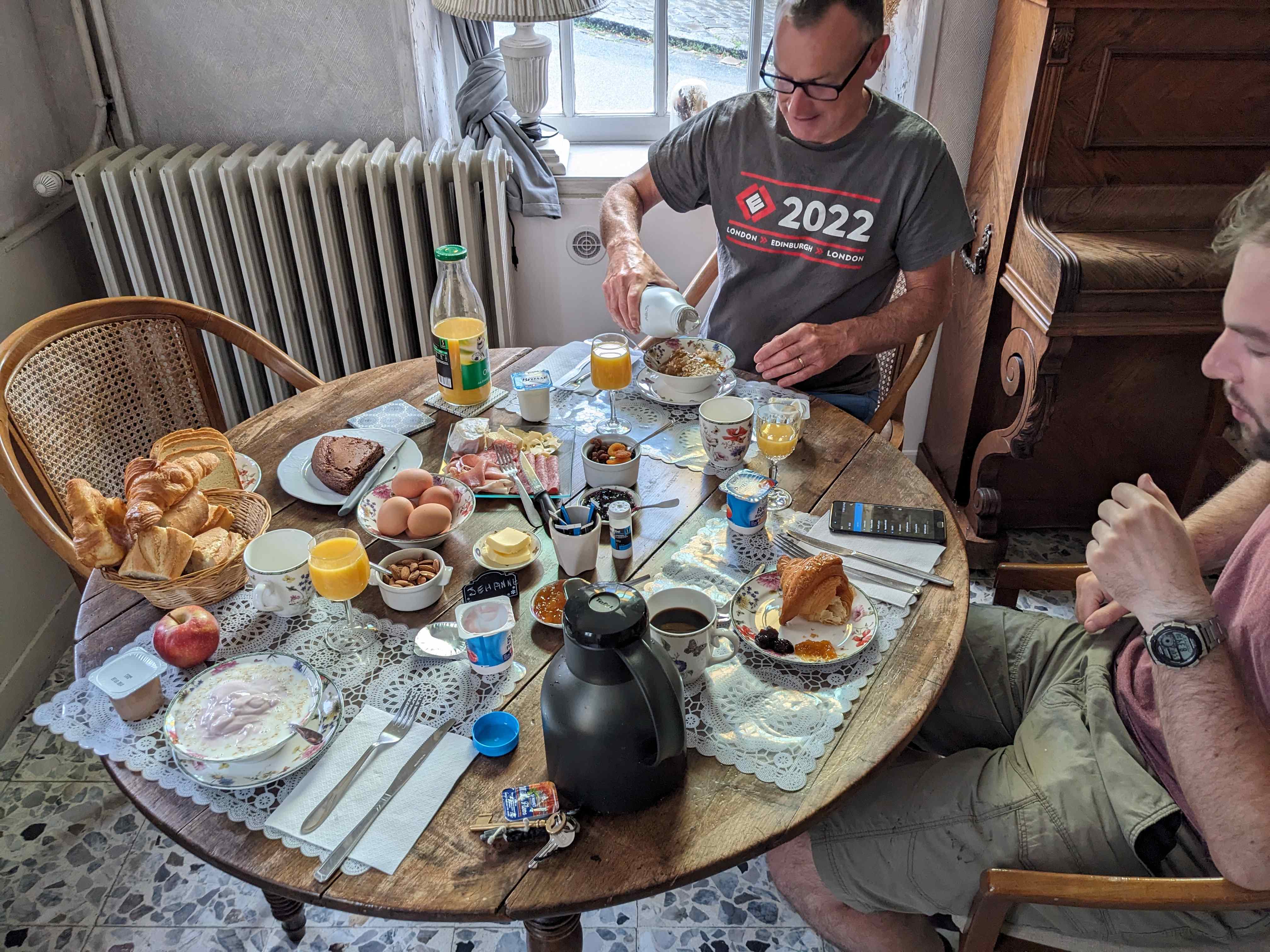 But the next one did not disappoint
Taking in a succession of lovely little Chambres d'Hôtes, our route took us through a town called Vernon where we made an impromptu stop to purchase larger bottles at a Decathlon store (I know, I know...!). The town is where I had attended a weekly boarding school called Ecole St Adjutor when I was about 13 years old. Chris and Charles permitted me a moment's nostalgia, and we made a route change to take us past the school. The realisation that it required a serious hill to get there was accepted with grace by both. Happy memories of my culturally immersive experience 45 years ago flooded back, despite the school being closed: the ritual breaktime half-baguette and 2 sticks of chocolate handed out to everyone: raucous games of table football, 'babyfoot': astonishing displays of footballing skills from some of the Tunisian kids on the playground's dusty, hard football pitch (still there): the thick and pungent clouds of Gauloises cigarette smoke curling around many of the teachers: the confusing and completely unfamiliar history being taught in the classroom. We rolled happily back down the hill, and onwards.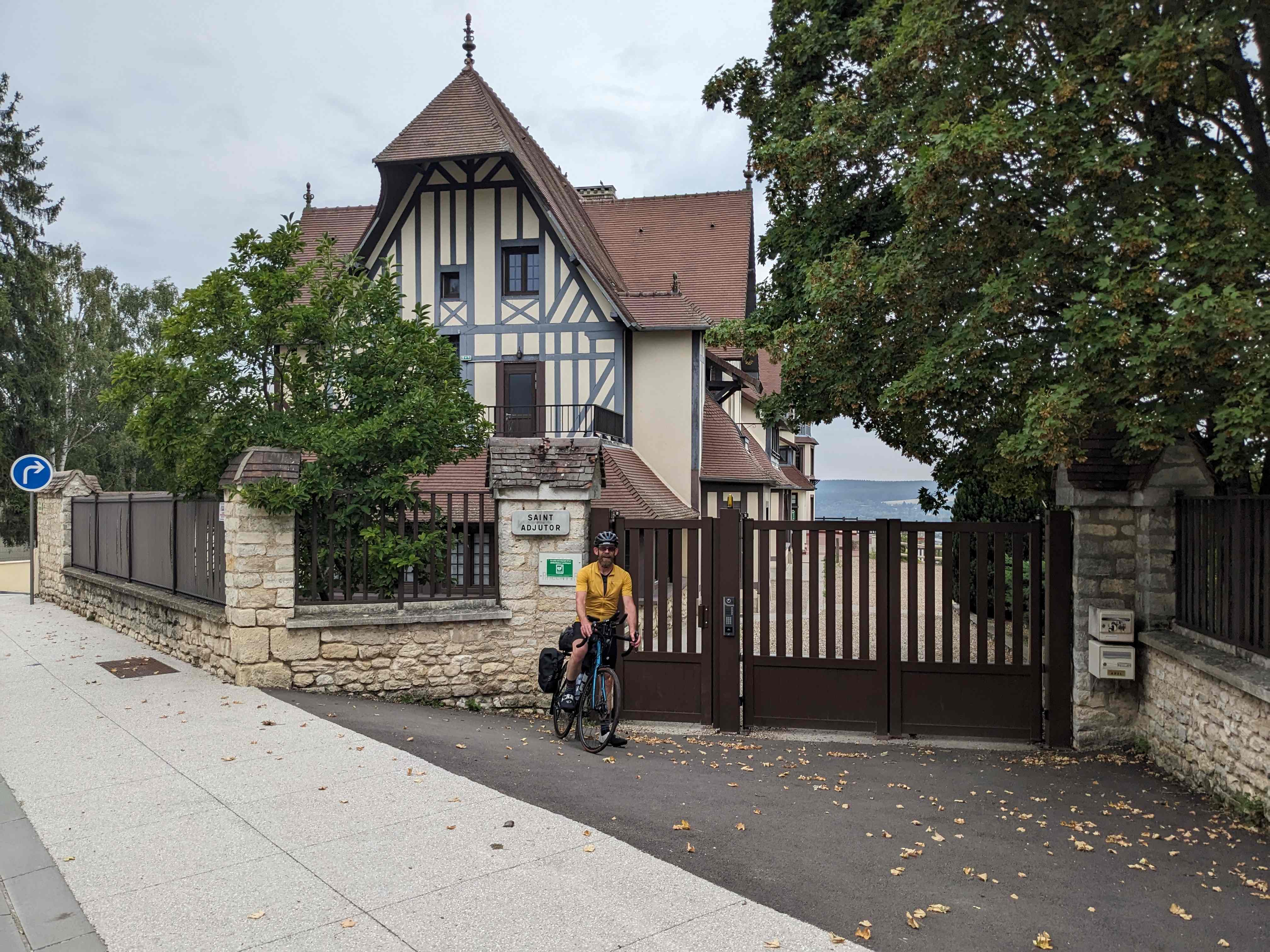 Happy visit to the old school where I learned to speak French
Our base camp hotel was a basic offering, run, seemingly solo, by our lovely Algerian host Fabian. He gave us full run of the enormous function room for our bikes and bike stuff. He couldn't have been more accommodating. This was perfect. But it was 30km from Rambouillet; no problem for registration on Saturday, or for the start on Sunday, but a niggling concern for the return after the finish.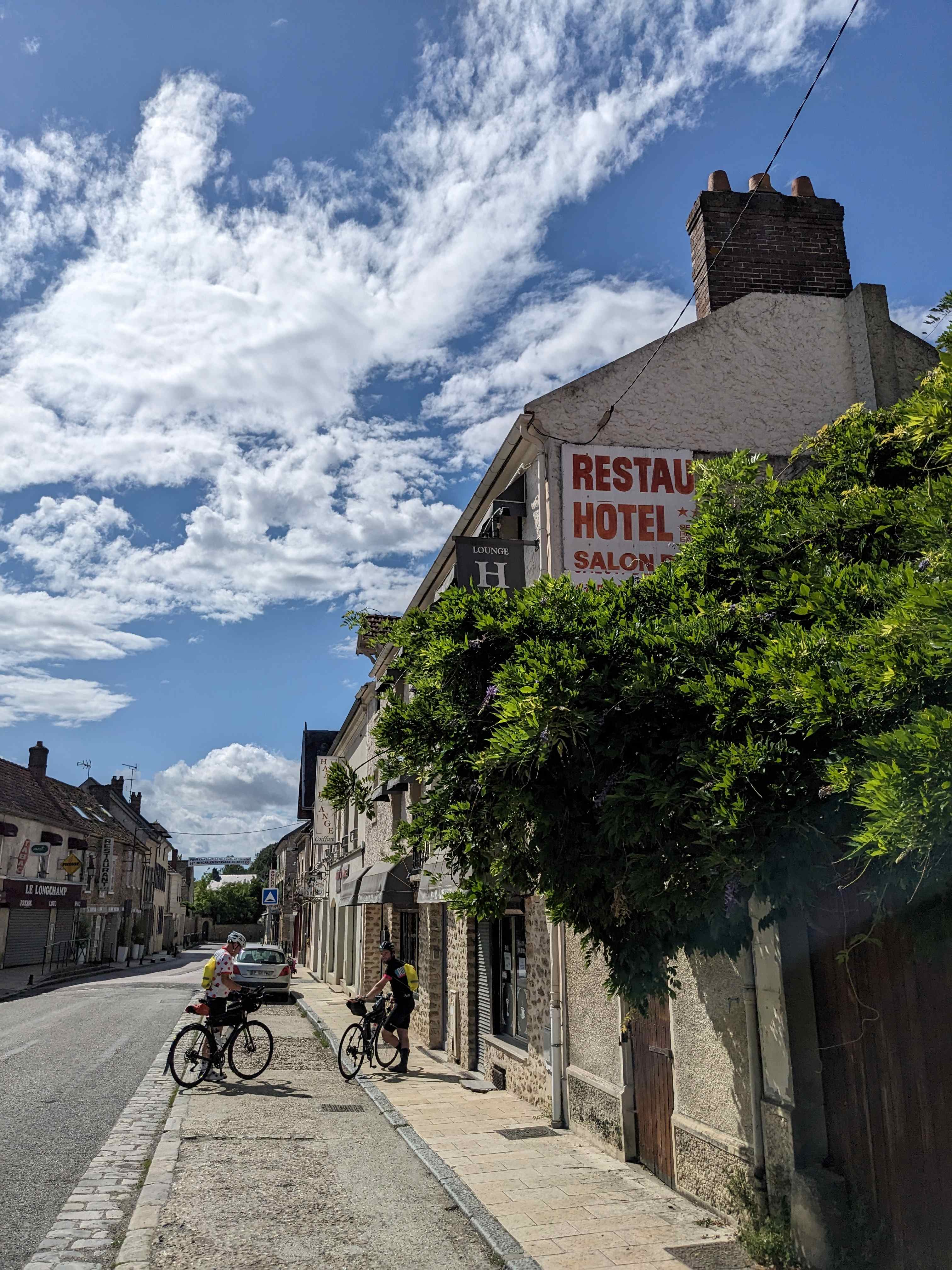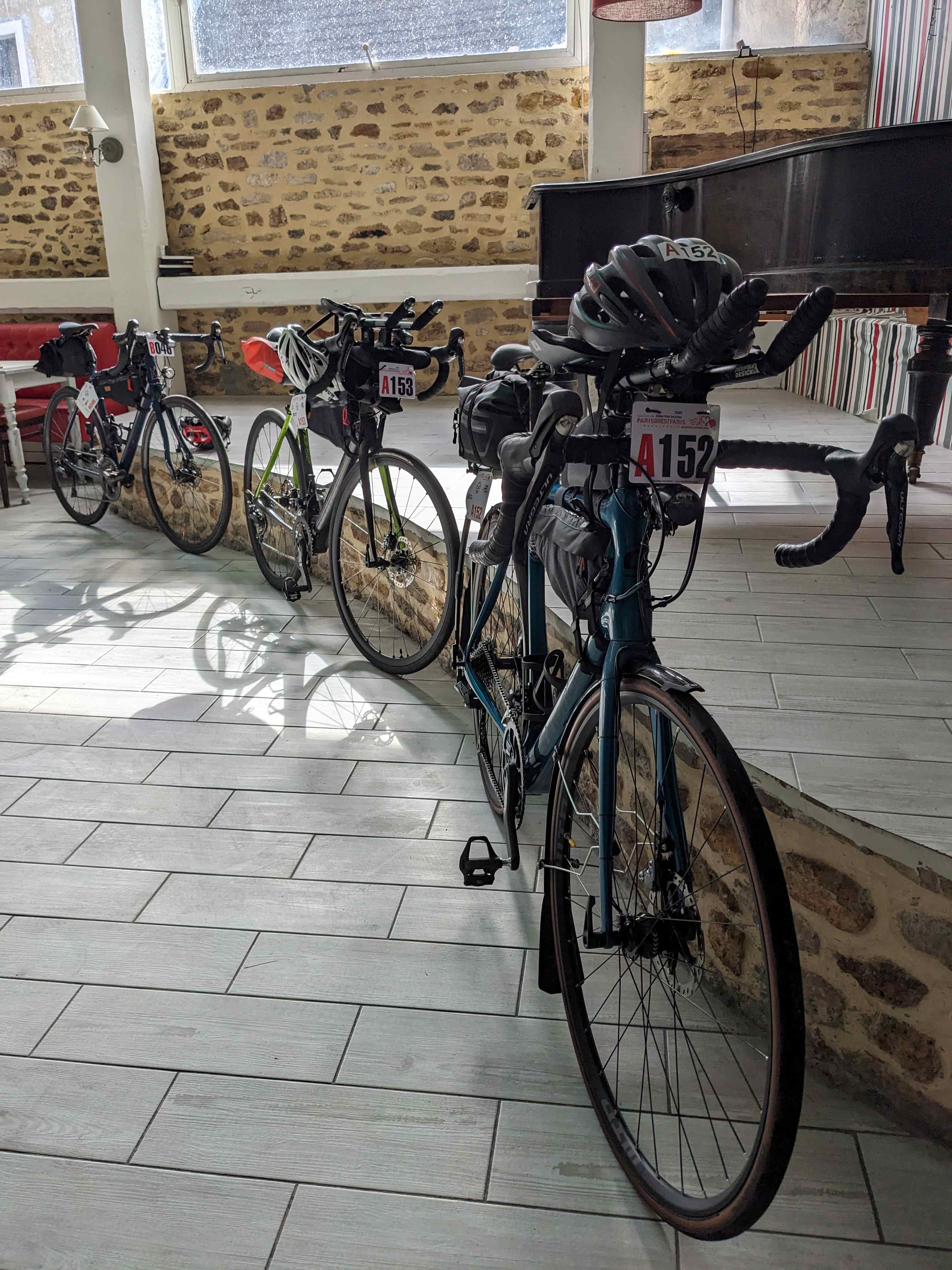 Auberge de l'Etoile was a good choice of base camp hotel - if a little distant from the start / finish
Registration on Saturday was bustling and exciting. We had read that 70 nations would be represented at the event, but here we could feel the buzz and see the activity as riders converged from all corners. The registration pack contained the all-important brevet card with all the controls listed with cut-off times, 2 numbers for the bike, with embedded tracking / timing chip, a helmet sticker, a wrist band, a water bottle, a carrying bag, a reflective gilet, commemorative jersey, and a PBP route sign. The latter given to prevent riders being tempted to nick a sign as a memento before everyone had had a chance to finish; a thoughtful development, and a lovely memento.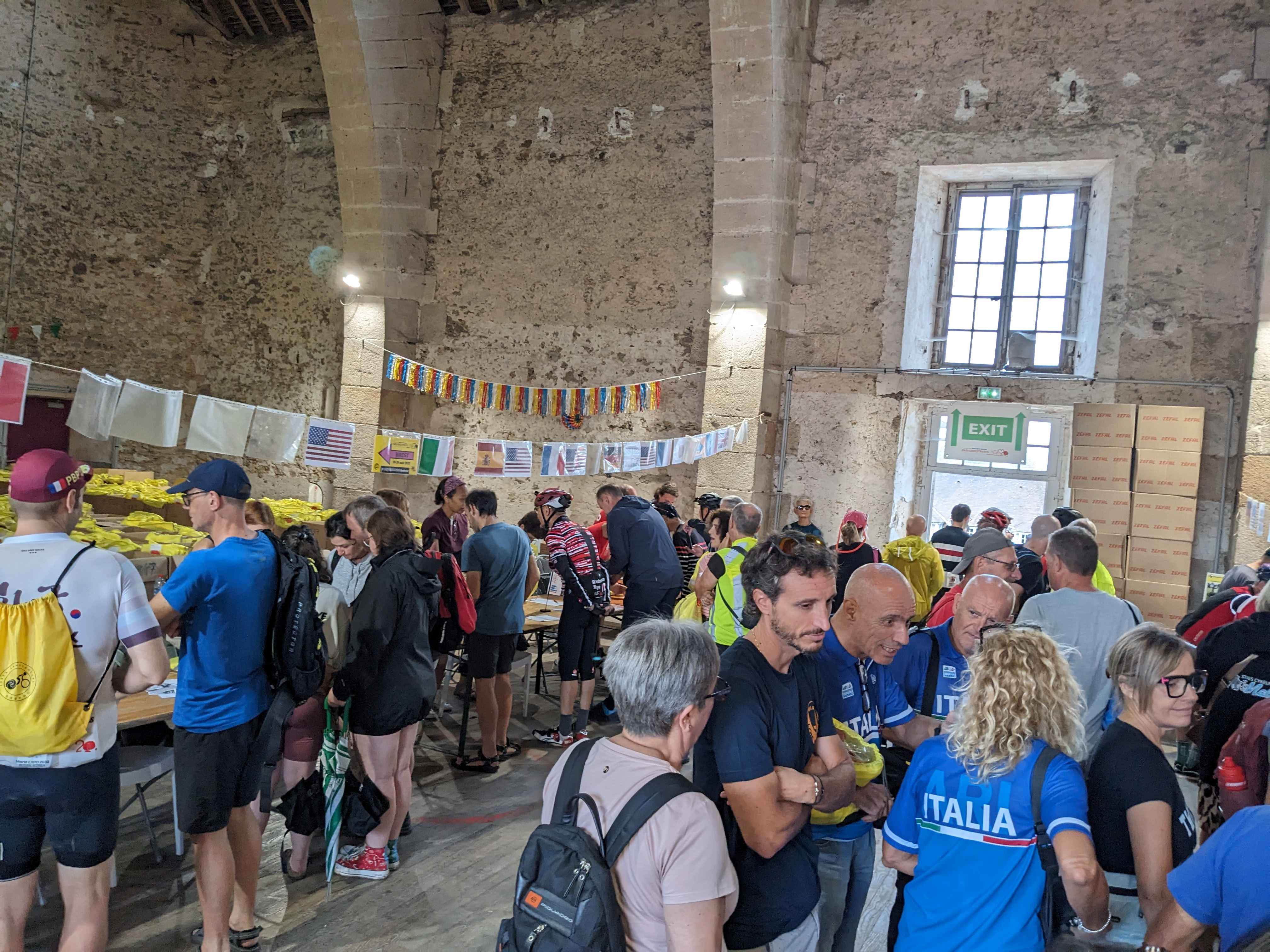 Organised chaos in historic Chateau out-buildings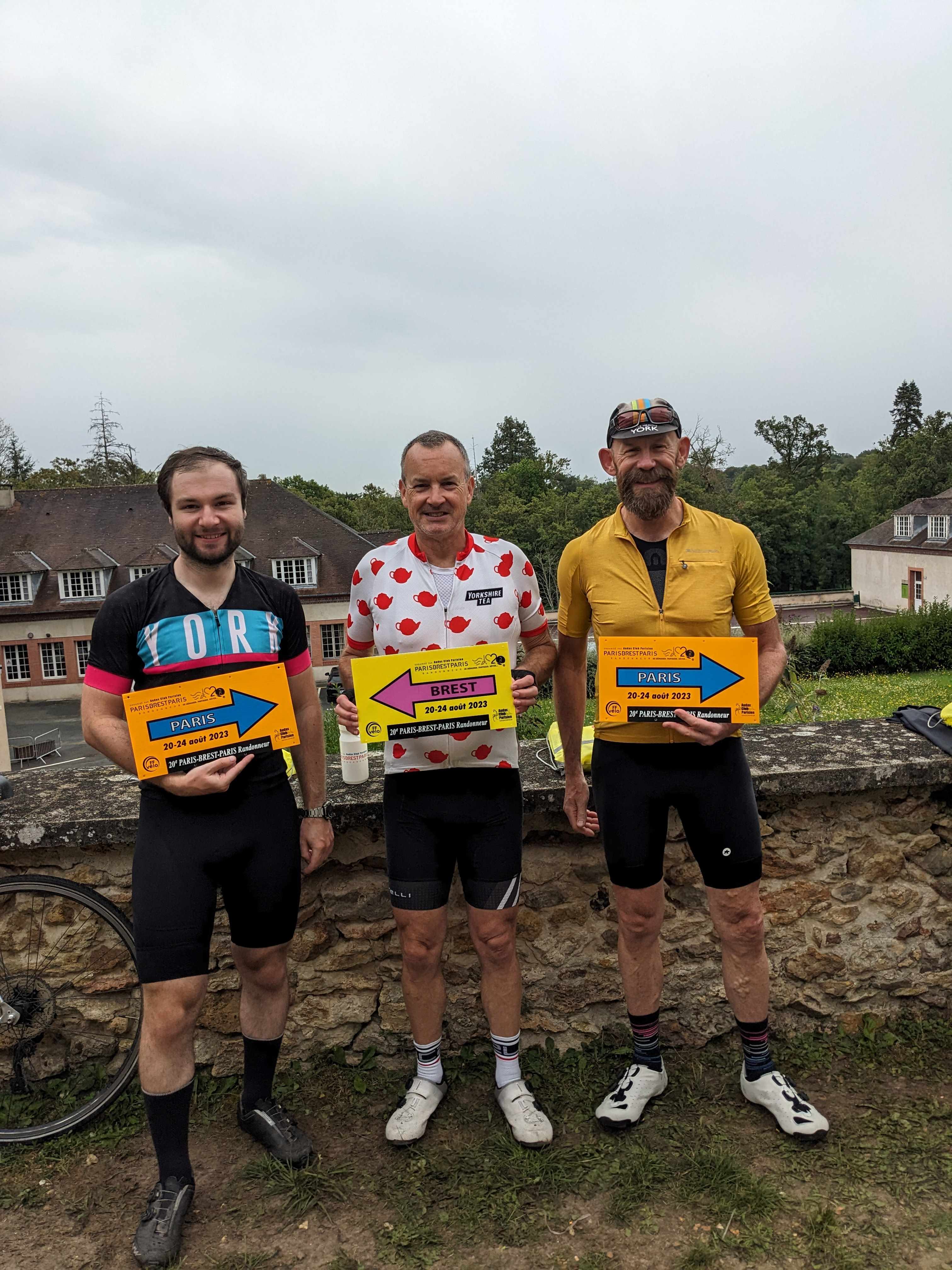 2-sided course signs given out at registration, to prevent souvenir-hunting during the event...
The day of the start, with our allocated 4pm time slot, allowed a lie-in, but only as far as the check-out time limit. Fortunately, Fabian allowed us to leave all luggage not required for PBP. For Chris, this included his mudguards, which the favourable (if extremely hot) forecast allowed him to discard. Given that I had integrated my dynamo rear light into my mudguard, they were staying on my bike. My bike was still several kilos heavier than either Chris' or Charles' bikes anyway. Meh..! But I had fitted a thing that neither of my pals had chosen to include; a means of acknowledgement of the amazing roadside supporters, and an unexpected source of enjoyment; my bell!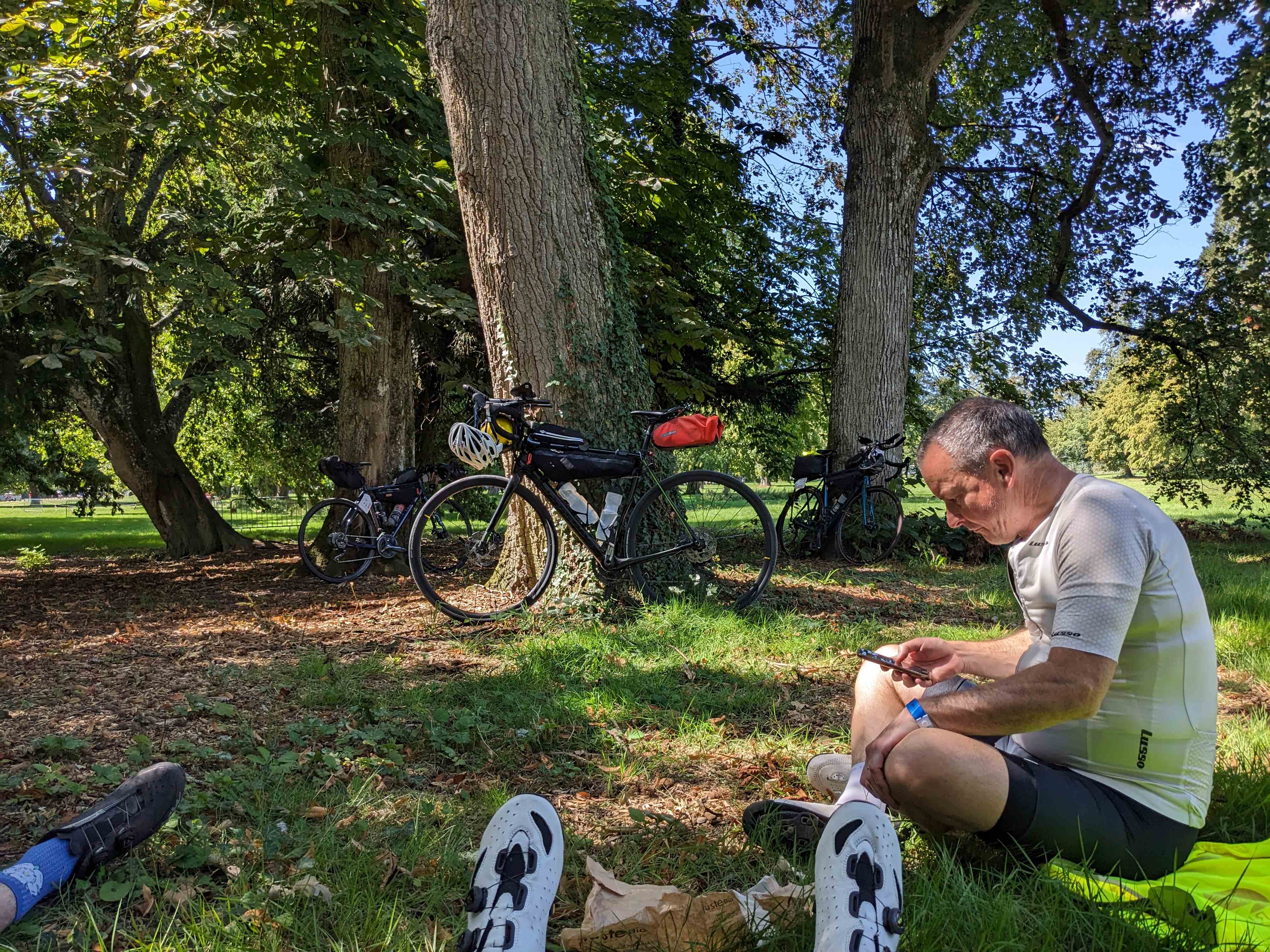 A moment for chilling mind and body before the start on a roasting day
Rambouillet greeted us in sweltering heat, with a palpable sense of anticipation and nervous energy, as we swept past queues of cars and buses. Wow, it was really happening! We camped under some trees for cooling, and bided our time before rolling into the dining tent for an enormous pre-ride meal. Superb riding food was dished out – meat, mashed potatoes, roasted veg, fresh coleslaw and salad, followed by fruit tart and a cheese selection. I made a pig of myself, and was in heaven, but it was seriously hot! T minus 90 minutes or so.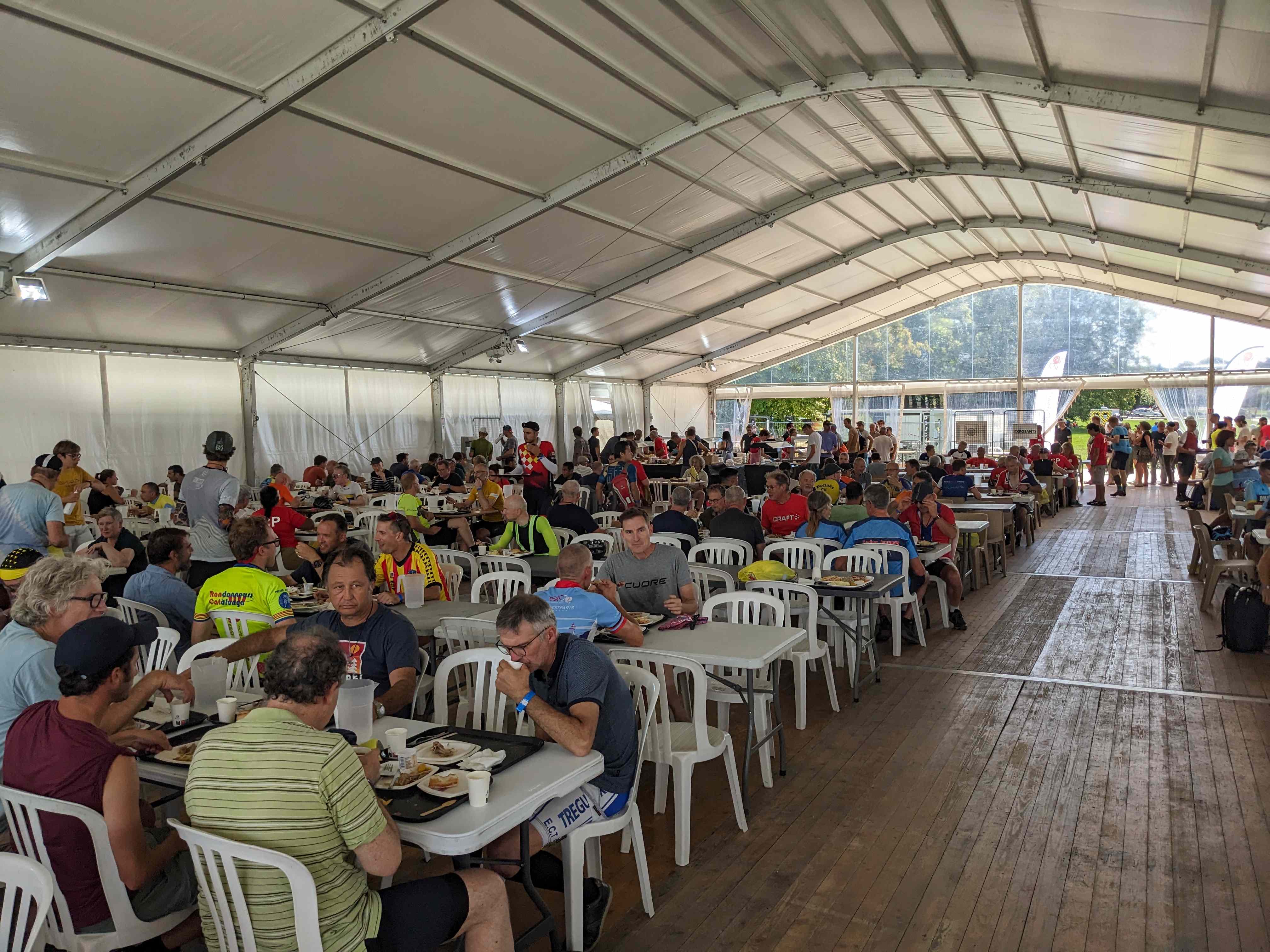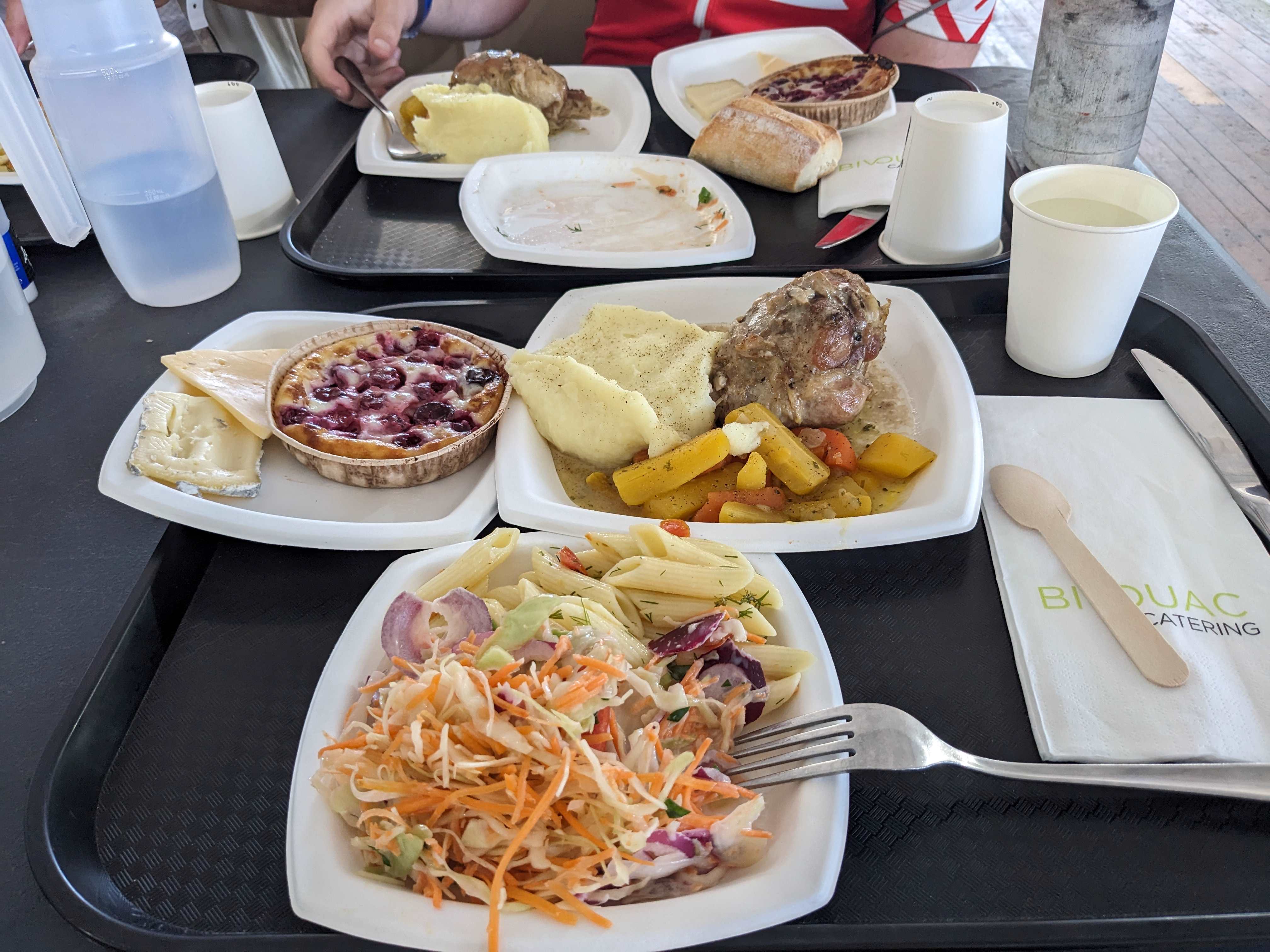 Massive tent for the pre-ride fuel station, serving memorably good food
Official scrutineering beckoned; a quick check that the bike had functioning lights and brakes, and riders had a helmet and a reflective gilet. Funnily enough our check was carried out by the legendary Chris Crossland, chair of Audax UK. Then we joined the monster queue for the start in the lead group A, all 250 of us, starting in the shade of trees in the ornamental avenue, but moving on to the full heat of the sun. Looking around, I realised we were in exalted company, chatting with Paul Wainwright, from York, winner of the Pan-Celtic Race and a serious athlete, hoping to be in the lead group at the end, and rubbing shoulders with people like Matthew Page who wanted to break the record, and other riders aiming to make a big dent in a 50-hour finishing time. Gulp! I was hoping to scrape inside our 80-hour limit!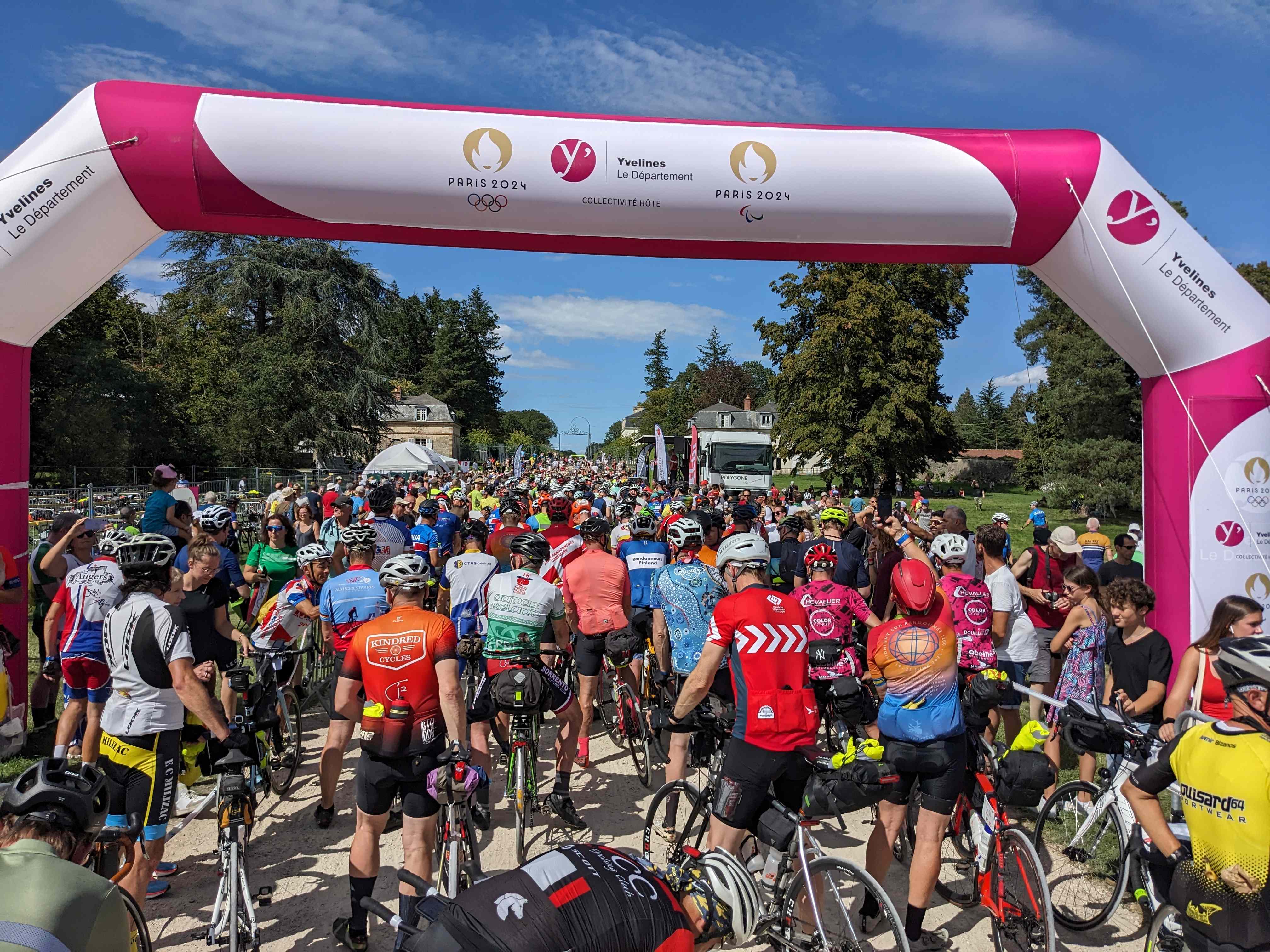 Bake in fan oven at 35 degrees until done
Eventually, after stewing in the direct sunshine of a steady 35 degree day, the man on the mic made us sing 'Happy Birthday' to some poor chap, before counting us down to 4pm, and we were off. I immediately started using my bell with great joy and inordinate enthusiasm, as we passed all the well-wishing spectators.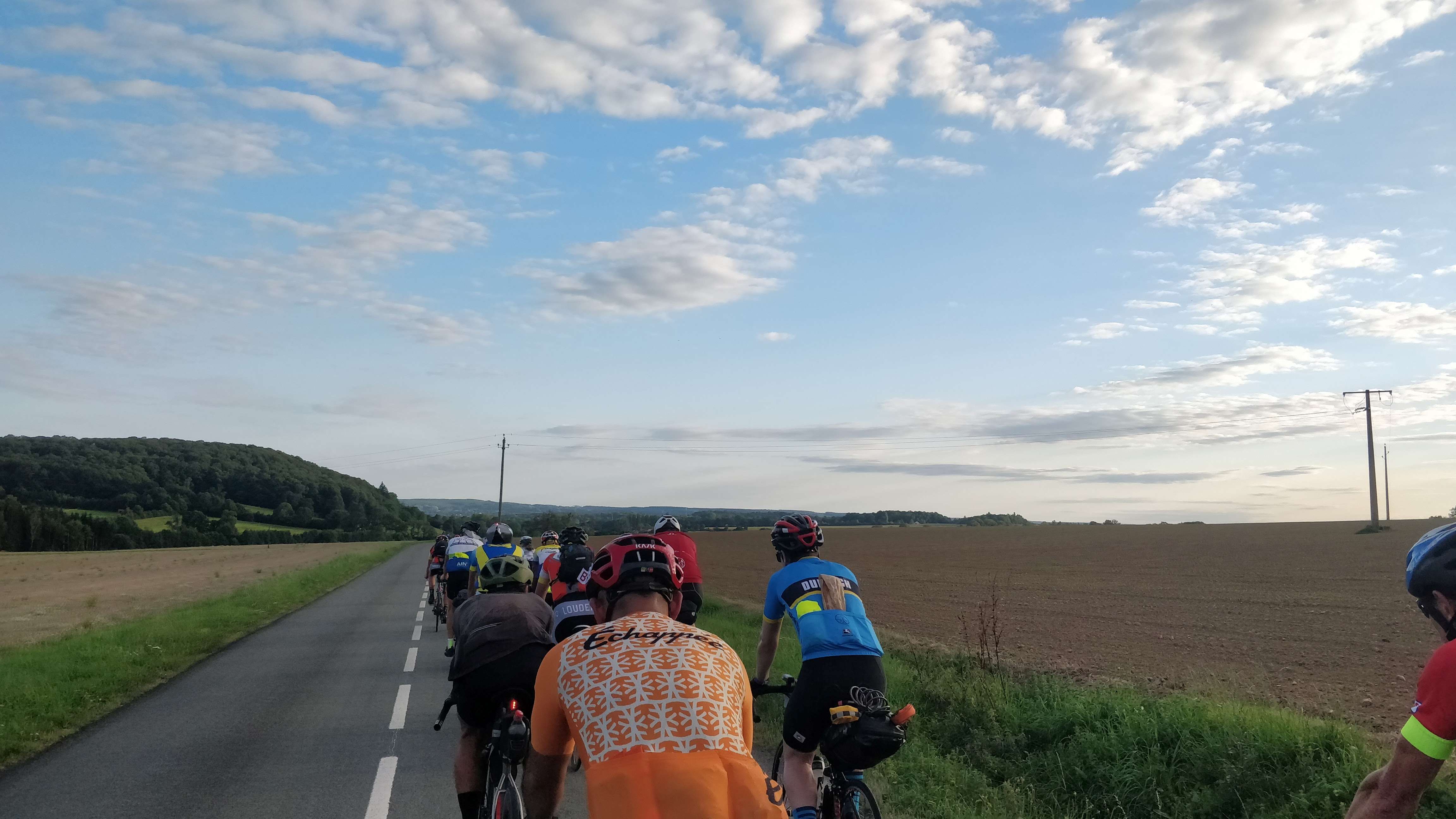 Fast and furious for the first couple of hours
We were straight into the high-speed chaotic mayhem; riders overtaking, undertaking, weaving, braking, shouting and swearing as they tried to stay with the fast ones filtering to the front. There was some seriously dicey activity going on, and it was incredible that there was no crash. Fortunately the road appeared to be closed by motorcycle outriders for the initial few kilometres, as some riders were using all of the road. It settled down gradually as the fast ones disappeared ahead, and smaller groups formed in their wake. Able to stay with some of them, and not with others, we found a steady group with a sustainable pace. Until, about an hour or so later, we were caught by the rapid bunch at the front of the 16.15 B group! They seriously shook things up, and blew our group to pieces, and there was chaos again for a while. This pattern occurred for the next few hours, as fast groups came flying past us. These people really were on a different level, or a different understanding of what an endurance event requires! The important thing for me was that I hadn't been lured in to trying too hard to ride with riders above my pay grade; I knew this would have been disastrous and would have made the chance of finishing extremely remote. What it had done, though, was to give us a good fast start, to keep us ahead of the bulge of riders that clogs up the controls.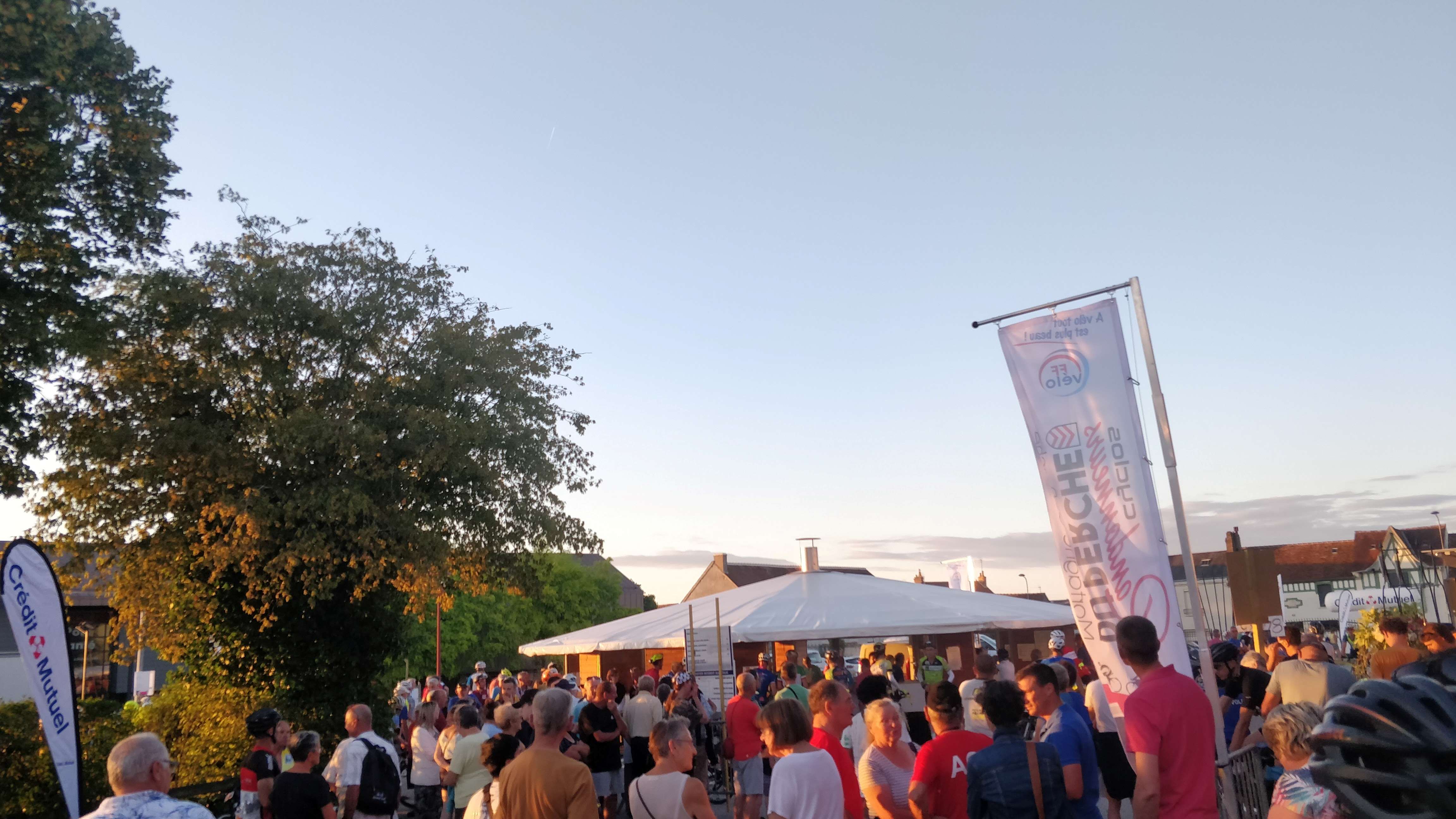 Mortagne-au-Perche in the fading sunlight
At the first control at Mortagne-au-Perche just before dusk, we pulled out our night glasses and reflective gilets, and ensured lights were functioning, and we powered on into the night. That first night seemed to pass in a blur, hitting the controls at Villaines-la-Juhel and Fougères in the dark, and then on to Tinténiac at 354km as dawn was breaking into another beautiful morning.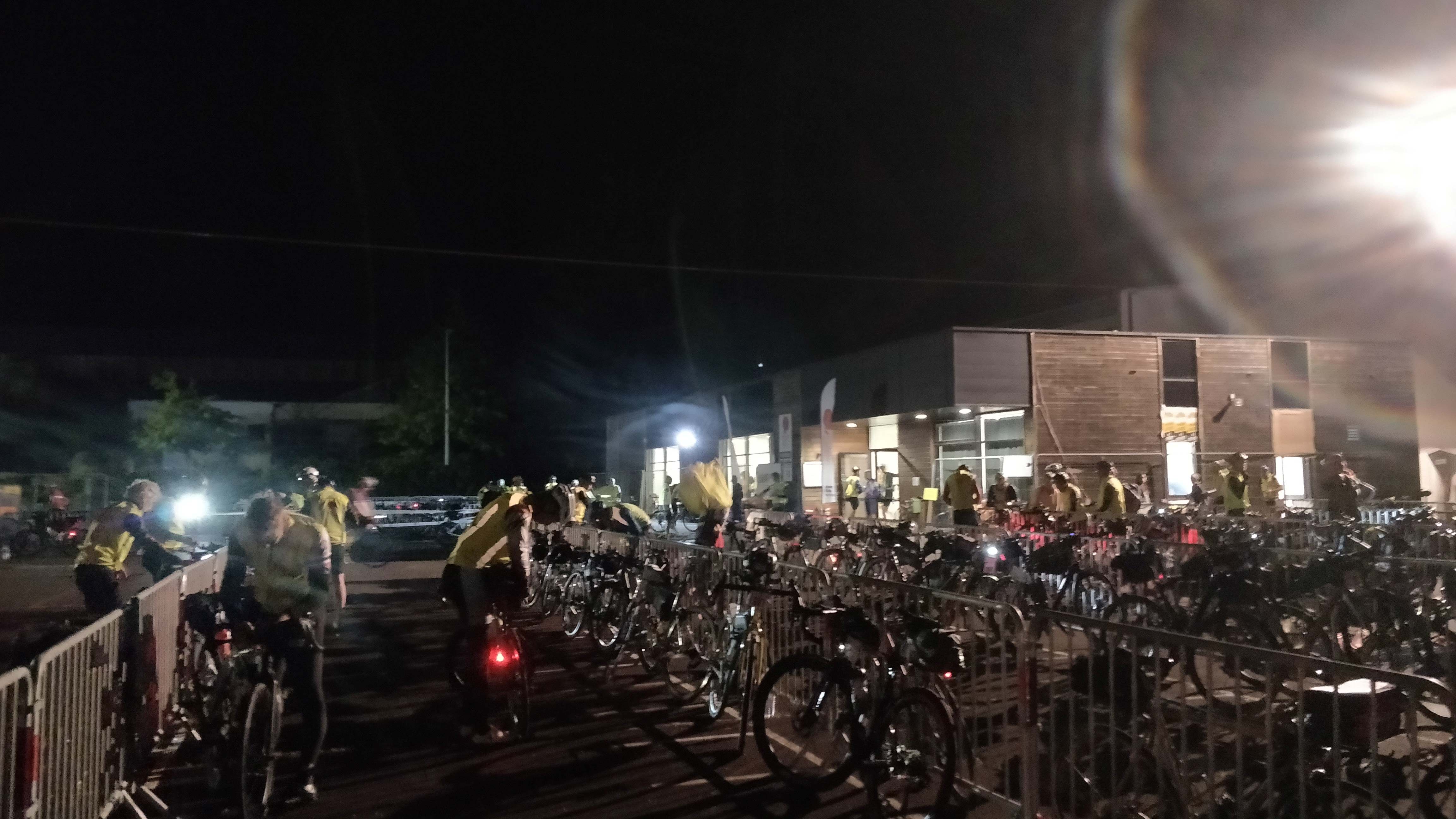 Fougères bike parking in the darkness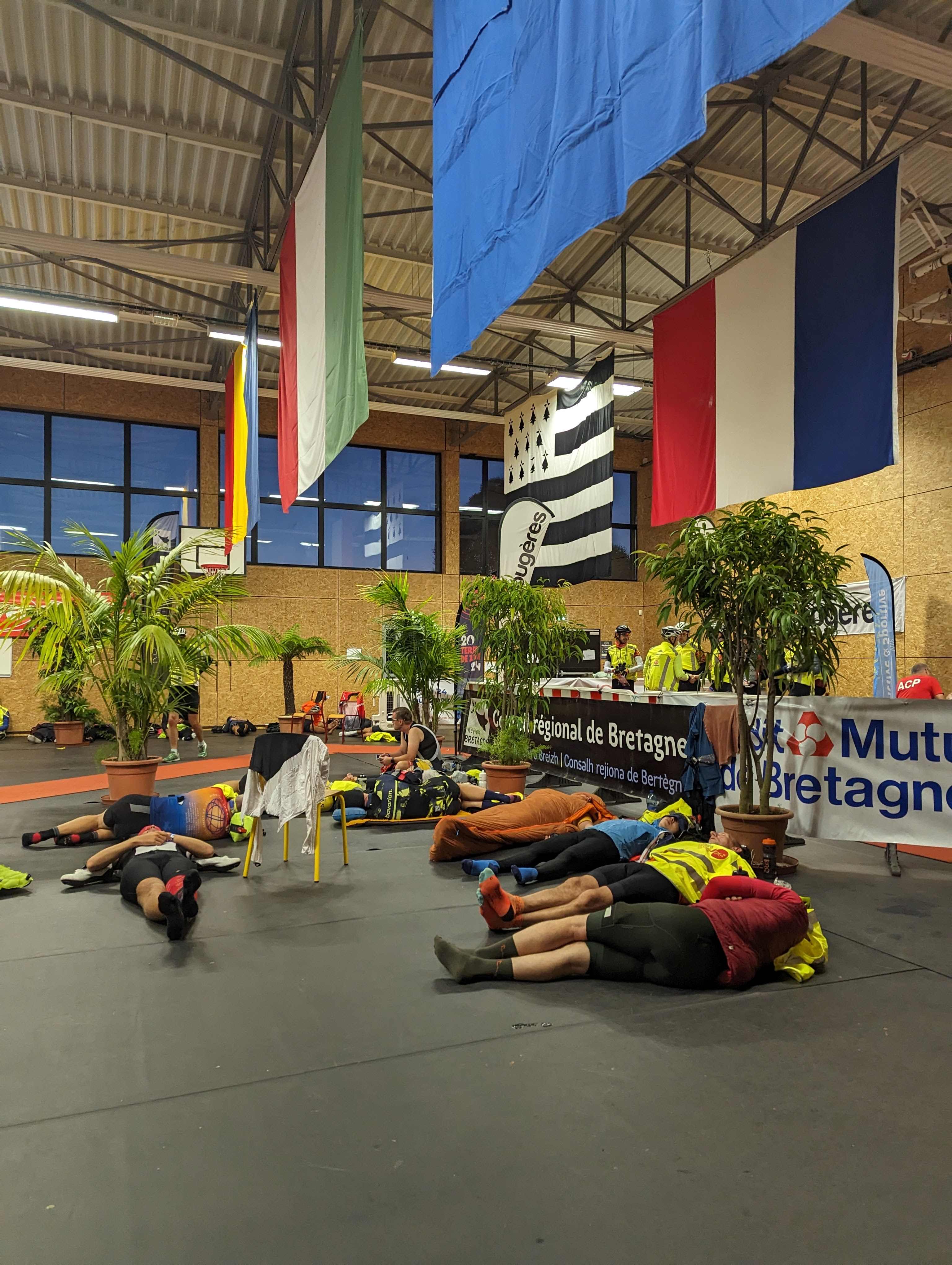 People will sleep anywhere - bodies scattered as if after a massacre
We felt good, and the controls were spaced closely enough to ensure good nutrition and hydration, although I was really pleased to have been carrying a load of energy drink sachets, plenty of snacks, and hydration tablets. The roadside support all through the night had been astonishing; towns and villages had parties and gatherings roaring us on, bars seemed to be running all-nighters, groups had formed in laybys and at the tops of hills. 'Allez, allez!', 'Bon courage!', 'Bonne route!' with accompanying energetic clapping were continually ringing in our ears. My bell finger was getting a good workout in response; this served to excite people more, with volume ramping up further. Incredible! We had been swept along on a wave of adrenaline and Breton goodwill, and we were still firing on all cylinders.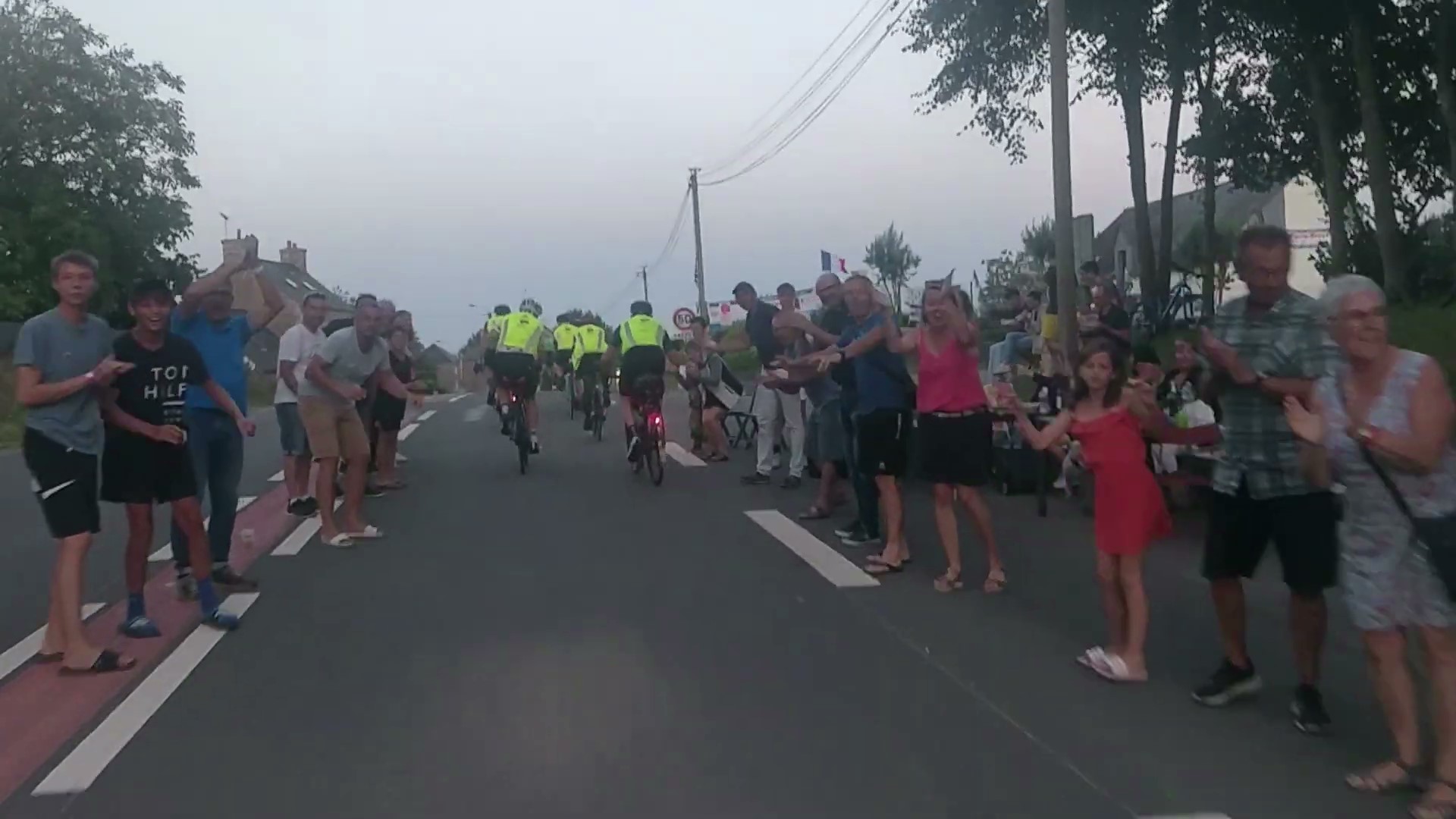 Unconditional, enthusiastic, mad, wonderful roadside support pops up out of the blue
The heat of Monday became extreme, easily reaching 30 degrees and more. The controls at Loudéac and Saint Nicolas-du-Pélem gave way to probably the hottest of all at Carhaix, mid-afternoon. Still, after a meal and plenty of drink and caffeine, we ploughed on. We knew we had less than 100km to go until Brest, but that they would be hilly… Pace was slowing, but we were approaching halfway, and well under 30 hours! The last few kilometres into Brest were tough; a relentless rollercoaster of hills through ugly, sprawling suburban and industrial development was not what we were expecting! However, we got to the Brest control, set in what appeared to be some sort of college campus, before 9pm, less than 29 hours after starting. My fastest ever 600km (375 miles) ride, and the only time I have ever tried such a distance without sleeping. I was very happy with this.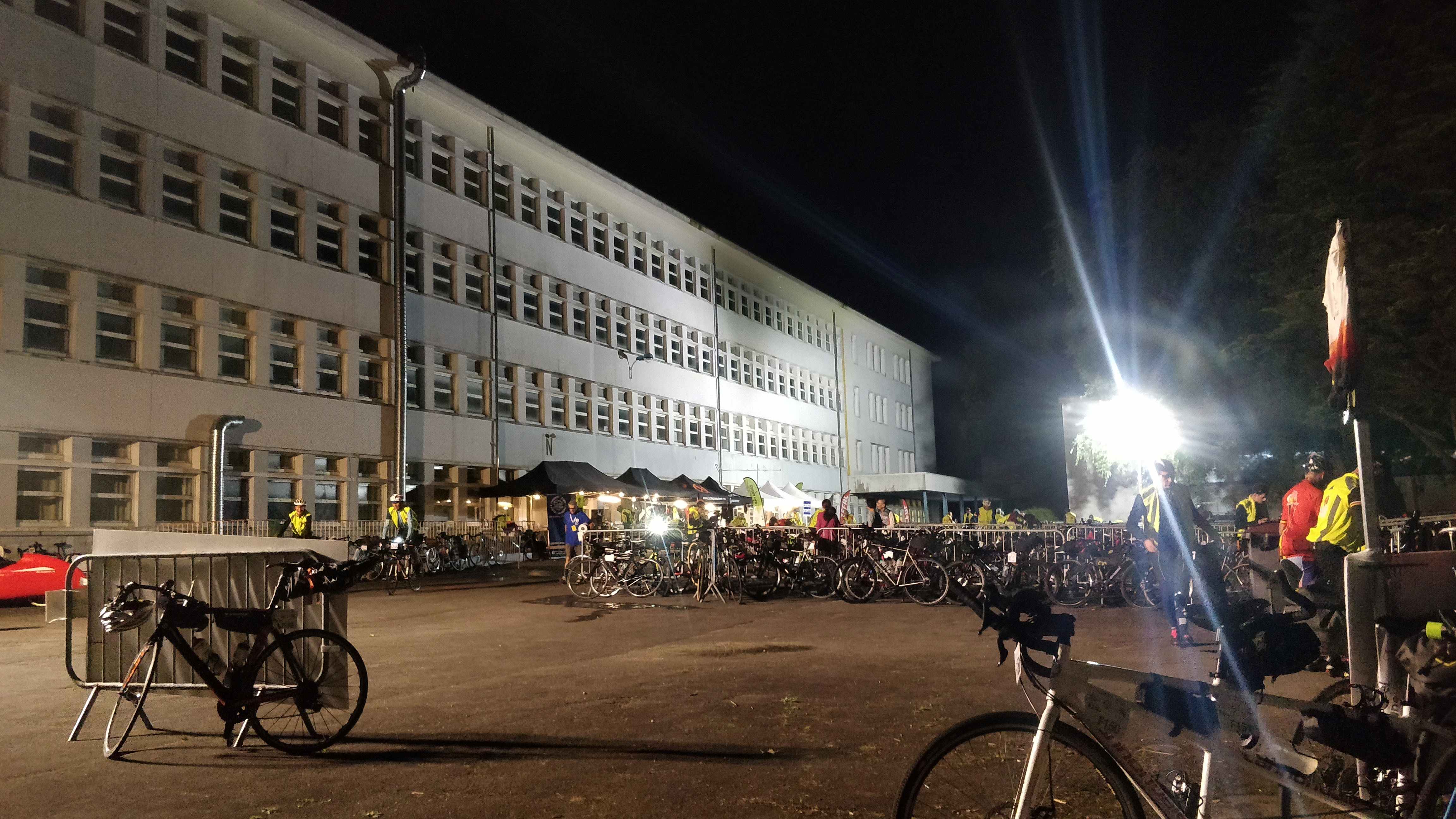 Brest at last - the bike parking area
'Admin'…! That is everything that you have to sort out off the bike; stamp in the brevet card, water bottles, food stores, clothing, money, passport, and just as important, body maintenance for hygiene and cleanliness, comfort and basic function. Using contact lenses adds further complication! These sorts of things get progressively harder the deeper into an endurance event you go, and the more fatigued you become. At Brest the priority was sleep. We headed to the dormitory building, a long walk from the bike parking. We were some of the last to get allocated beds, and we asked to be woken at 0300; no alarms or phone noises allowed! Another long stumble took us to the refectory for food, which we inhaled before bed. There were bodies of snoring riders everywhere. We parted ways to get back to the dorms, and I took a quick shower, and hit the mattress.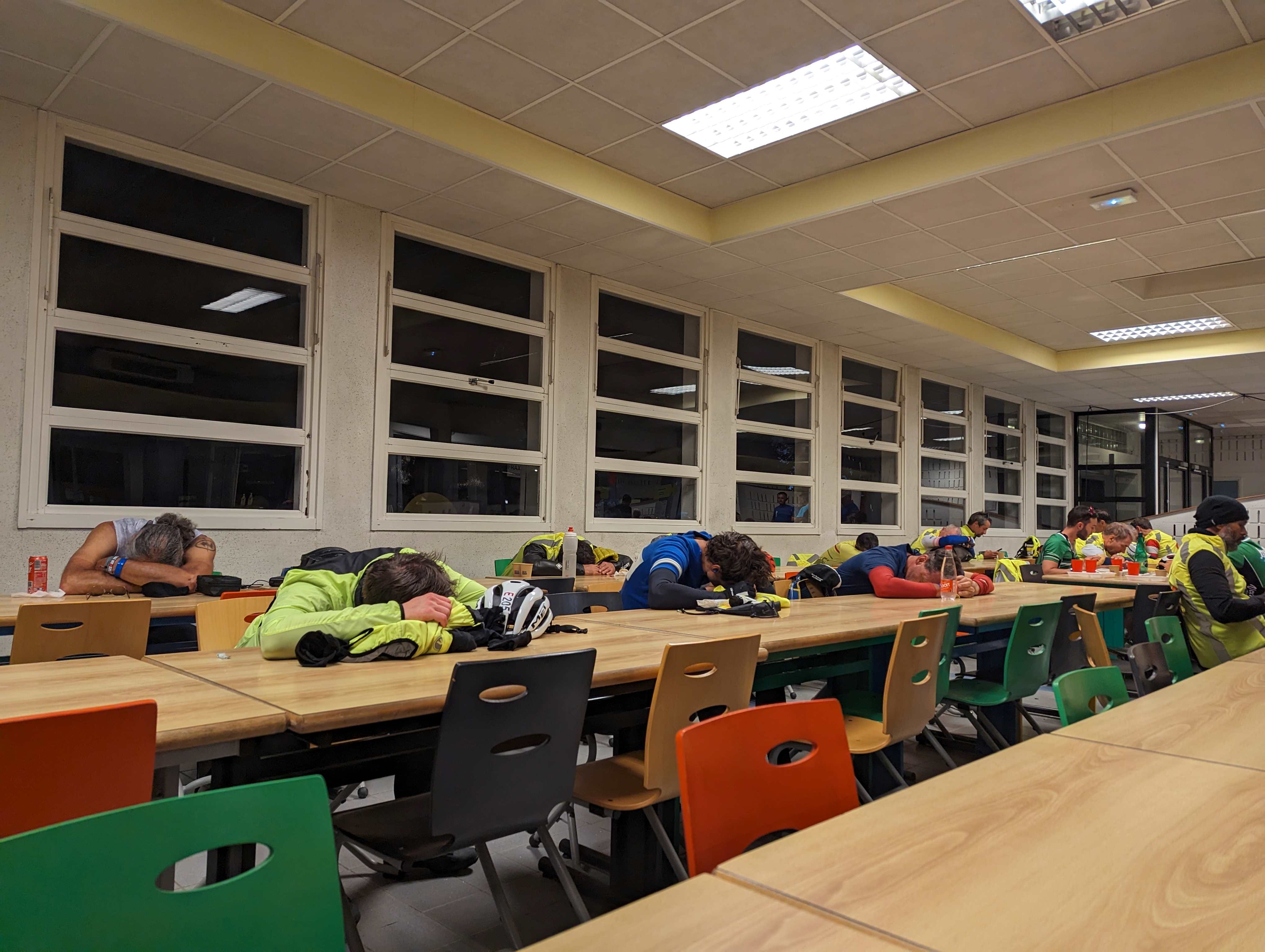 This is a popular sleeping position, but you tend to wake up with completely dead arms!
Before I knew it, a man was waking me with a torch. I muttered 'Merci', got my stuff together and shuffled downstairs and into the night, to meet everyone at the refectory. None of my buddies was there… Hmmm. I glanced at my phone and was astonished and confused to see that it said 12 midnight… What?! I had slept for one hour and been woken up 3 hours too early! I was gutted! I stumbled back to the dorms and waded through the bodies to demand my bed back. Reluctantly, the elderly volunteer allowed me back in with a shrug. I sort of slept again, but not at all satisfactorily. 0300 came around too soon.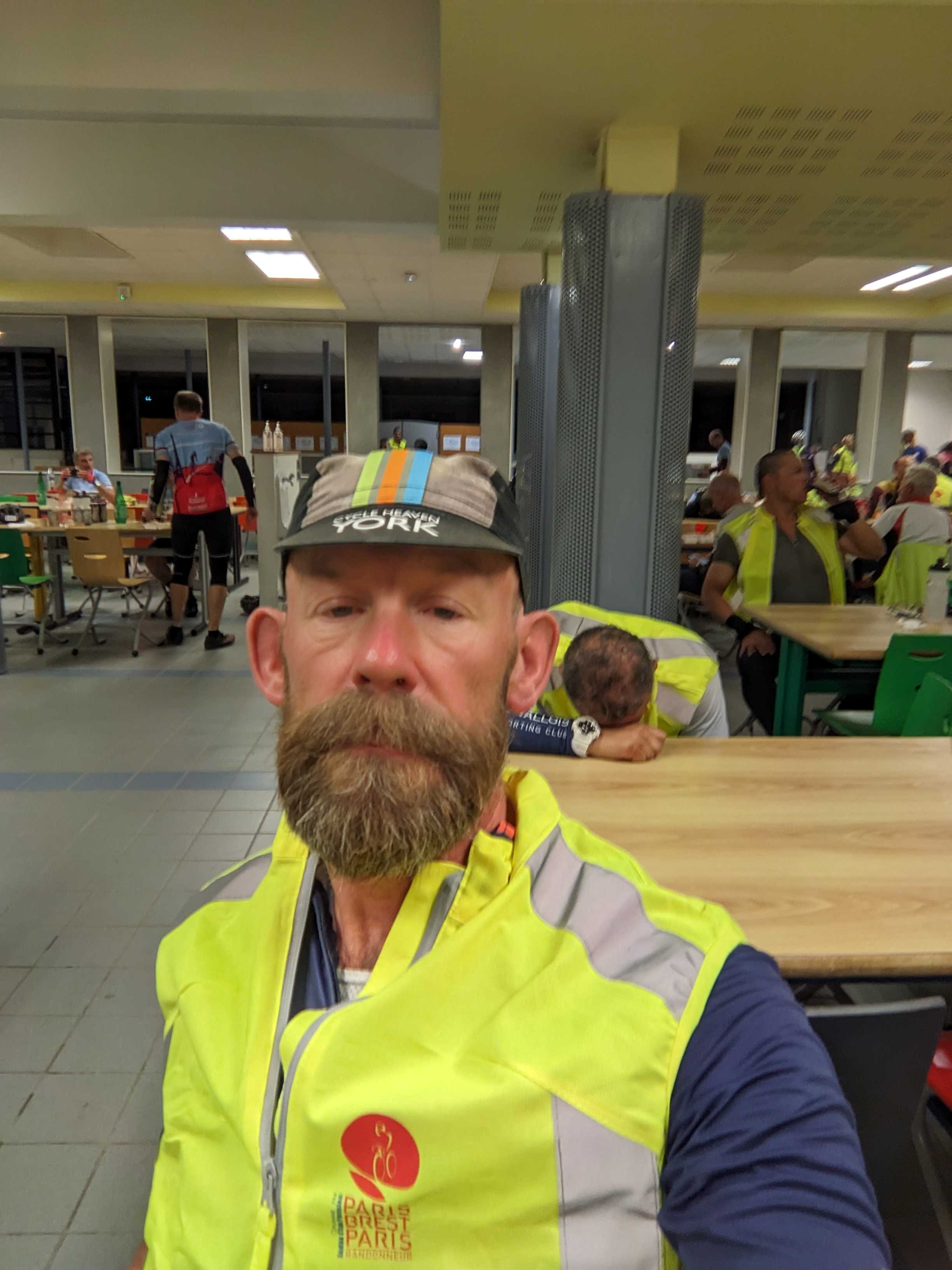 Not particularly well-rested at 03.30, but sort of ready to go
After a quick breakfast, I found Chris in the bike parking muttering about not having been woken up on time, telling me that Charles had already left, nursing a bad knee. We set off into the dark morning. We sailed past the picturesque coastline and stunning bridge, completely unaware of its beauty. I was in an ever-shrinking bubble of my own concentration, framed by the fringes of my front light beam. Then the day dawned...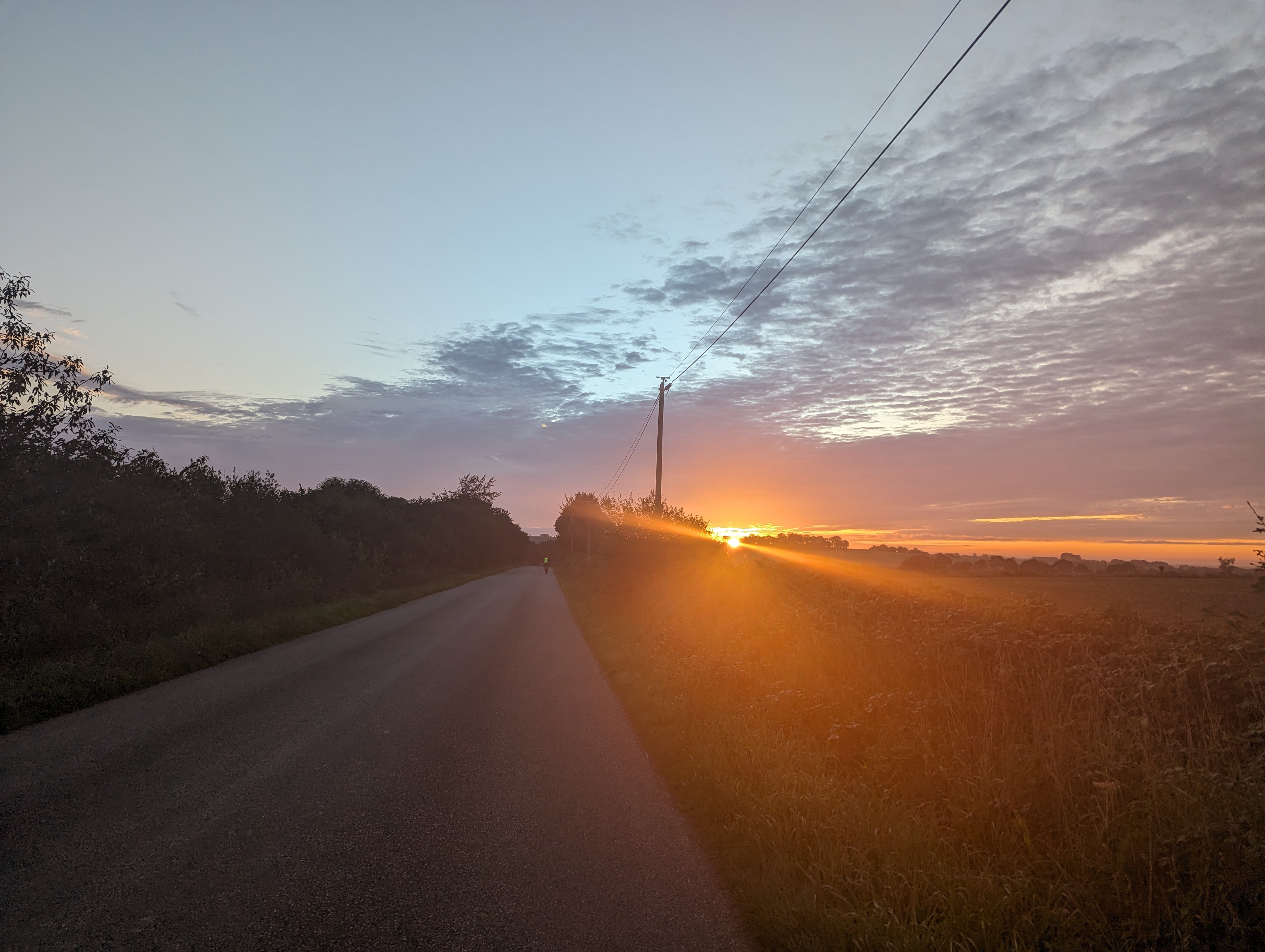 A dawning day always raises the spirits
We hooked up with a nice chap called Guy from Watford, and before long we were at the secret control at Pleyben at 0700. A lovely patisserie restored our spirits with a Paris-Brest cake and a seriously well-filled baguette, with a large coffee. Onwards in to another hot, hot day!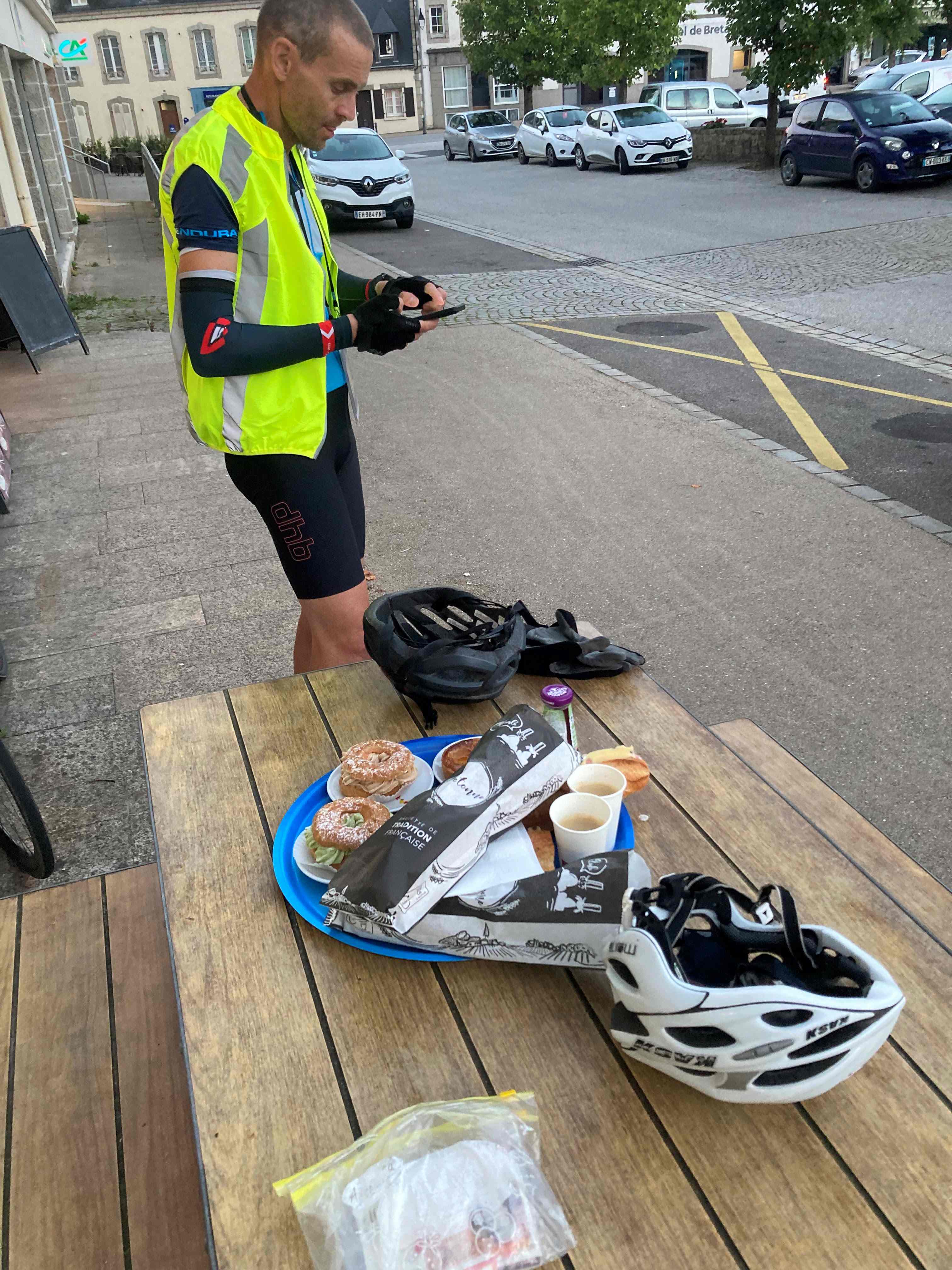 A great patisserie feed stop, featuring (shamefully) the only Paris-Brest cakes of the ride
Tuesday is all a bit of a blur, if I'm honest! All I have to go on are some random photos and the official timings. We cracked on through the course, continually sustained and buoyed by the amazing Breton people, and the wonderful volunteers at all of the controls. My bell kept people entertained, I think…! I can't believe more riders didn't have noise-making accessories on their bikes!
I could tell we were slowing down a bit, but we kept moving, just counting off the distances between the controls. Carhaix around 0930, we met up with Luke from Halifax, whom we had first met before the start at Rambouillet. Riding with him made us a great little group of 4 and we were able to push on a bit. Luke turned out to be a bit of a machine, pushing long turns on the front, and powering up the hills; all of which belied his build of a rugby front-row forward. I guess when you live in Halifax and ride a bike, you are strong and tough! Loudéac and Quédillac passed, through to Tinténiac, where we were treated to some amazing folk dancing.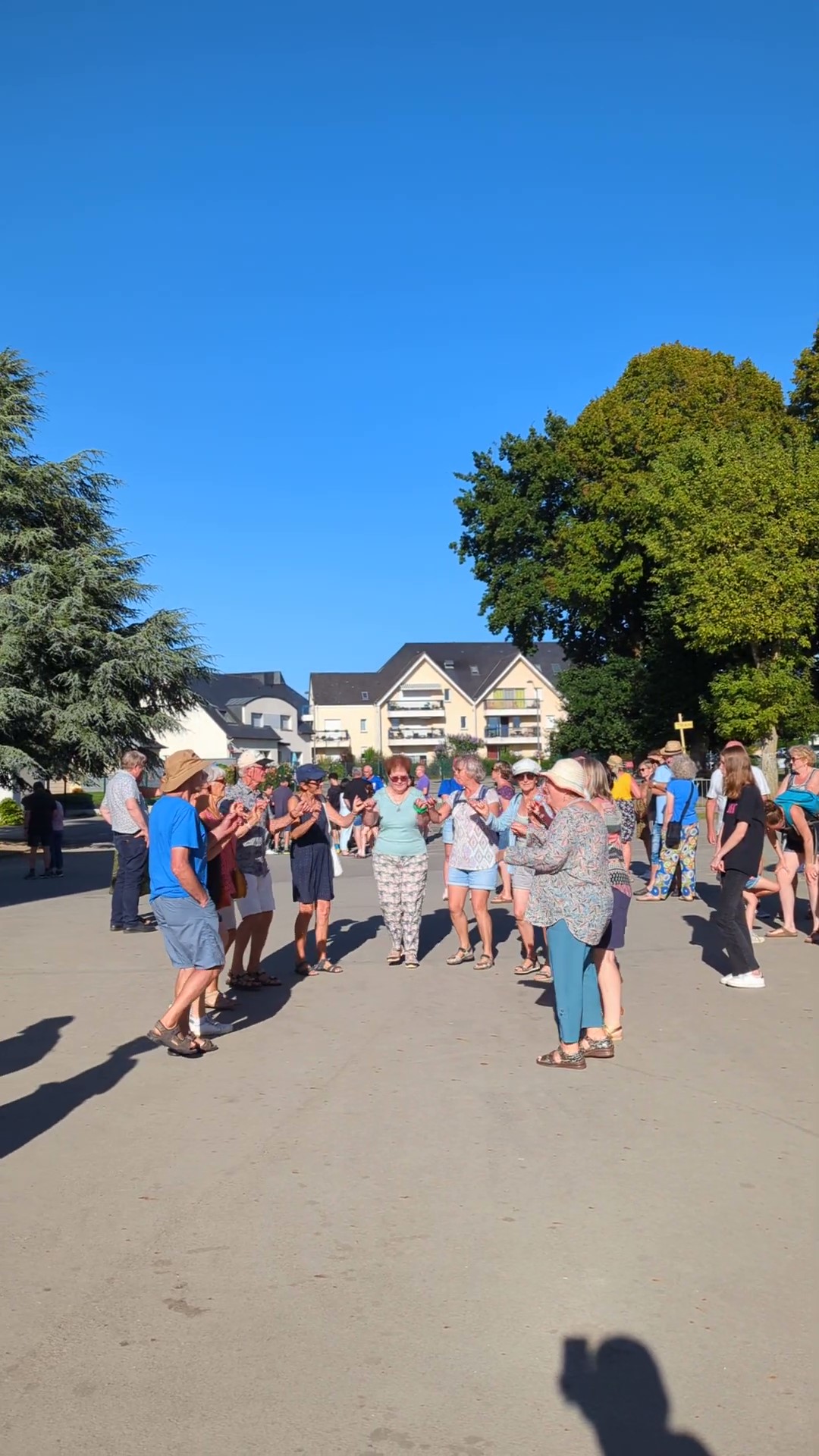 It's not morris dancing, but it's probably been around for as long
Shortly after leaving, we became involved in a high-speed road train being pushed by a young Dutch lad who had completed the Trans Continental Race a month or two earlier. Unbelievably strong and indefatigable, this lad pulled us along at a crazy pace. We tucked into the slipstream and were swept along. Luke and Charles and a couple of other young guns were tempted to hit the front, in a cycling display akin to young bucks vying for dominance in the evening sun. Chris and I, as the elder (and perhaps wiser?) teammates, held back; we didn't mind at all, as the speed was high and, in the slipstream, the effort was low!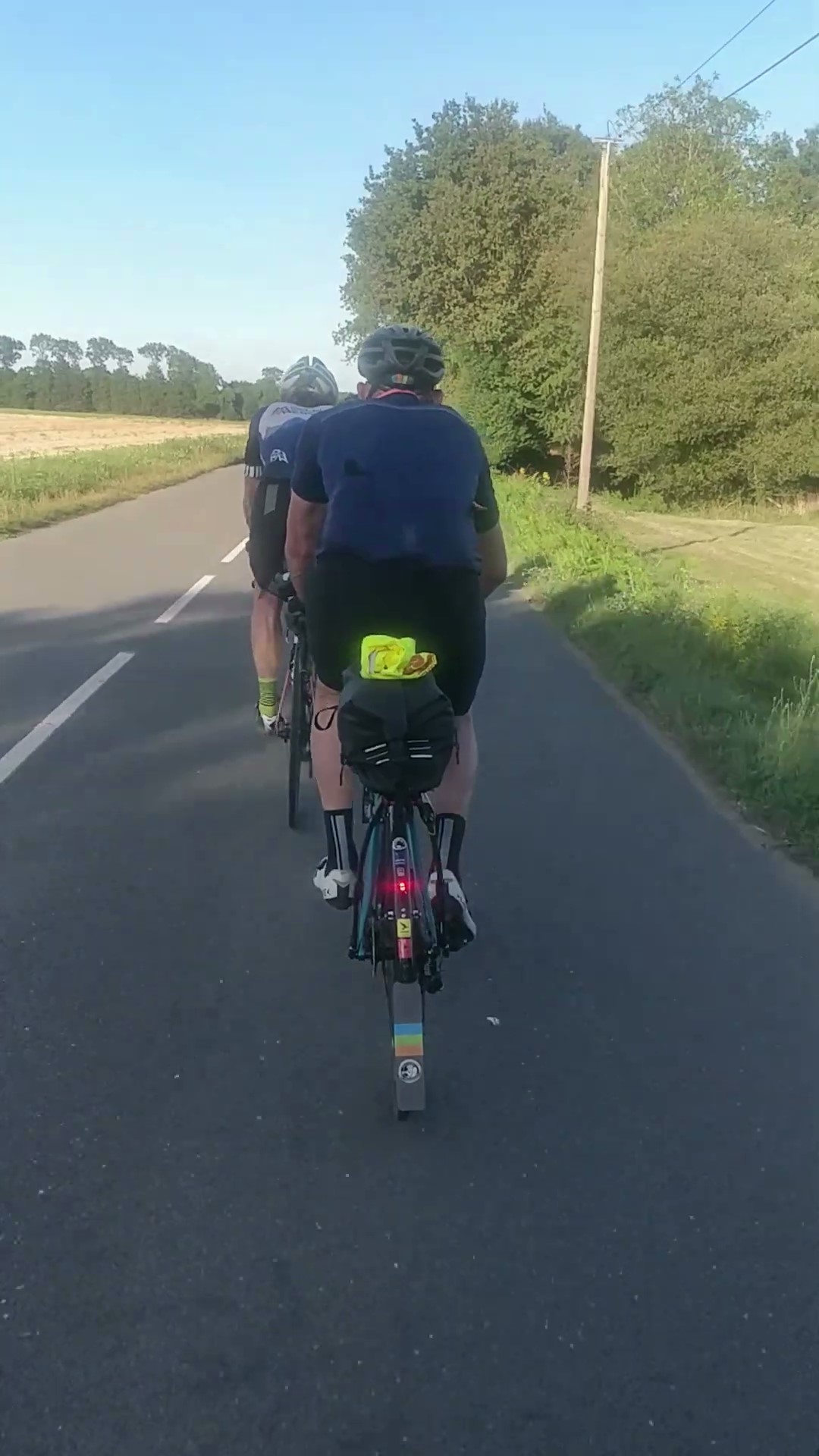 Keep up lad!
Before we knew it, we were at Fougéres in the darkness again, this time at the other end of the day, at 2130. But we had done 928km! Sleep was a serious necessity! But food, as ever, was the priority. A huge feed was lined up and consumed.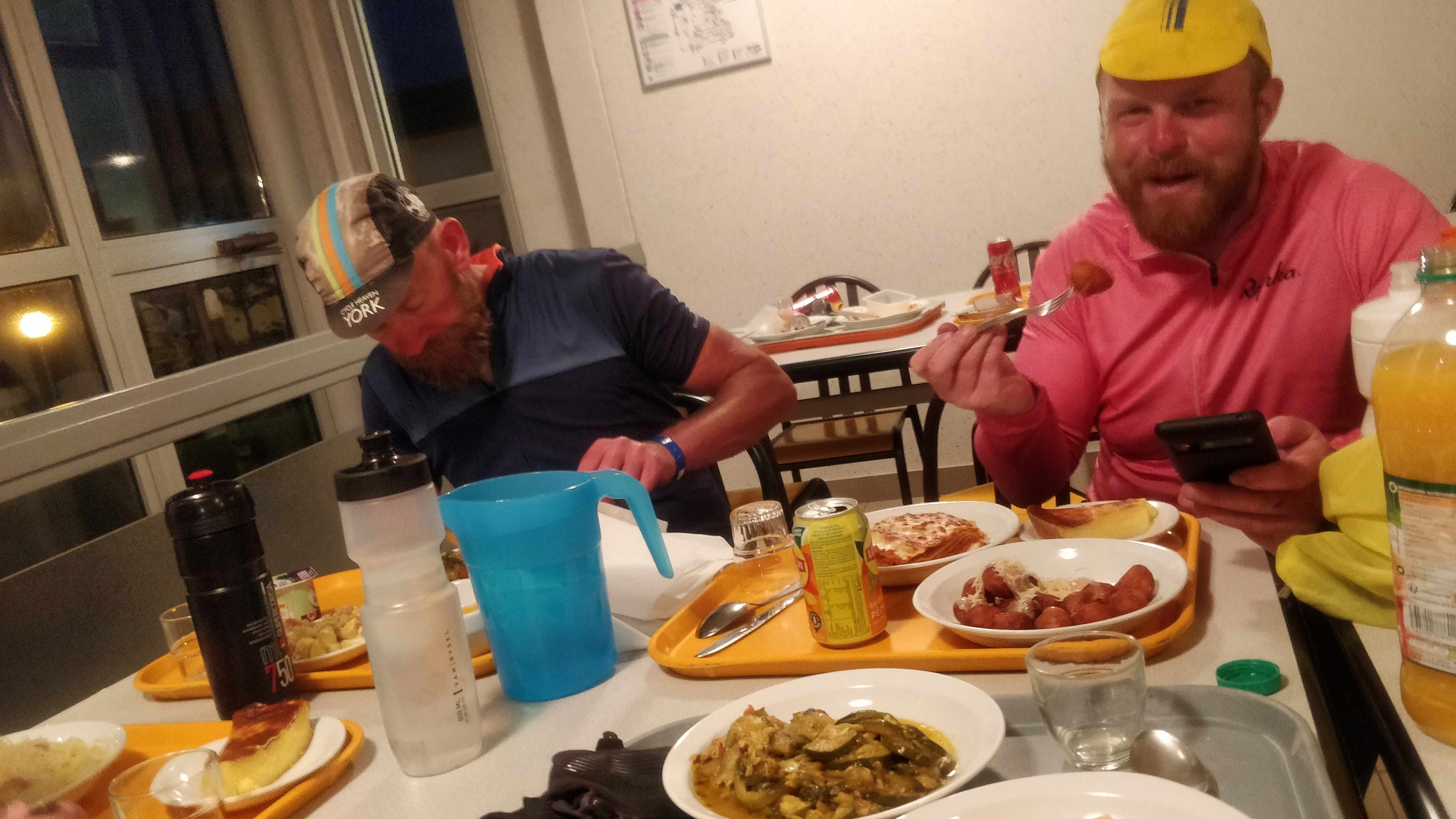 It is quite shocking how much food is consumed...
We arranged ourselves on a hard floor for sleep; the most I could do was inflate my pillow. Within a few hours I was kicked awake and presented with a cup of coffee. Midnight… I had probably closed my eyes for about an hour. A half hour later, we were off again, into the warm dark night.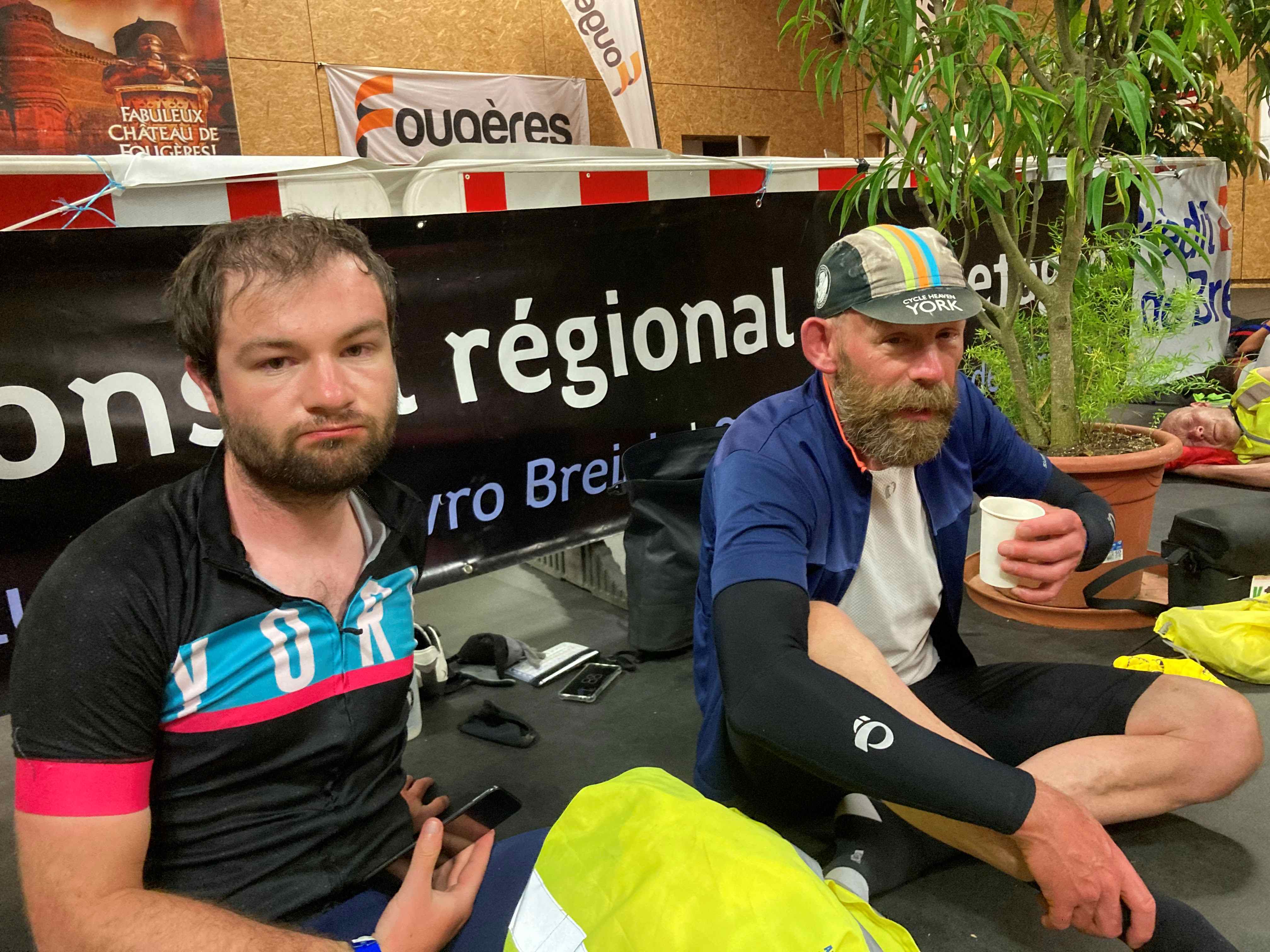 Getting started again in the middle of the night is easier for some than others
Before long we were riding with a huge, loud chap from Belgium called Gianni, who was suffering with saddle chafing, and sounded like he wanted to stop. An impromptu stop in a largely deserted village PBP party stall furnished us with caffeine and a sausage sandwich. Things improved a bit, but I was lolling about on my bike and starting to weave a bit. I told everyone to leave me at the roadside; I needed more sleep. I unpacked a load of clothing from my tail pack, put it all on, and lay down on the grass verge to sleep some more. I probably managed about another hour. I got up to hit the road. Things had improved a lot. The first signs of dawn were just illuminating the sky. I felt better, but sluggish, and needed a toilet stop. The control at Villaines-la-Juhel came just in time for me. I had a bit of a nightmare in a portaloo in the dark and in a somewhat confused state, but some things are best left unsaid…!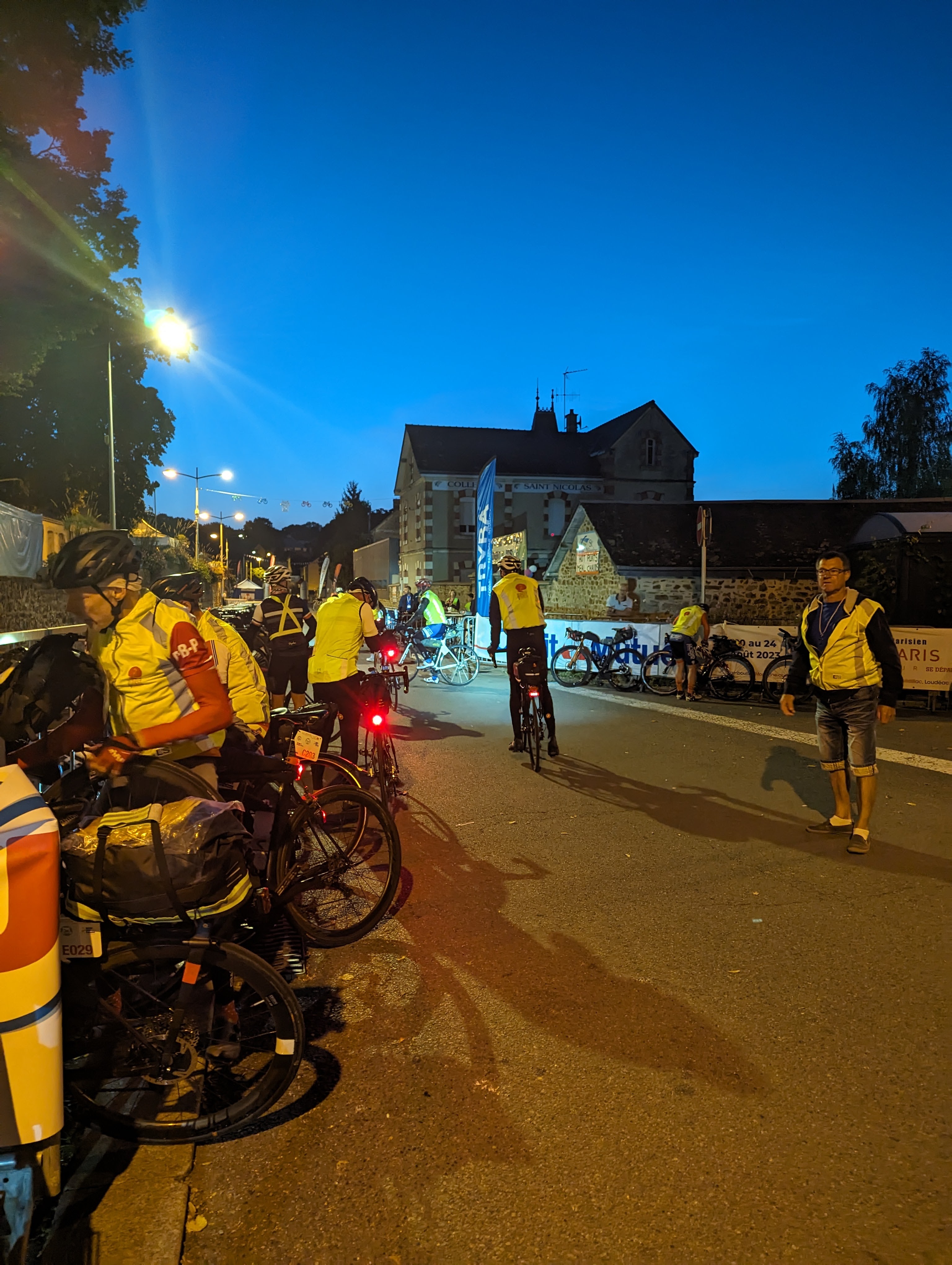 Villaines-la-Juhel, a nice street-based control - good for spectating
I continued onwards, somewhat refreshed and tried to get into a rhythm alone. I was still struggling a little with fatigue, but I was managing. After an hour or so, I was overtaken by a long train of people, perhaps 20 or 25 strong. I leapt at this opportunity, and tagged on to the back, tucking relatively easily into the slipstream. This lifted my spirits significantly and sharpened up my senses and thought processes. The rolling up-down of the terrain and junctions and other discontinuities required concentration and planning ahead to avoid yo-yoing off the back. I got into the groove. We were flying along at a good pace. I could see that the train was being driven along by 4 German lads who were rotating the work at the front between themselves, completely selflessly. I was impressed by their strength and their generosity.
We swept up many other flagging riders, some of whom were able to tag on, some not. Within a few km of the next control at Mortagne-au-Perche, we caught up with Charles; I saw him ahead and shouted, 'Jump on Charles!', 'I can't, I'm dead!' was the response as we whooshed past him. I think his bold antics from the previous evening had caught up with him. Next, ahead were Chris and Luke, who were able to slot into the line, and we rode together to Mortagne.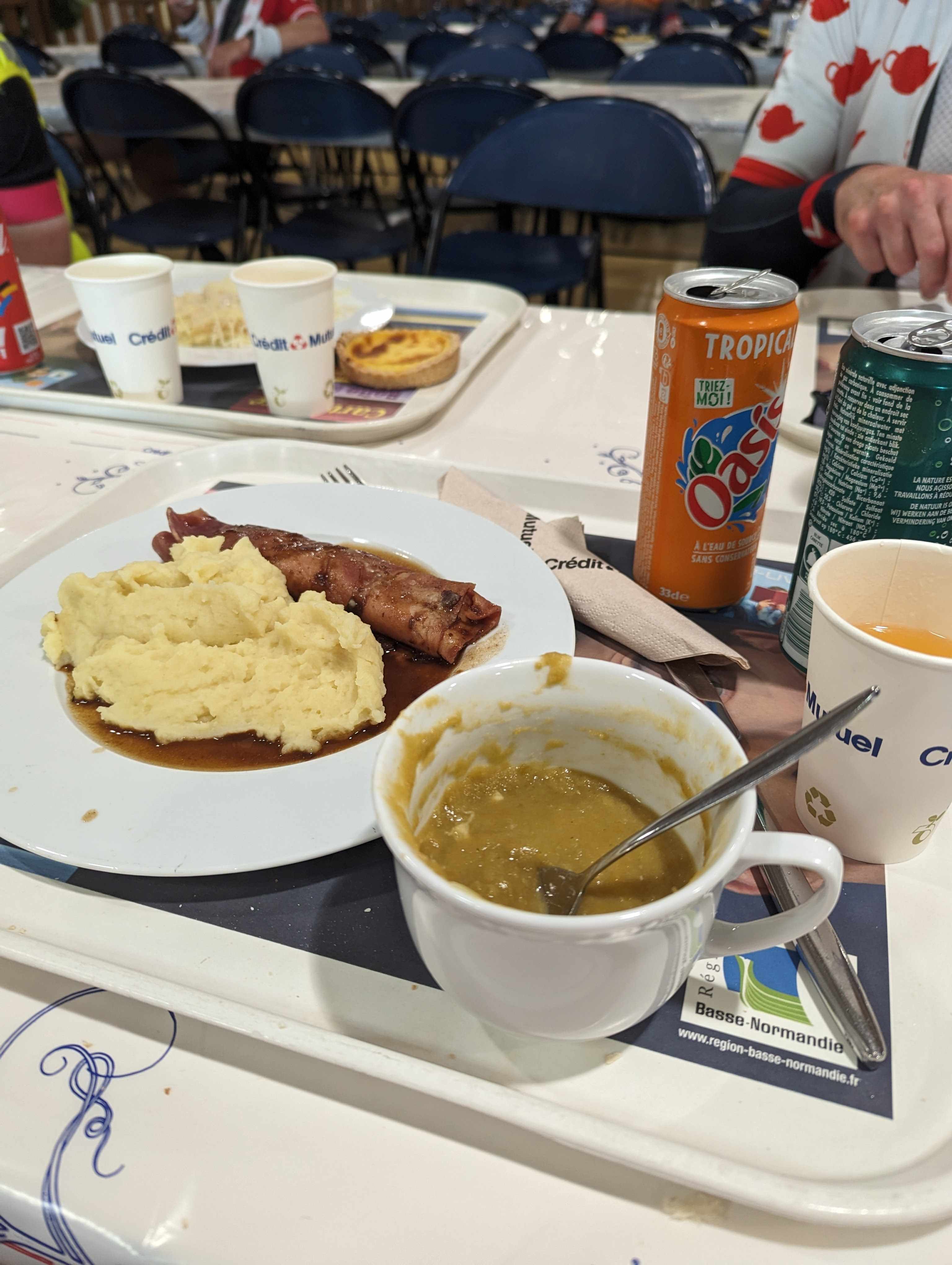 Sometimes you don't look too closely at the food...
As we rolled into the Mortagne control, I walked in with the German guys, and thanked them sincerely for their hard work at the front of the train. I offered to buy them drinks, but they were having none of it. They told me that I was the only person who had bothered to say thanks! It was good to get back together with the Chris, Charles and Luke at the control. We had a good meal and gained some good energy. One more control before the finish! 100km and 1000m of climbing – that's all!
The heat continued to build, with high humidity; a nagging headwind kept us grumbling. We hooked up with various people on the way to Dreux, but the pace was low. Those who felt stronger pushed on. Charles and Luke did just that. Survival was the order of the day. I started to feel a saddle sore quite sharply on my left cheek, and both feet were starting to develop 'hot spots'. This was a difficult combination; unable to relieve feet because of sore backside; unable to relieve backside because of sore feet! In situations like this you attempt to suck it up mindfully. Chris will testify, and I'll freely admit, that I didn't always manage the suffering in silence! There was possibly a bit of huffing, puffing, sighing and little bit of whining.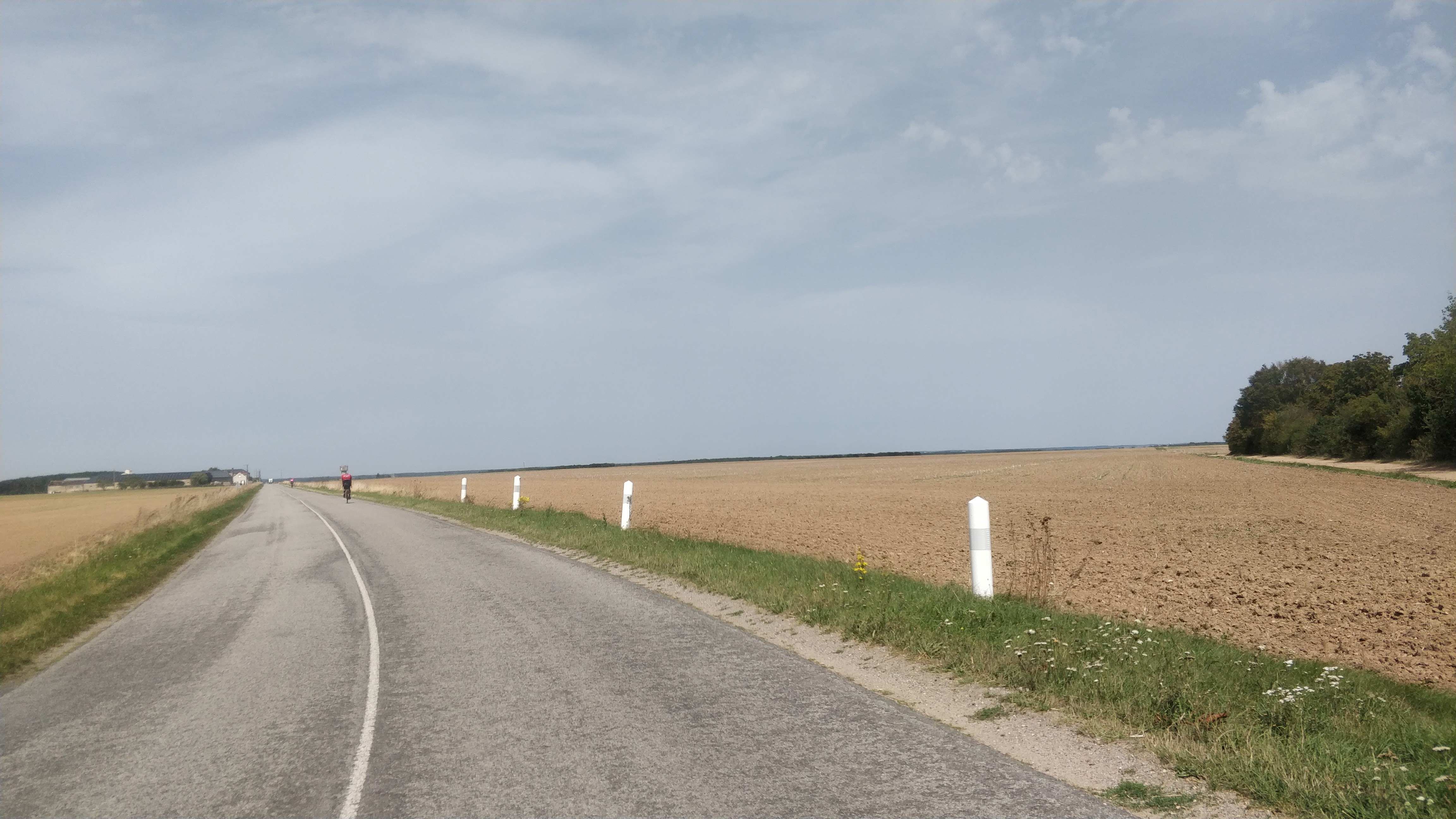 The tough section to Dreux with distant unapproachable horizon and a hot headwind
We joined John and Stuart, a couple of chilled American Randonneurs, over the tough lead-in to Dreux. Varied conversation took my mind off the niggling discomfort. Eventually the Dreux sports hall hove into view, and we rolled into a sweltering little micro-climate. The hall was large, but roasting hot. A quick rice pudding and some restorative caffeination, and Chris and I were away. Charles and Luke had already decided to push on with some faster guys. 43km and a few hundred metres of climbing remained…
I don't remember much about riding into the finish; we passed along the beautiful wooded roads surrounding Rambouillet, and were cheered by a few people. It was noticeable that since leaving Brittany, the roadside support had diminished. We were both lost in our own thoughts as we contemplated the inevitable conclusion of this epic undertaking. Emotion rolled over me in waves, and I could feel blood flushing my face and tears beading my eyes. We started to recognise the road, as the large Rambouillet estate became visible. We were waved into the ornate gateway by smiling and clapping volunteers, and we trundled along the gravelled road to the inflatable archway over the finish. Unbelievably, I was overtaken on the line by an idiot who thought he would impress his watching family by coming past me sideways in a plume of gravel dust. I was too tired and too tearful to ask him what he was trying to prove!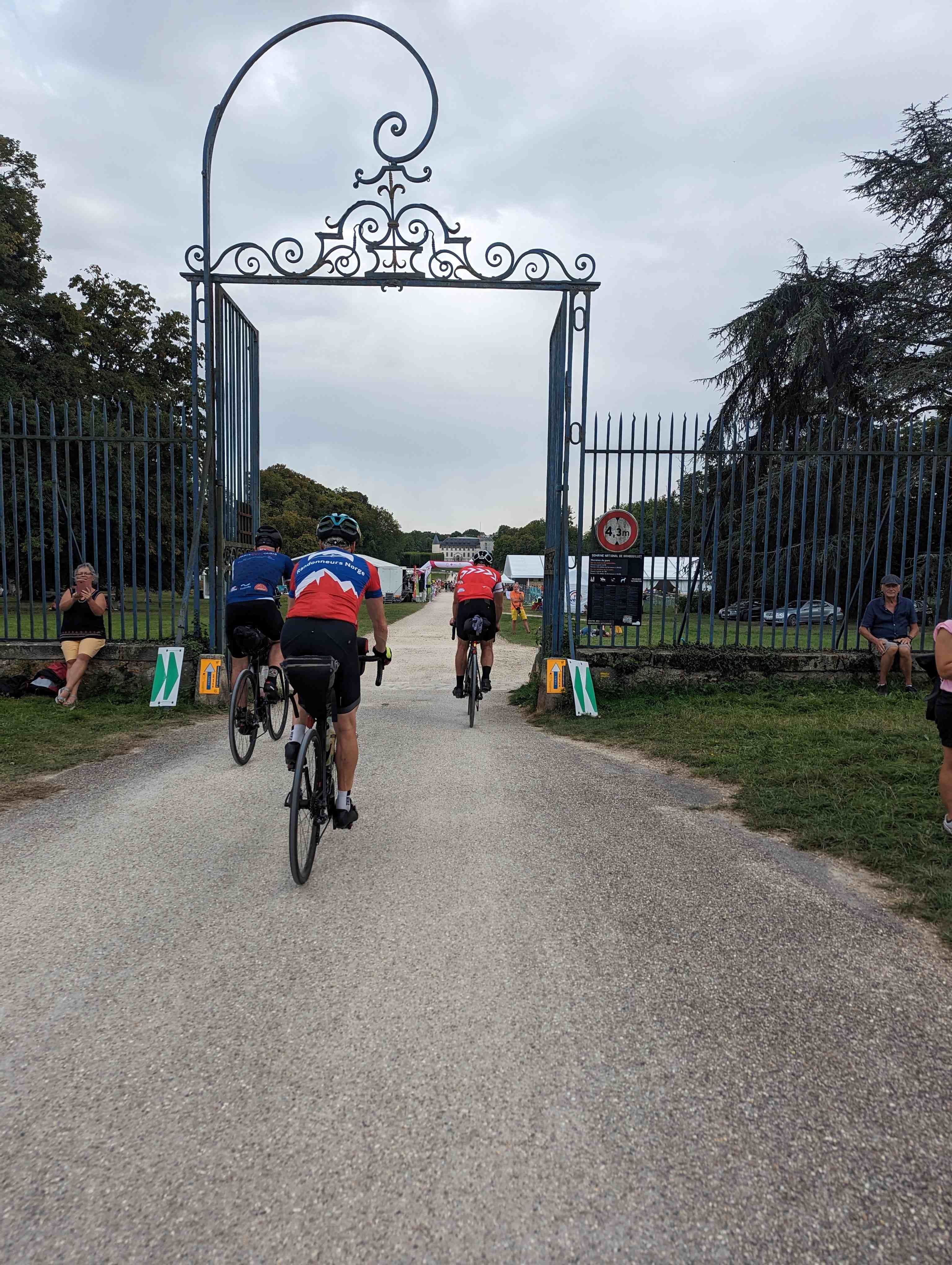 The gateway back into the Rambouillet estate, and the finish
We had done it… we had bloody done it!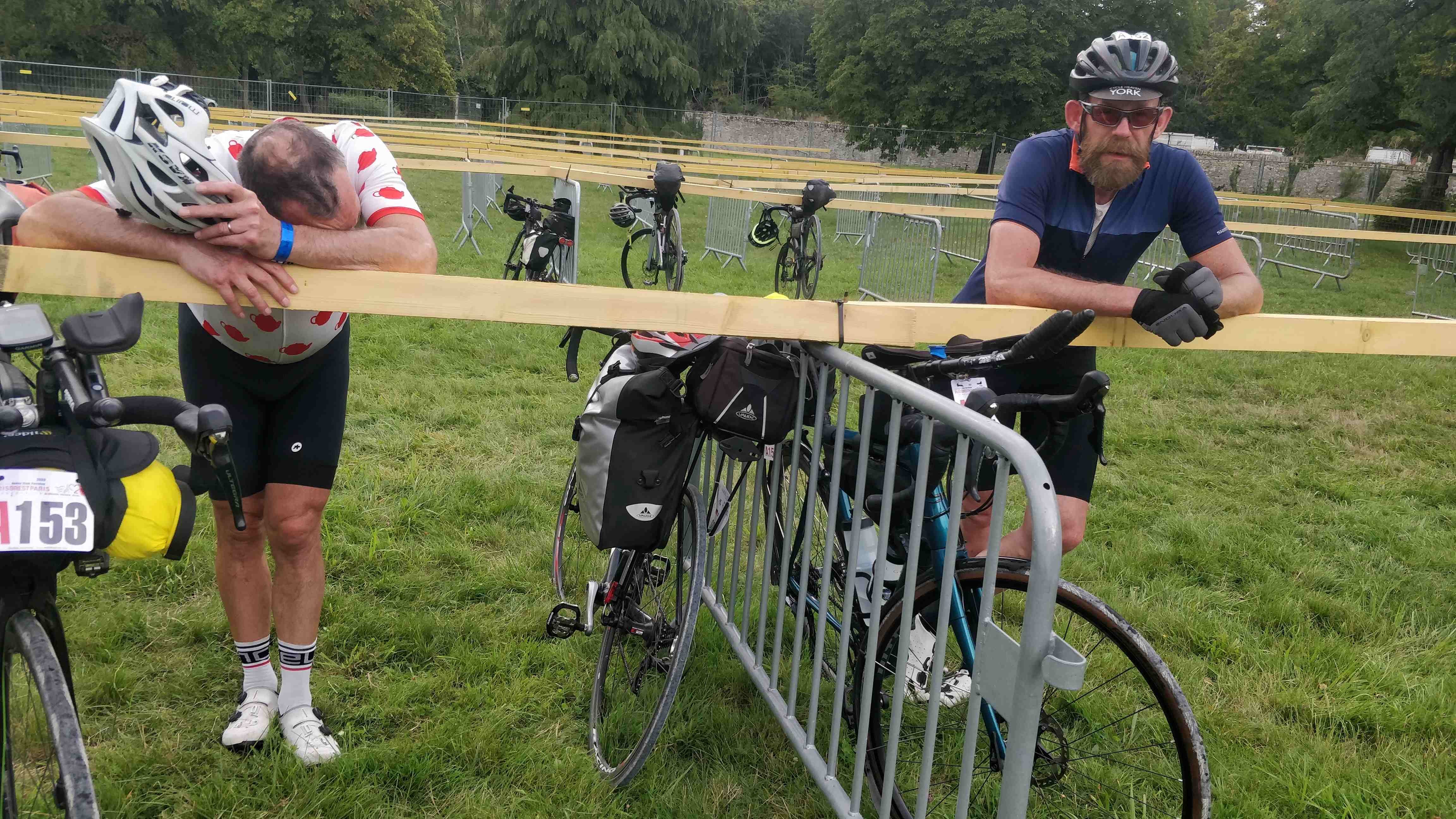 Stunned, shell-shocked, numb and not a little emotional
Not too sure what happened next, but it included a couple of hugs, getting the final, finishing stamp in the brevet card, being given a heavy medal, and a ticket for some food in the refectory tent.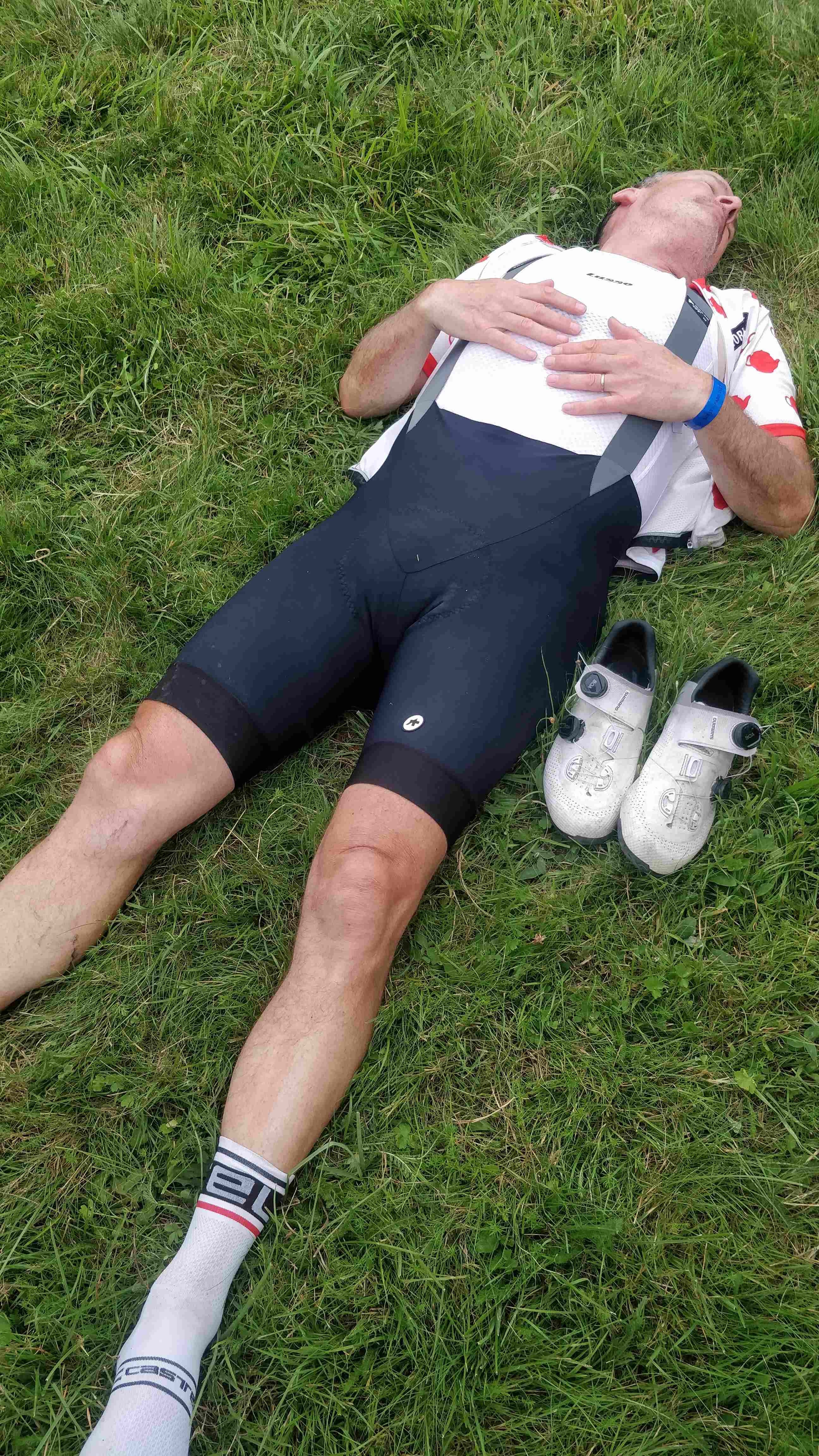 Often it is the best solution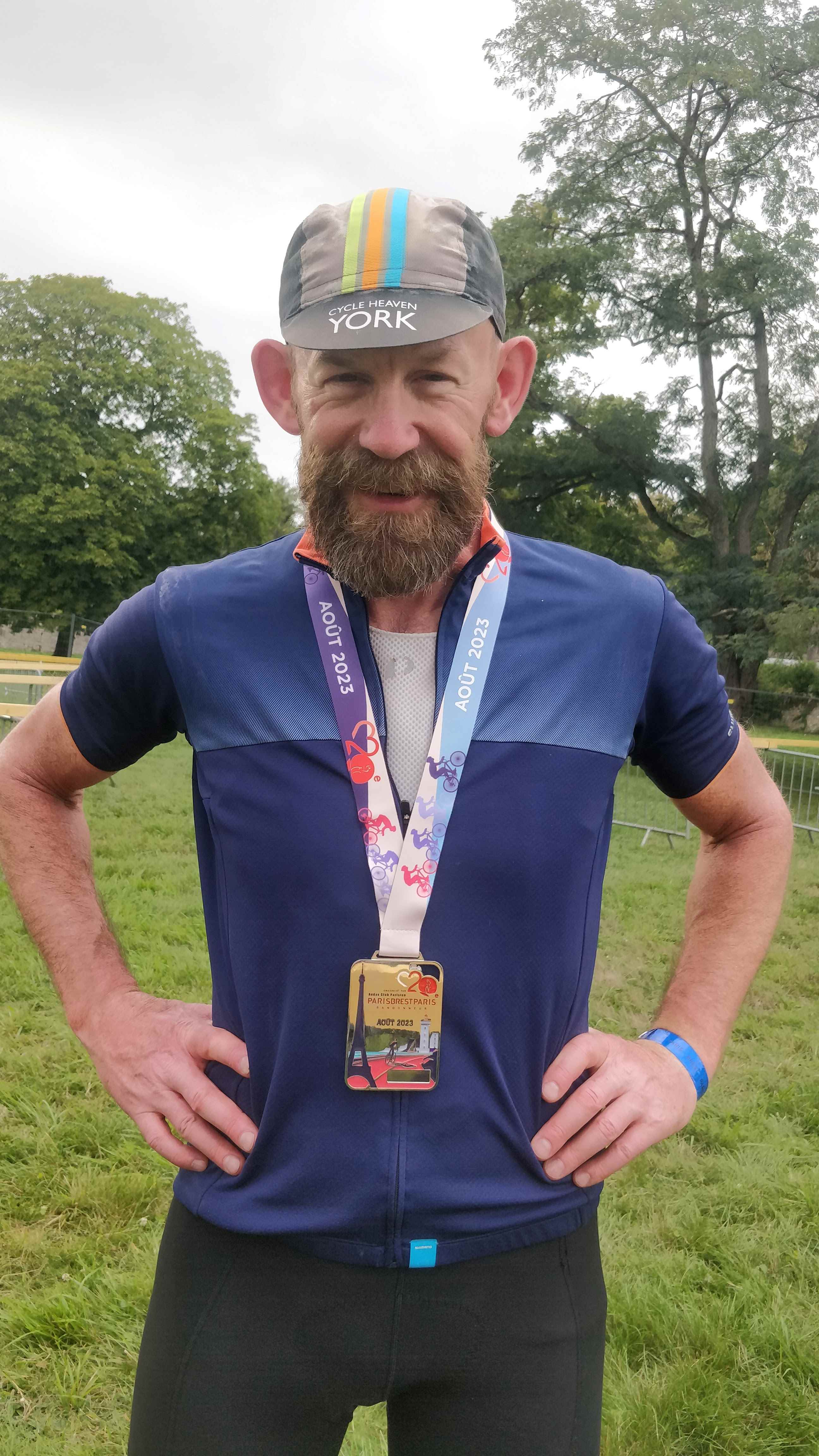 I haven't been this pleased to receive a medal for years - my Mutley moment!
After food we contemplated the reality of 30km back to the hotel, coming to the shameful conclusion that we would see if we could get someone to drive us. Ha, obviously there was no chance, and we saddled up for the ride. It was a long, long 30km, ending in darkness, but without too much drama. Fabian kindly let us in and poured us a wonderful cold beer. We went to bed.
Key take-aways for me are: PBP is very long and very hard: you very rartely have to ride on your own, so it's not as hard as you might imagine: the challenge of the ride is made completely manageable by the wonderful asphalt and the astonishing goodwill and support of the local population: the terrain and the countryside are wonderful for long-distance rides: this kind of event could only possibly exist in France: I will definitely be back for the next edition in 2027.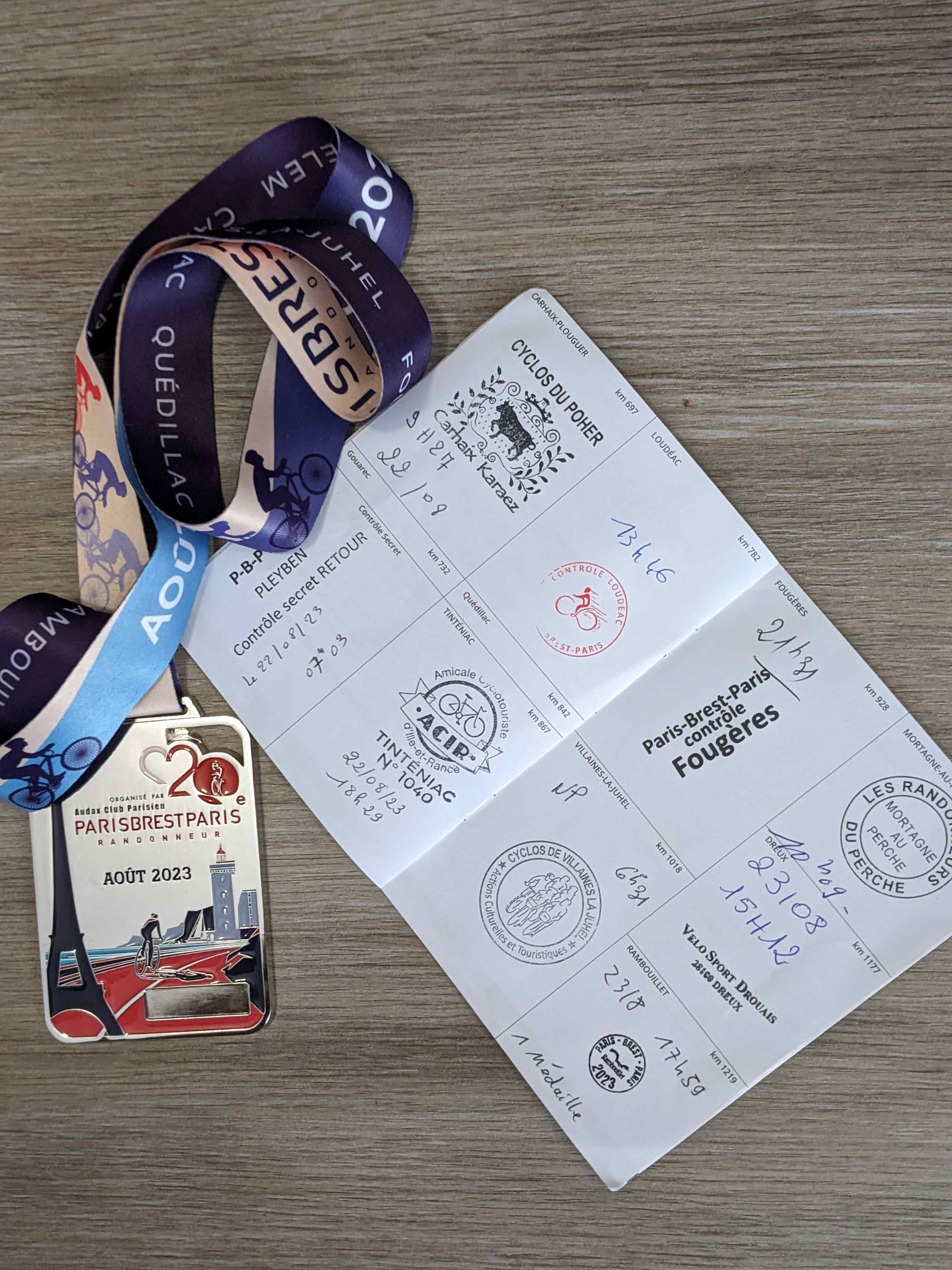 I'm inordinately pleased with this card booklet and piece of metal and ribbon
In addition to the personal gratification and sense of achievement, it is heart-warming to be able to say that the total amount of money contributed by the very generous sponsors and followers of my efforts, has gone past £4500. This amount of money is amazing and will make a huge difference to the team at LGI. Thank you all very much for your kindness. Thank you also for taking the time to wade through this memory dump of experience.
I hope it might inspire one or two to give it a go.